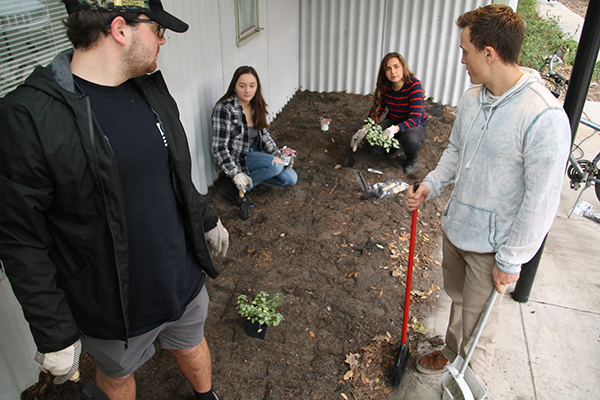 The environmental philosopher Aldo Leopold wrote in his essay "Land Ethic," "we abuse land because we see it as a commodity belonging to us. When we see land as a community to which we belong, we may begin to use it with love and respect." This moral understanding provides the basis of urban gardening, where the relationships between people and land are endlessly connected.
This spring, I enrolled in the School of Liberal Arts "Urban Gardening" course and learned how to apply Leopold's theoretical principles of the land ethic. During the first week of class, I was handed a set of gardening tools. I understood that for the duration of the class, the tools would be my pencil and the garden my notebook. On sunny days, classes took place across the street from Tulane in the gardens of the Chapel of the Holy Spirit and Wall Garden. Here, my classmates and I learned fundamentals of sustainable gardening such as composting, vermiculture, cultivating crops, and building hydroponic systems. On other days, classes took place inside Tulane Hillel where we discussed environmental philosophies such as Søren Kierkegaard's Works of Love and Leopold's "Land Ethic," and also spoke about the influence of important cultural works such as Joni Mitchell's song, "Woodstock."
Our homework was as nontraditional as the course, and we were tasked with raising our very own basil plant from our mini dorm room gardens. Lessons also extended outside of the classroom through a service-learning component where we volunteered at various urban gardens in New Orleans such as Edible Schoolyards at Samuel Green and Phyllis Wheatley Schools, the Newcomb Children's Center, St. Ann's Community Center, and on Tulane's campus. Volunteering at the Newcomb Children's Center, I was able to utilize the skills I harvested in class to beautify the school and teach students about loving the land through nurturing nature.
Most importantly, urban gardening has permanently redefined my relationship with nature by expanding my definition of community to include the biotic world—this ethical obligation to the environment will remain with me forever.