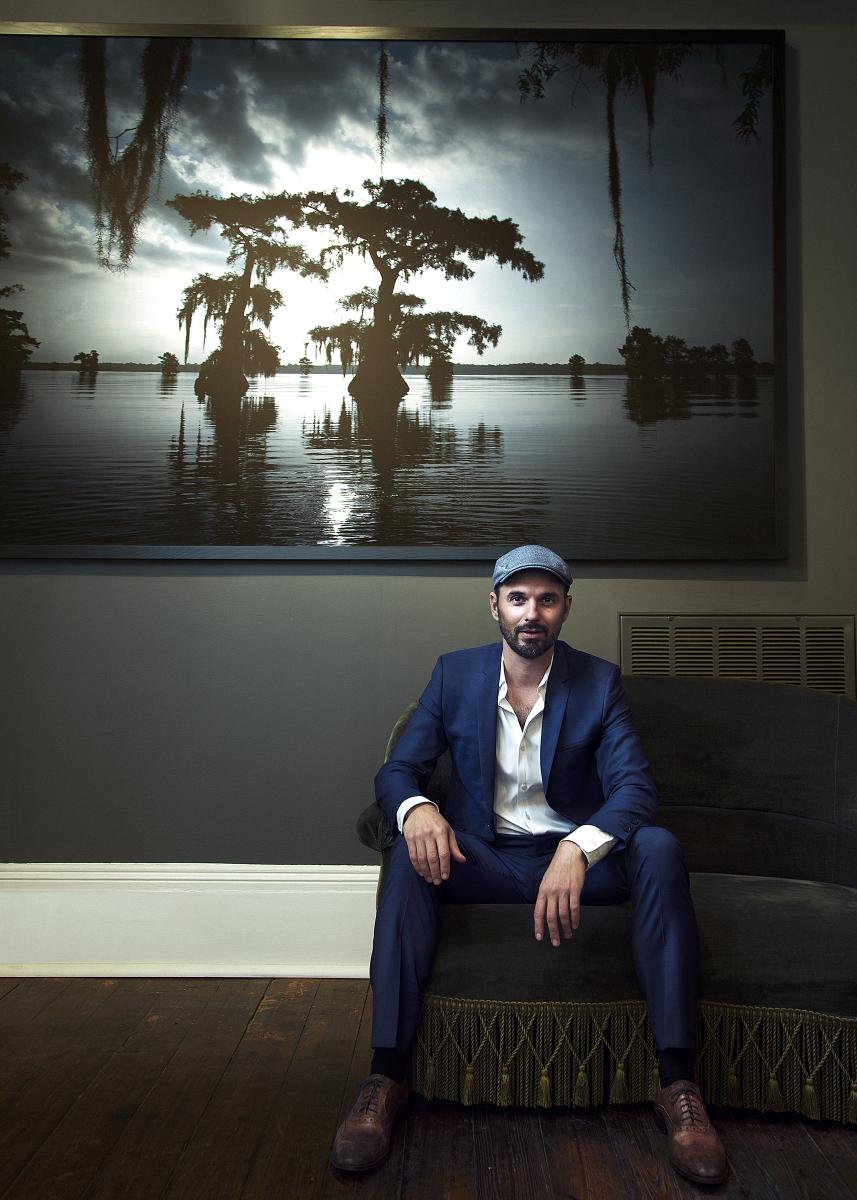 School of Liberal Arts alumnus Frank Relle (SLA '00) has been awarded the Michael P. Smith Award for Documentary Photography as part of the Louisiana Endowment for the Humanities (LEH) 2019 Humanities Awards. Each year, the LEH presents awards to approximately a dozen individuals and projects that have made significant contributions to the discipline throughout the state. "For many years, I've looked up to people who received this award. Michael P. Smith was a great documentarian, a visual anthropologist. And his whole body of work is an amazing inspiration for me," explained Relle.
Today, Relle's photographs of New Orleans and South Louisiana landscapes are in the collections of public museums such as Smithsonian Museum of American History, the New Orleans Museum of Art, and the Museum of Fine Arts, Houston, and have been featured in publications such as The New York Times, The New Yorker, National Geographic, and The Oxford American. In 2016, Relle opened a gallery in the French Quarter where he sells his work. But if you had asked him twenty years ago where he would be, he would have likely provided a different answer.
During his years at Tulane, Relle studied philosophy and cognitive studies. Inspired by philosophy professor Radu Bogdan and creative writing professor Peter Cooley, their courses contributed to his approach to life and prepared him for the competition of being a contemporary artist. "Editing was emphasized in my writing classes, and is an important part of any creative practice. The ability to make a bunch of things, and then throw out all of the options that don't quite measure up—you are consistently going through a series of iterations to improve your most important ideas."
Relle also found great inspiration from the characters and architecture of the French Quarter, where he worked waiting tables while studying. However, it wasn't until Relle accompanied a his friend Gannt Boswell (A&S '70, G '73, G '05) on a research trip to Canada after graduation that he started photographing his surroundings. Shortly thereafter, he began apprenticing with photographers in New Orleans such as Rick Olivier and Brian Gauvin, and later moved to California and then New York, assisting internationally renowned photographers such as Mary Ellen Mark and Annie Leibovitz. While working with each of these photographers helped Relle hone his technical skills, his philosophy background—his interest in evolutionary theories, the nature of the mind, what it means to be human and to have beliefs, and ultimately, to ask the big questions—directly informs the way he looks at the world and through his camera lens today. Relle captures landscapes and subjects in wide and encompassing views, always attempting to describe a feeling, a moment, a place, without clear answers.
Relle can often be found wandering the city at night, and these walks are where he takes most of his images today. "I work at night because that's the time I feel the city. There's a saying that a job of the photographer is to organize the chaos of the visual world, and night helps calm some of the chaos. But there's also a tremendous mood, mystery, and energy of places at night I like to try to capture. I find it emotionally compelling." Working with various types of cameras, Relle always uses a long exposure in his process, which allows light to slowly build over time, often confusing the source of light in the images, and, subsequently, confusing time for the viewer. This process also allows Relle to hint at the "terrifically complicated history" of New Orleans and the region in his photographs.
"I think a lot about the role of beauty. For me, getting people to slow down and pay attention—which starts with me—thoughtfully considering the world around us, is a gift. It allows you to see what's really there, and maybe what's behind it. And through that thoughtful, slow consideration some new understanding could be born," said Relle.