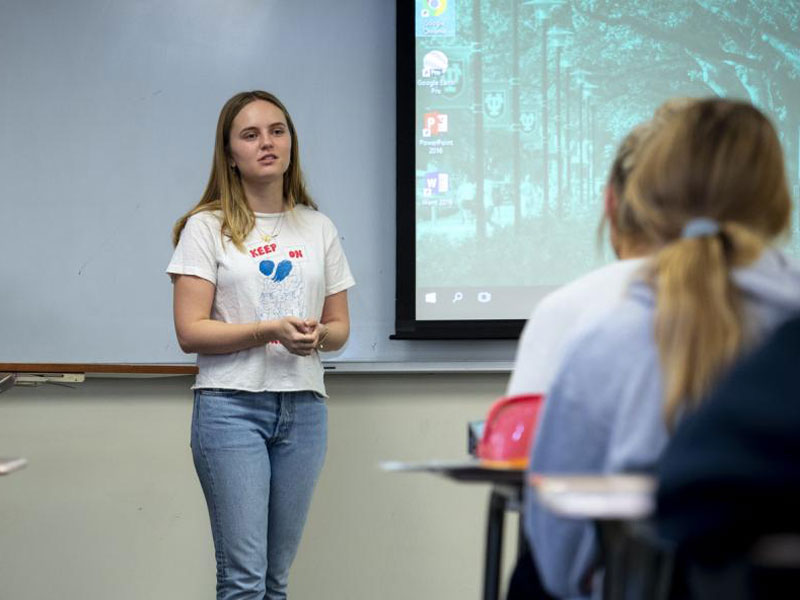 SLA student Avery Siegel just returned from her trip to the Oscars, bringing home a win for Best Documentary Short this year. Siegel, who is from Los Angeles and is studying communication and public health at Tulane, is an executive producer for the documentary "Period. End of Sentence." The film follows girls and women in Hapur, India, telling the story of the stigma of menstruation, and their experience with the installation of a pad machine in their village.
The project began when Siegel was at Oakwood High School in Los Angeles, and she and her friends Ruby Schiff and Claire Sliney held small fundraisers and launched a Kickstarter in 2016. They started a nonprofit, The Pad Project, to continue raising money for a pad machine in Hapur, and began working closely with award-winning director Rayka Zehtabchi, who traveled to India with a cinematographer and small crew twice to create the film. Together, Siegel, Schiff, and Sliney co-produced the film with their high school English teacher Melissa Berton.
The documentary began garnering attention in the film festival circuit, and gained a nomination for Best Documentary Short at the Academy Awards, which Siegel attended alongside her team and six women from India. "I am truly at a loss of words. As Rayka said on stage, 'I can't believe a film about menstruation just won an Oscar!' This is just the beginning of our fight towards menstrual equality because as we say, a period should end a sentence, NOT a girl's education," said Siegel.
Siegel shared excitement over the entire experience during a screening and Q&A in communication professor Vivian Norris' class Tuesday. "The Oscars have given us a global platform to talk about the fact that women and girls around the world don't have equal access to menstrual products. But the most important part of last weekend was spending time with the women we worked with in India and celebrating them." Siegel also expressed that the team behind "Period. End of Sentence." created the film as one step in a larger process to help raise awareness of the issue. They will continue raising money for more pad machines throughout the world, and are also developing education programs to visit schools and talk more about the topic.
"Period. End of Sentence." is available to stream on Netflix. More information, including a donation platform, is available at The Pad Project.