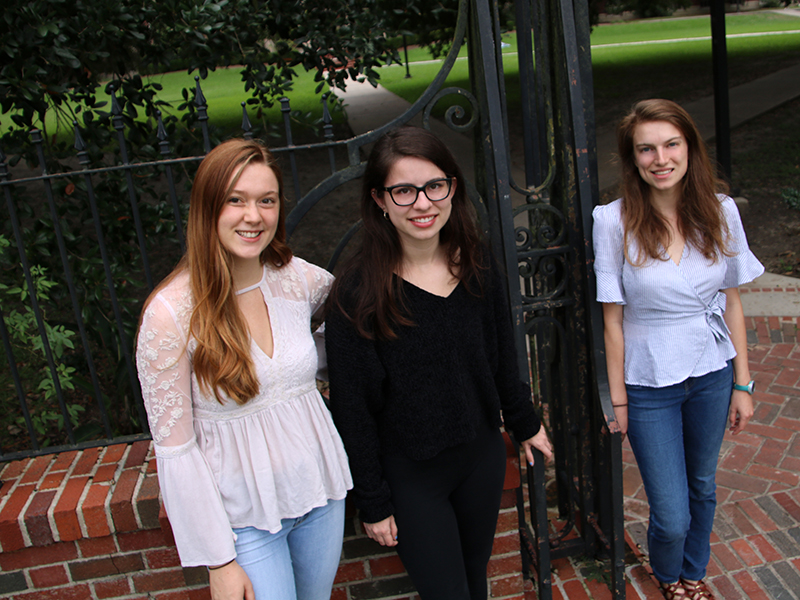 Sophia Angeletti, Shannon Armstrong, and Jenna Fischer—three School of Liberal Arts seniors studying international relations and Middle East studies—are considering next steps in their research and careers after presenting at the largest gathering of Middle East scholars and specialists, the Middle East Studies Association's (MESA) Annual Meeting, in San Antonio last November.
Each year, MESA offers an Undergraduate Workshop to 18 students from around the United States, creating a space for students to hone their research and presentation skills while also exposing them to more primary resources in Middle East studies. While the workshop itself is only open to the undergraduate participants, each student presents a talk in a poster session that is open to all conference attendees.
As Angeletti explains, this opportunity was beneficial for her current research and also inspirational for future endeavors: "I was able to speak to Middle East scholars about my research and receive feedback, and also had the opportunity to see what my peers were presenting on. I loved being able to learn about how other university students were conducting in-depth research on topics I had never thought twice about, ranging from topics like Jordanian female labor force participation rates to a FaceTime message sent out by the Turkish President Erdogan."
Armstrong highlighted the book bazar as another important component of her experience. As she described, "not only was it a great place to casually run into other conference attendees, it was a gold mine for new Middle East related books and sources." Fischer expanded upon both Angeletti and Armstrong's sentiments, also noting that she was able to connect with many professionals at the conference who generously offered to help her on her career path.
Yiğit Akin, professor in the Department of History, has taught each of the three students during their studies at Tulane. "Attending the Undergraduate Workshop of the MESA conference not only helps our students to hone their presentation skills, more importantly, it also offers them an incomparable opportunity to share their research with the largest audience of Middle East specialists that gather annually from all over the world," Akin explained. The interdisciplinary approach to Middle East studies encouraged at the conference is mirrored in Angeletti, Armstrong, and Fischer's experiences here at Tulane as well, having taken classes with SLA professors Mark Gasiorowski, in the Department of Political Science, and Brian Horowitz, in the Department of Jewish Studies, in addition to Akin's history classes.
Angeletti, Armstrong, and Fischer were three of the 18 participants in this year's MESA Undergraduate Workshop, which was the largest representation from one single university. As Akin describes, "this was a first for us, and I think it shows the growing interest in Middle East studies at Tulane."
In 2019, the MESA Conference will take place in New Orleans. For more information, visit https://mesana.org/annual-meeting.