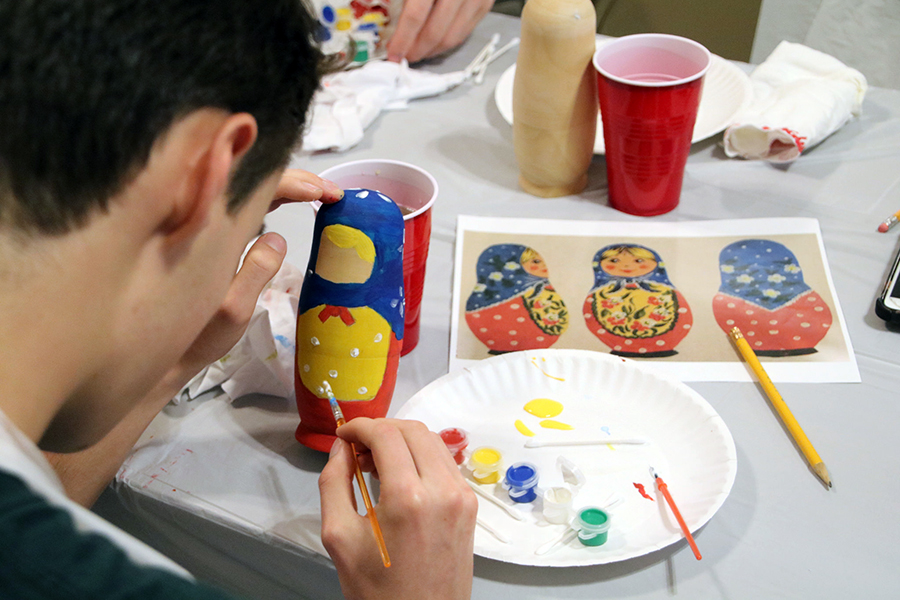 Students from the School of Liberal Arts Elementary Russian, Intermediate Russian, and Exploring Russian Tulane Interdisciplinary Experience Seminar (TIDES) classes recently spent an afternoon at the New Orleans Russian Community Center painting matryoshka dolls, listening to Russian music, and sampling traditional foods.
Lidia Zhigunova, professor of practice in the Department of Germanic and Slavic Studies, led the trip to the Russian Community Center and remarked, "this was an excellent opportunity for the students to engage with the Russian community and interact with each other outside the classroom, while practicing Russian language and learning about the country's culture."
Prior to the class trip to the community center, Zhigunova led a lesson on matryoshka dolls, focusing on the cultural history of the doll as well as Russian vocabulary related to the body, clothing, colors, and instructions. She described the event as project-based learning, where students are able to apply what they've covered in class to real-life scenarios, and has seen a higher retention rate in vocabulary from this type of learning experience.
During the event, students worked alongside community members to paint matryoshka dolls. After painting the dolls, they tasted borsch, a traditional Russian/Eastern European soup; vatrushki, sweet buns filled with cottage cheese; and pirozhnoe 'kartoshka,' a popular sweet cake that looks like a potato. While the center just opened earlier this year, Zhigunova looks forward to her students participating in their future programming.