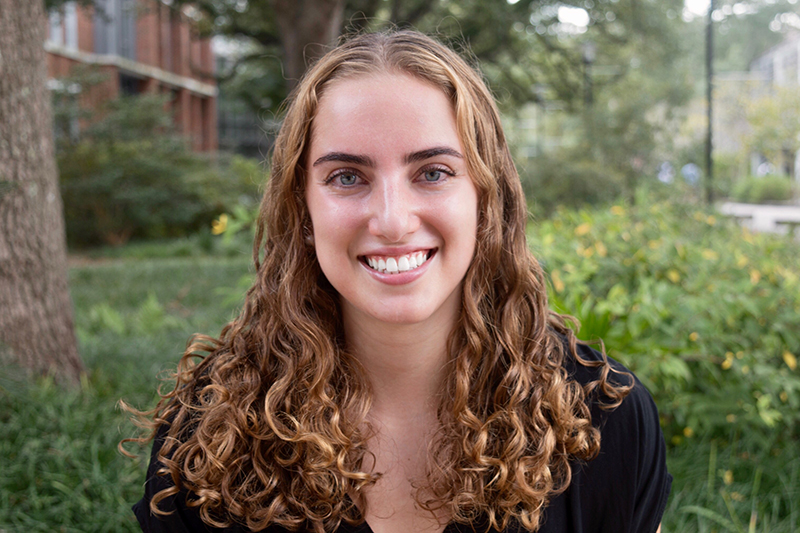 "As a Spanish major, I've had the opportunity to experience new perspectives by learning a different language," explained graduating senior Emily Maranets (BSPH '21, SLA '21), who will begin her career working for the American healthcare company CVS Health after graduation. "My Spanish studies have taught me to recognize, respect, and develop a curiosity for multiple belief systems different from my own, and will be instrumental to my career in healthcare."
Originally from Woodbridge, Connecticut, Maranets has known she wanted to be a physician from a young age. Maranets was enrolled in the university's School of Public Health and Tropical Medicine and the School of Liberal Arts, majoring in public health and Spanish, respectively. In fact, her passion for language learning coupled with her interest in medicine was what drew her to Tulane. "Being able to work on degrees across schools has been essential to my undergraduate education. I've been able to take interdisciplinary coursework and work as a bilingual intern at a community health center, which has been really impactful in my career trajectory," said Maranets.
During her sophomore year, Maranets interned at Touro Infirmary, a local hospital, in the emergency room. Throughout the internship, she noticed how many individuals were coming in due to societal and systemic issues, such as mental health disparities and homelessness, rather than what one might imagine treating in the ER. This experience was a turning point for Maranets—not only was she interested in providing compassionate care as a physician in her future, but her goal grew to confronting health disparities and encouraging better health on a much larger scale.
Over the past four years at Tulane, Maranets has been involved with the Alpha Delta Pi sorority and the Tulane Special Olympics, where she served as a swim coach and vice president. She was also a peer mentor at the Newcomb Institute. After studying abroad in London and Amsterdam for her public health degree and Madrid for her Spanish degree, Maranets began a remote internship with CVS in summer of 2020. In June 2021, she will start a four and a half-year contract with CVS for a rotational job program. Each rotation lasts 18 months and will allow her to work in diverse areas of the business from finance and risk management to community initiatives. Her first role will be a network program manager in behavioral health. Maranets knows the skills she will bring to her new position will allow her to make a difference within the community and succeed in her role and believes her Spanish degree will play a big part in this: "Learning a different language and culture forces you to think about things through a different point of view and be able to communicate those thoughts and ideas effectively across communities. This is vital to creating change."