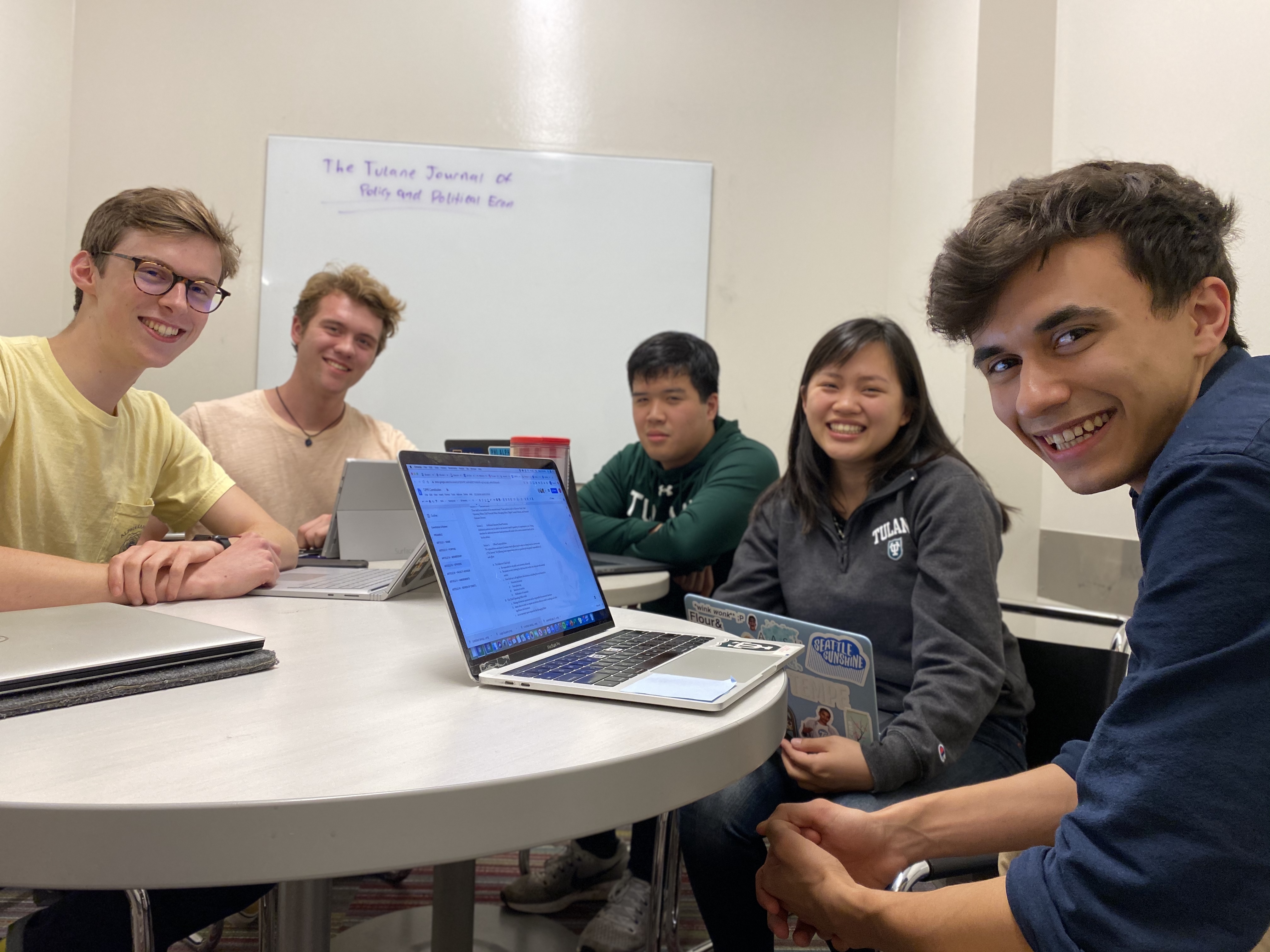 The Tulane Journal of Policy and Political Economy, an academic publication focused exclusively on student research, is rooted in the principle that every perspective deserves a platform.
Serving as the journal's founding Editor in Chief, I have had the privilege of leading a team of 72 Tulane students and faculty in building a dynamic publication. Funded by Newcomb-Tulane College and in collaboration with Tulane's School of Liberal Arts Departments of Political Science and Economics, the Tulane School of Public Health, and student societies at universities across the world, the journal has become an internationally recognized publication dedicated to amplifying undergraduate research on an unprecedented scale.
I founded the journal in early 2020 out of a desire to provide political economy students such as myself with an accessible, peer-reviewed, and public platform through which they could publish their research. Assembling a team of six students and a few professors, we worked day and night (often literally) to grow this idea into a reality. Meeting for long hours and in any location we could find, we constructed the journal's operational, financial, and editorial structures while slowly assembling an ever-increasing team. Before long, we secured funding and partnerships from multiple Tulane organizations and began attracting attention from other universities across the United States and United Kingdom.
Fast forward twelve months, and we have officially published our inaugural edition. Receiving submissions from 38 universities across four continents, we used our rigorous multi-step peer-review process—including a review panel of 50 Tulane professors—to select nine outstanding articles from a pool of 82 total submissions. Available to students across the world at no cost, this volume contains an impressive collection of student research on topics ranging from Eastern European cybersecurity to health and education policy. It has also been indexed in the Library of Congress and is accessible both digitally and in print.
As a Tulane student, I know the value of bridging the gap between differing perspectives. When we commit to elevating the voices of all people, we can spark important conversations that strengthen our community as a whole. I also know, however, just how hard that can be to accomplish. In providing a unified platform for student research, in ensuring that undergraduate perspectives are projected beyond the confines of individual circumstance, and in playing a role to support diverse viewpoints, I truly believe that the Tulane Journal of Policy and Political Economy is doing something remarkable.
Hailing from Seattle, Max Weber is a junior at Tulane double majoring in political economy and international relations with a minor in Russian. On campus, he serves as the Editor in Chief of the Tulane Journal of Policy and Political Economy, the PR Director of the Political Science Honor Society, and an Executive Board member of Tulane Students Demand Action. He also works as an intern in the Office of Admission, a research assistant in the Department of Political Science, and a supplemental instructor for the Department of Economics. With a professional background in political campaigning and activism, Weber hopes to channel his passion for social change and academia into a career at the intersection of constitutional law and public policy.