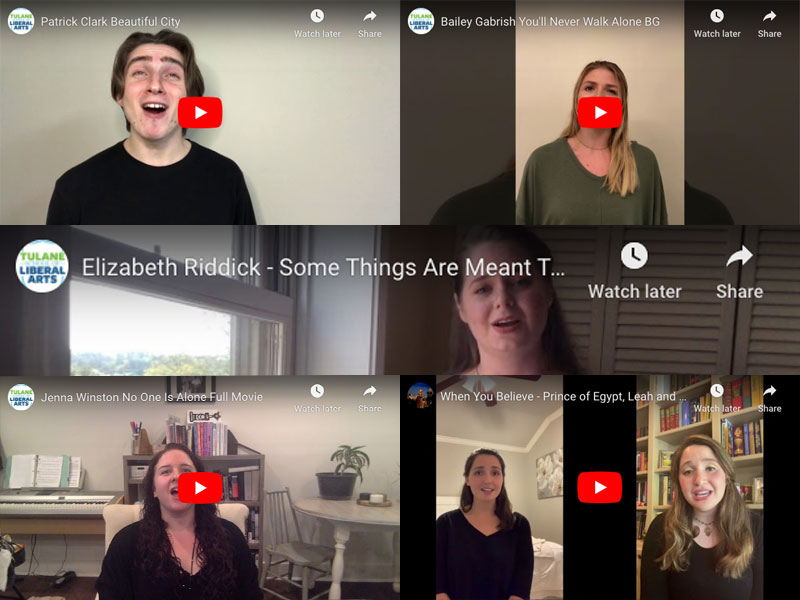 The School of Liberal Arts would like to share some joy through the arts with you during these difficult times. Music heals both the maker and the listener. Young artists, all recent Tulane graduates, offer songs to inspire, uplift, and comfort through meaningful lyrics and beautiful melodies. Enjoy!
Patrick Clark
Patrick Clark graduated from NYU with his Masters of Music in Vocal Performance with a concentration of Musical Theatre in spring 2019. He's currently based in NYC where he's performing in several workshops of new theatre. He graduated from Tulane in 2017 with his BFA in Vocal Performance. Although it's been 3 years since he graduated, Patrick still misses his beloved city and incredible school. Patrick sends all of his love and positive thoughts to the entire Tulane community.
Bailey Gabrish
Originally from Maryland, Bailey Gabrish graduated from Tulane in 2019 with a BFA in Musical Theater and a BA in Communication as well as minors in Spanish and SLAMM (School of Liberal Arts Management Minor). This past year, Bailey has performed around New Orleans with various theaters including summer Lyric, Le Petit, JPAS, and the National World War II Museum. Bailey currently works as an admission counselor in Tulane's Office of Undergraduate Admission. She hopes this song will remind anyone listening that even in this time of isolation, we are not alone.
Jenna Winston
Jenna Winston graduated from Tulane in 2014 with a BFA in Vocal Performance and a BS in Psychology. She continued her education at Tulane, and went on to earn her Masters in Neuroscience. Currently, she is finishing up her doctorate in Cognitive and Behavioral Neuroscience, with a focus on music and cognition. When she is not busy earning degrees, she teaches musical theatre to New Orleans youth, and sings in the touring funk band Miss Mojo.
Elizabeth Riddick
Elizabeth Riddick, soprano, graduated from Tulane University in 2014 with a BA in English Literature and a BFA in Vocal Performance. From Tulane, she went on to earn an MA in Contemporary Literature and Culture from the University of Manchester (UK). Currently based in Little Rock, AR, Elizabeth performs locally and internationally with the Praeclara Vocal Company and serves as the Arts Administrator for Wildwood Park for the Arts.
Leah ('18) and Shira ('19) Kaplan
Leah ('18) and Shira ('19) Kaplan are sisters from Alexandria, LA. Sadly, they are "sheltering in place" in different cities. They are both BFA Music Performance graduates who studied voice with Professor Amy Pfrimmer at Tulane. Leah is a second year student at LSU Health Shreveport -School of Medicine. Shira has been hired to work with Creative Artists Agency (CAA) in New York City beginning in June. Leah and Shira both won the Tulane University Concerto and Aria Contest -Leah in 2018; Shira in 2017. Leah and Shira chose to sing "When You Believe" from the Prince of Egypt. The Prince of Egypt is a Dreamworks movie based on the Biblical story of the Exodus from Egypt; the basis of the Jewish holiday of Passover (April 8-16). This Thursday, April 15, the 21st day of the Hebrew month of Nisan, is the anniversary of the splitting of the Red Sea. "When You Believe" is sung in the film as the Children of Israel successfully cross the Red Sea, and are freed from Egyptian bondage.

 

 
Miss Mojo
Including seven Tulane alumni, Miss Mojo performs with captivating showmanship, stemming from years in New Orleans' vibrant live music scene, and evoking a genuine love for their craft and passion for playing together. Led by the dynamic combo of Jenna Winston and Piper Browne, the band highlights the power of women through music. Website: www.missmojonola.com.
Lead Vocals - Jenna Winston (SLA '14), Lead Vocals - Piper Browne (SLA '15), Saxophone, Flute - Ari Kohn (SLA '14), Trombone - Evan Oberla, Keyboards - Rob Kellner (SLA '17), Guitar - Cody Greenstein (B '14), Bass Guitar - Leo Skovron (SE '14), Drums - Mack Major (SE '14)