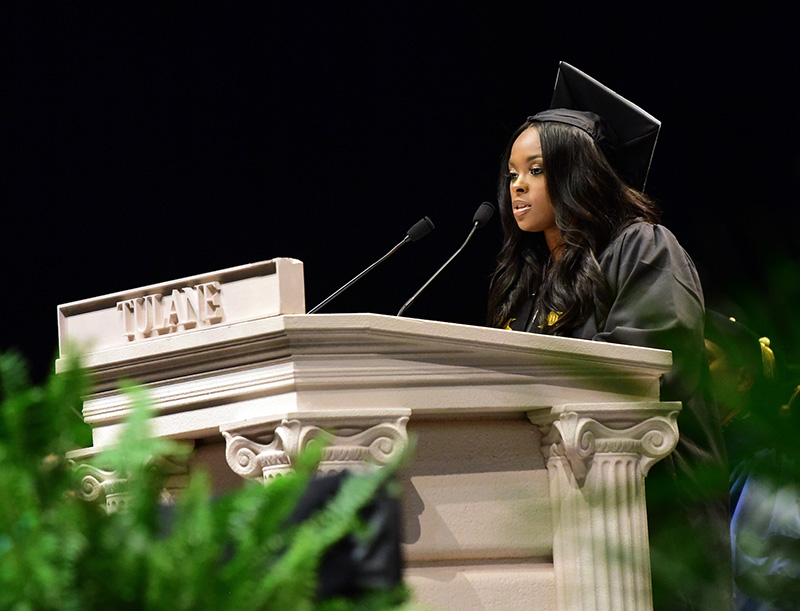 Zharia Jeffries (SLA '19), the School of Liberal Arts 2019 Diploma Ceremony student speaker, embodies the scholarly and socially conscious intellect, courageous mind and heart, and zest for life we strive to cultivate in the School of Liberal Arts and as individuals.
Jeffries grew up in South Carolina and Atlanta, and throughout her tenure at Tulane, Jeffries studied communication and participated in summer abroad programs in the Dominican Republic and Senegal. Jeffries' interest in and dedication to learning more about her surroundings led her to work in the Center for the Gulf South at Tulane; and her drive to record her experiences and the world around her fueled her contributions to publications such as the Tulane Hullabaloo, Via Nola Vie, and OE Magazine throughout the last two years. Her focus remained on fostering a greater understanding of the world we live in and utilizing the platform of journalism to share important stories of the past and present. "I believe there is a huge push for authenticity within American culture," explains Jeffries. "People want to be informed about real issues happening around the world, and journalism is key to this happening because there are so many stories to be told. And with the innovation of technology, there are many different ways to tell these stories and reach a wide audience." 
In her 2018 article for the digital publication Via Nola Vie, "Black on Campus: Invisible Target," Jeffries prompted important conversations about race and ethnicity on college campuses in the U.S. and beyond. She wrote openly about discriminatory interactions on campus, invisibility, and the strength necessary to follow the path she charted for herself. After the article's publication, many students shared similar experiences with her. As she stated in her article: "Instead of being visible only in my appearance, I want to be visible because of my character, and what I bring to the table. I want to be visible because I have purpose and promise that should be accepted and allowed to flourish."
This fall, Jeffries will begin working toward her master's degree in the Newhouse School's Magazine, Newspaper and Online Journalism program at Syracuse University. "I am most excited about gaining the skills of a multi-faceted journalist. I'm also really excited about meeting different people in the media industry, collaborating with other journalists, and learning from others in my profession," said Jeffries.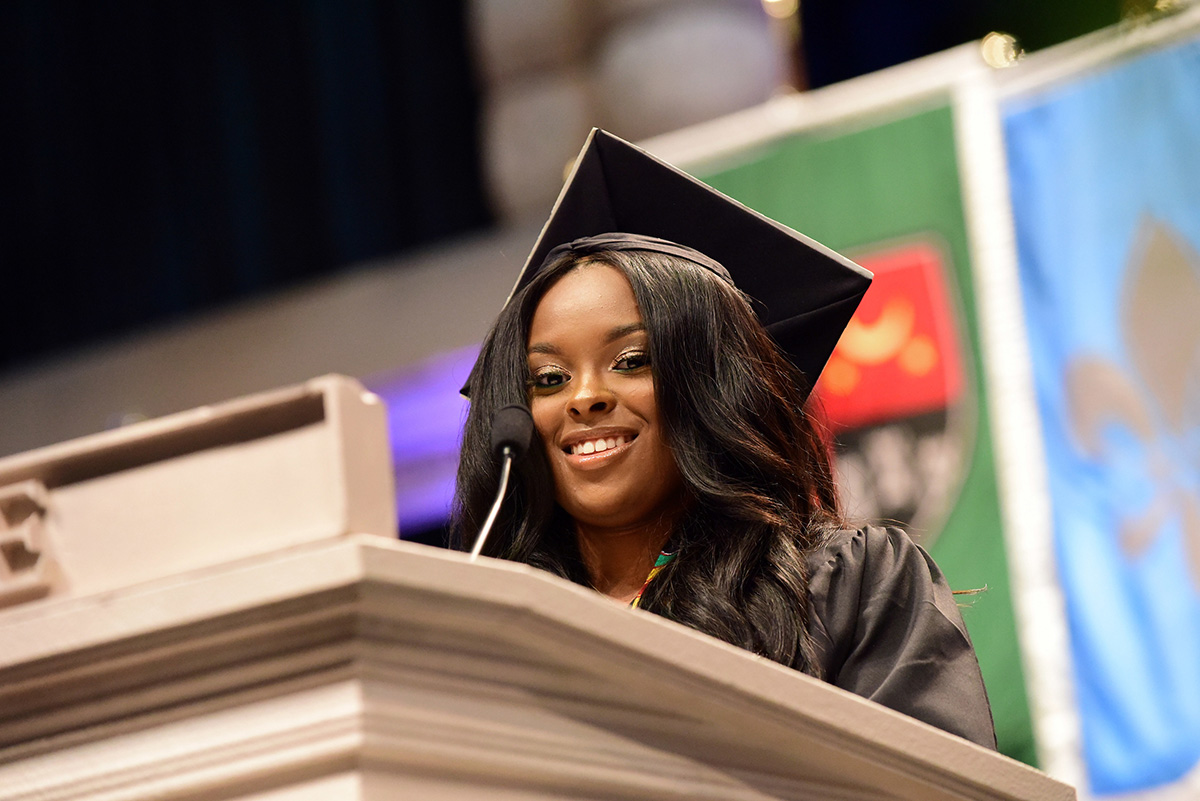 Zharia Jeffries (SLA '19) delivering her speech at the 2019 School of Liberal Arts Diploma Ceremony.