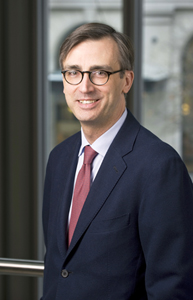 In the School of Liberal Arts, when faculty wish to bring exciting speakers and artists to campus, they turn to SLA's Center for Scholars. First established in 1997, the Center provides funds to bring well-known scholars, artists and political leaders to campus for lectures, conferences, symposia and classroom visits. This year, the Center will provide support for such notable historians as Linda Kerber and Thomas Laquer, whose visits will undoubtedly attract a wide audience.
A new endowment, funded by Alan Lawrence, will now ensure that continued vibrancy of the Center. According to Dean Carole Haber, "due to the generosity of Alan Lawrence, the Center for Scholars will continue to connect Tulane's students and faculty to the scholarly world." His gift will provide funds to support travel, lodging, and honorarium for visiting scholars.
This is not the first time that Lawrence's support has enriched the academic environment of Tulane. A member of SLA's Dean's Advisory Council, he previously helped underwrite a pair of conferences, "Saint-Louis, Senegal and New Orleans: Two Mirror Cities," in Senegal and on Tulane's campus that explored the historic connection between the two port cities.
"I get a lot of satisfaction out of seeing the continued growth of the university and its continued support of excellence," says Lawrence, a partner with New York City law firm Arnold & Porter. "Tulane's always taken its task of providing a top undergraduate and graduate education very seriously. Being a part of that is very important to me."
Lawrence majored in international relations at Tulane, which he describes as political science with language and economics requirements. An advocate for liberal arts education, he believes that it prepares students well for life after Tulane. "Being able to think clearly and communicate clearly and learn quickly is more important than ever."
Share with us what inspires you to give. Learn more about the different ways to give. Support What Inspires You!