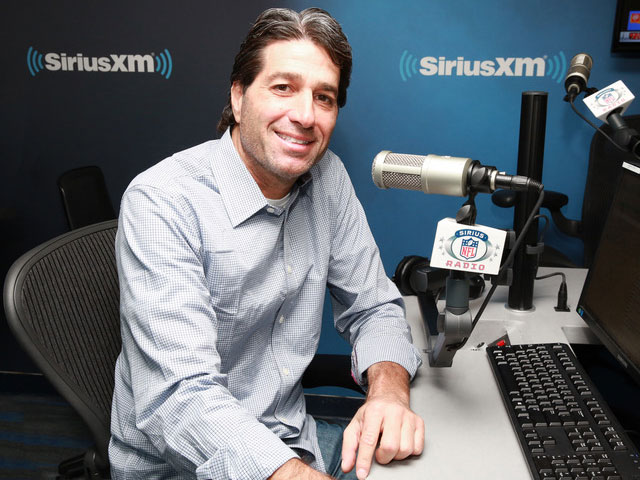 Bruce Murray never thought he'd get paid to be a sports fan. And now he's a radio sportscaster, working alongside well-known professional athletes.
Murray, a 1985 Tulane A&S graduate, has found success as a sportscaster and host of a daily radio show about the National Football League on SiriusXM. "I grew up as a big sports fan. I loved being a sports fan. I never thought I would get paid to be a sports fan," says Murray. "I have friends today that are like, 'You can't really call that a job. You get paid to watch football.'"
"I wanted to do something that could help anybody who wanted to be involved in communications because of how much it's meant to me." - Bruce Murray
He got his start at the Tulane-owned radio station, WTUL. His first year at Tulane, he started reading news at the top and bottom of the hour. He became sports director as a junior. As a senior, he became general manager of the entire radio station.
"To this day, it was one of the greatest experiences I've ever had," remarks Murray, who estimates that he spent half his college career in the WTUL office, especially during his later years. "Some of the guys I worked with are still life-long friends, many who have succeeded in either the entertainment business or the music business."
Murray, who is a member of Tulane's School of Liberal Arts Dean's Advisory Council, sees his professional success as a radio broadcaster and his experiences at WTUL as an important continuum. He credits his studies in the liberal arts as giving him a diverse education and the skills in speaking, reading, writing and critical thinking necessary to succeed. That's why he made a generous gift to support the Television and Radio Fund in the School of Liberal Arts, promoting teaching, researching and digitally archiving significant media. "I wanted to do something that could help anybody who wanted to be involved in communications because of how much it's meant to me."
To those young people who do want to follow his footsteps and pursue a career in a high-profile industry, his advice is to try it. "My advice to all of them is, 'if you love it, try it.' You'll never regret it if you tried it and move on to something else. But if you don't pursue it, 20 years down the road when you're working in that office—and you could be a successful real estate person, you could be a successful accountant—you may look back and go, 'Why didn't I try?'"
And when asked what he likes about his job, Murray quotes the old adage, "'if you like what you do, you'll never work a day in your life.'" "It's true. When I sit down to do my show every day, the second we start our broadcast at 11 Eastern Time, everything else just kind of disappears. I just really like working every day. It's never a bad day."
Share with us what inspires you to give. Learn more about the different ways to give. Support What Inspires You!