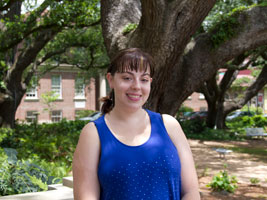 We all know that SLA students are bright and inquisitive. Daring to step outside their comfort zones – whether through study abroad, service learning, internships or challenging majors – they leave Tulane with skill, experience, and confidence. As a snapshot of just a few of our current graduating students makes clear, their visions have expanded; their horizons are nothing short of limitless.
Stacy Krost, for example, found her passion in China. A double major in English and Asian Studies, as a junior she received a scholarship to study at Beijing Foreign Studies University. Upon graduation she will serve as an intern at the State Department. She will then go to Stanford – having also been accepted to Harvard, Hopkins, and Berkeley – to prepare for a career in the State Department. Her success, she notes, is directly tied to her studies at Tulane. "The coursework I've taken at Tulane has given me the foundation to tackle the work that's taken me to Stanford and after that, hopefully, to the State Department."
Asian Studies also inspired Mackenzie Shade who doubled majored in the Interdisciplinary Program and Psychology. Similar to Stacy, who studied in China, Mackenzie will also travel around the world to work in Japan. Starting in July, she will be an assistant language teacher in the Japanese Exchange and Teaching Programme. In this role, she will assist a primary teacher to teach English, educate Japanese students in western culture, and participate in events in the local community. "I've always wanted to travel to Japan, and I'm looking forward to giving back to the community and participating in the cultural exchange," Shade says.
As a student, John Feffer found his calling in a different part of the world. As a Latin American Studies major, he spent his junior year abroad in Chile, working with an organization aimed at assisting underprivileged elementary school-age children. "That's when I really became passionate about teaching," says Feffer. In New Orleans, he used his commitment to education as he tutored English as Second Language students. This fall, he will work at Beauvoir Elementary School in Washington, D.C.
Share with us what inspires you to give. Learn more about the different ways to give. Support What Inspires You!