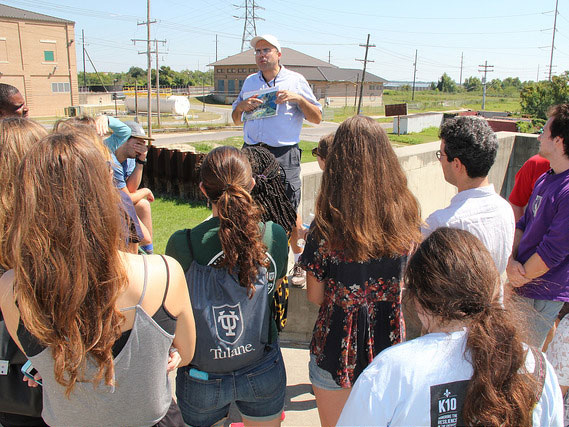 Too often, little attention is paid to the localized impact of the petrochemical industry. This year, the School of Liberal Arts aims to change that by devoting its annual Focus on the Environment program to an exploration of the effect of the industry on the region's environment.
Entitled "Petrochemical City: The Costs and Consequences of Petrochemical Industrial Production on New Orleans," the 2016-2017 exploration will include a range of lectures open to the public as well as a course this fall on "Urban Political Ecology and the Petrochemical City" taught by Christopher Oliver, a Professor of Practice in Environmental Studies and Sociology.
"By funding this series, we wanted Tulane to be a leader in furthering discussion and debate on how CO2 emissions are affecting climate change, an event that directly threatens coastal cities like New Orleans." - Charlotte Hubbell
"It's an important industry in Louisiana," remarks Oliver, "but the effects are not evenly distributed. Too often low-income communities and communities of color are affected disproportionately. By "disproportionate effects" I mean both not receiving most of the positive aspects, e.g., jobs and related income generated from oil and gas revenue, but at the same time also bearing the brunt of the negative effects, e.g., pollution/contamination."
The series is made possible by the generosity of Charlotte and Fred Hubbell. "By funding this series, we wanted Tulane to be a leader in furthering discussion and debate on how CO2 emissions are affecting climate change, an event that directly threatens coastal cities like New Orleans," said Charlotte Hubbell, a 1971 Tulane Political Science graduate and School of Liberal Arts Dean's Advisory Council member. "We believe this topic needs more attention than it's getting. Our hope is that people start to question whether the arguments that pit jobs vs. the environment are based on facts or a mindset which doesn't want change because of how it will affect established interests. We believe properly designed environmental programs and transparency about the risks of global climate change can provide energy related jobs that will benefit all segments of society without imposing harmful effects on any one region or class."
This program is the second Focus on the Environment series that the Hubbells have supported. In 2015-2016, they sponsored "Katrina Disaster Now," which featured public conversations marking the tenth anniversary of Hurricane Katrina.
The current program has already brought well-known environmental leaders to campus. Barbara Allen, Professor of Science and Technology in Society at Virginia Tech University, spoke about her work, which examines the role of science in facilitating local communities' work with policymakers in order to alleviate neighborhood environmental pollution.
Gerald Markowitz, Distinguished Professor of History at John Jay College of Criminal Justice and the Graduate Center, City University of New York and one of the nation's leading scholars on harmful contaminants, lectured on the history of lead poisoning and the attempt of both corporations and the government to convince the public that lead was not dangerous and actually improved lives of all Americans—including children.
In addition to public lectures, each speaker visited undergraduate and graduate students in environmental studies classes. Oliver is enthusiastic about the series, regarding the School of Liberal Arts as a natural fit for these discussions, "It's important to teach students about the environment from a broad perspective, and to teach them to work at the intersection of the social sciences, liberal arts, and environmental and ecological sciences."
Petrochemical City events will continue into the spring 2017 semester, including a talk by Michael Mascarenhas, Professor of Science and Technology at Rensselaer Polytechnic Institute, who will speak about his work with communities directly impacted by the Flint lead water contamination. For a full list of events of the series view the event flyer.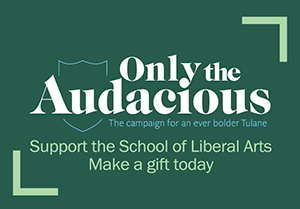 Share with us what inspires you to give. Learn more about the different ways to give. Support What Inspires You!