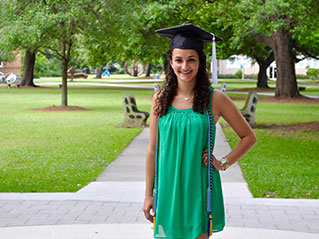 When I started at Tulane I had no intentions of graduating with a Liberal Arts degree. Moving to New Orleans as a freshman, I imagined my time at Tulane would go something like this: Move in, start architecture classes, explore some other fields that interested me, figure out what I wanted to do with my life, graduate with a Masters of Architecture and move back to DC to get a job. Little did I know, this would all change after my first semester. I quickly realized architecture was not the right path for me and decided to change my major to Environmental Studies. From the moment I made that decision, the School of Liberal Arts changed my Tulane experience and offered me once in a lifetime opportunities that lead me to where I am today.
In the Spring of 2015 the School of Liberal Arts and the Environmental Studies department announced they would be offering a summer program focused on Environmental and Social Justice in New Orleans. As a rising senior who was set on sticking around New Orleans beyond graduation, I thought that staying for a summer and experiencing the true heat and humidity the Crescent City had to offer would be beneficial. Beyond that, the descriptions of the classes and the opportunities they presented led me to believe that participating in this program would be one of the best experiences of my Tulane education. Between the readings, class discussions, field trips and projects, the Environmental Studies summer program changed my life in immeasurable ways.
This program pushed me to step out of my comfort zone and use the skills and knowledge I had gained in a new way. I began interning at Global Green's New Orleans office in September of 2015 and spent the remainder of my senior year learning and growing, both personally and professionally. Toward the end of the year, I applied to the Tulane Center for Public Service AmeriCorps VISTA program and was accepted to continue with Global Green. This time I would be volunteering full-time to build capacity within the organization. I am fully confident in saying that without my Tulane Liberal Arts education and the Environmental Studies summer program I would have never had the chance to intern or work full time with Global Green. These opportunities have opened many more doors for my future and I can't wait to see where those take me.
Share with us what inspires you to give. Learn more about the different ways to give. Support What Inspires You!