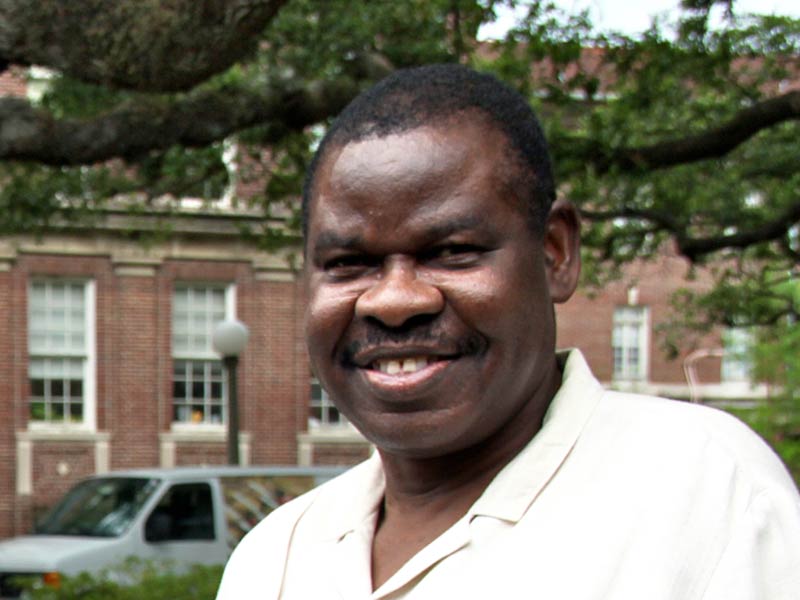 Biography
Remembering Communication Professor, Dr. Frank Ukadike
Nwachukwu Frank Ukadike was born in 1950. He received his B.A. from Croydon College, London, in 1980 and a master's degree in film and telecommunications from the University of Oregon in 1982, before moving to New York University, where he earned a master's in cinema studies in 1986 and his Ph.D. in 1989. He was on the faculty of the University of Michigan before joining the Tulane faculty in 1998.
Professor Ukadike was a scholar of cinema and film history, with a particular focus on African cinema, and film and media of the African diaspora. His first book Black African Cinema, published by the University of California Press in 1994, was widely reviewed and much heralded as one of the first books to address the medium through a combination of film theory, history, and theories of decolonizing the "Other." In recent years, he published a book of interviews with African filmmakers called Questioning African Cinema (2002), an edited collection of essays called African Cinema: Narratives, Perspectives and Poetics (2014), and was a regular jurist for film festivals. According to a recent review in Cinema Journal (2015), Ukadike's oeuvre "derived its critical vocabulary from long-standing debates on Western cultural imperialism and African struggles to develop authentic cultural expressions in an era of globalization." He served on the advisory panels for the NEH, Fulbright, Guggenheim, and the Nollywood Study Center at the Pan-African University in Lagos.
As a teacher, he contributed courses to the curriculum that expanded students' understanding of third world and African cinema, documentary cinema, and more recently environmental cinema in a global context. He regularly taught "Film Analysis," "Documentary Film," "African Film," and "Third World Cinema." Many of his courses partnered with local schools through Upward Bound. He organized film screenings and brought many acclaimed directors to Tulane to meet with students and screen their works. As a faculty member holding a joint appointment in the Africana Studies Program, Professor Ukadike also regularly taught the gateway course for the program, introducing students to the interdisciplinary field and the countless linkages between the African continent and the worldwide African diaspora.
We extend our condolences to his family in Nigeria and the United States, his colleagues across the School of Liberal Arts and the University, and the many students he taught over the years he was at Tulane. He will surely live on in our memories and hearts.