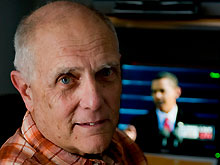 Biography
Remembering Communication Professor, Dr. James Mackin, 1944-2011
Professor James Mackin joined the Department of Communication in 1988 after completing his Ph.D. at the University of Texas in Austin. Prior to his graduate work, Jim served as a fighter pilot in the United States Air Force during the turbulent Vietnam years.
The influence of Jim's scholarly work in the area of rhetoric and communication ethics is enormous. His book, Community Over Chaos: An Ecological Perspective on Communication Ethics, is widely regarded as a vital contribution to debates and policy initiatives related to environmental quality. In 2010 the National Communication Association featured a panel honoring Jim's work organized by young scholars who consider him to be one of the forefathers of environmental communication.
The legacy of Jim's scholarly work is matched by his commitment to service. It is impossible to overstate the generosity he exhibited in all of his relationships over the entire span of his career. When Jim retired in 2010, our department organized a collection of tributes from colleagues, students and friends. Over 40 people from around the country who had worked or studied with Jim sent heartfelt recollections highlighting Jim's devotion to others. Many remembered the knowledge and patience he exhibited early in his career to ensure that computers became part of our everyday lives. Others recalled the guidance and support he offered during his service as Chair of the department from 2001-2007. Whether voicing encouragement to a junior faculty member in the midst of the tenure process, going to the home of a colleague on a Sunday afternoon to remedy a computer problem, welcoming a new Administrative Assistant to the department, or providing comfort in times of personal crisis, Jim's unflappable counsel offered reassurance and optimism for the future. Students remembered him as a brilliant professor who worked tirelessly to bring out the best in them. Fittingly, Jim was the inaugural recipient of the School of Liberal Arts Outstanding Service Award in 2010.
In addition to his service to the Department of Communication, he enriched the Tulane community by taking on demanding committee assignments. He served as Secretary of the University Senate for many years and chaired the committee charged with drafting the constitution for the new School of Liberal Arts created after Katrina. He was elected twice to the Committee on Promotions and Tenure and many others. Jim's commitment to students is reflected in his work on the Newcomb-Tulane Committee on Academic Requirements and as faculty advisor to the Hullabaloo. With Jim's passing comes inevitable sadness for our loss, yet we are profoundly grateful to have known him and we aspire to the level of integrity he exhibited each day of his life.