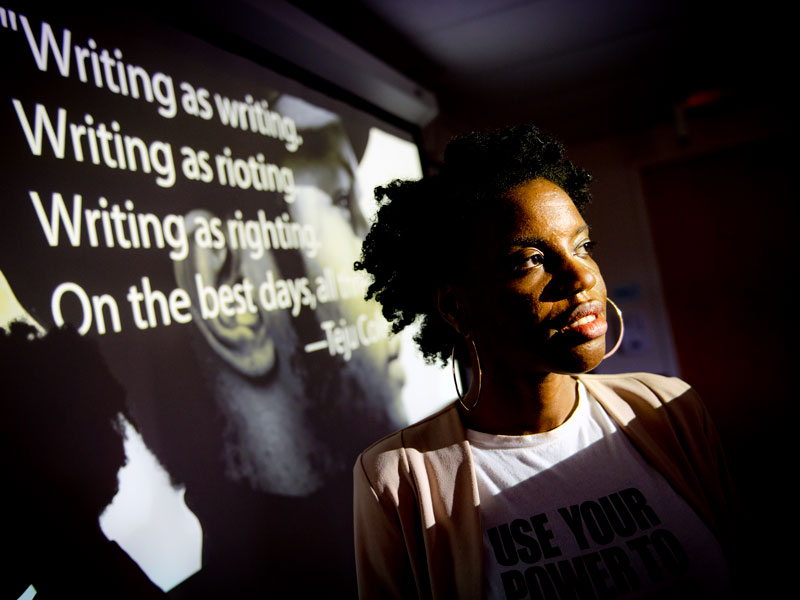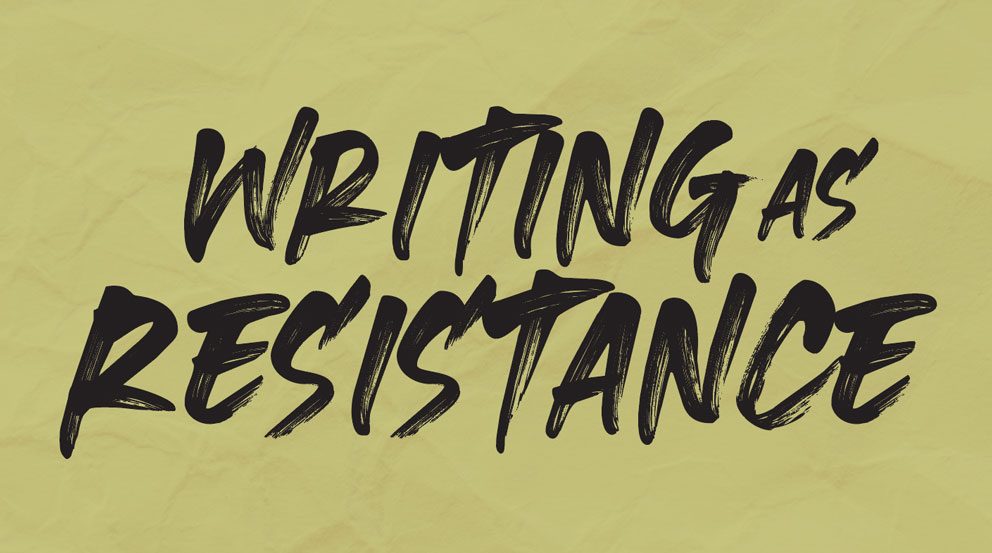 Liberation and Liberal Arts: Writing as Resistance
By Ebony Perro, Professor of Practice, Department of English
Originally published in the School of Liberal Arts Magazine, Spring 2021
Friday, June 11, 2021
Teaching first-year writing and honors colloquium courses, I encounter students who envision education as a pathway for change. Though each semester brings a spectrum of students—from aspiring activists who take my courses to learn how to channel their rage to students who learned that emotions do not belong in the classroom—2020 was different. In 2020, I witnessed the resurgence of mass, publicly visible anger and outrage toward structural violence and encountered students who entered college during what many media outlets call unprecedented times. Because of this, more students sought to discuss their feelings and find ways to engage in resistance work.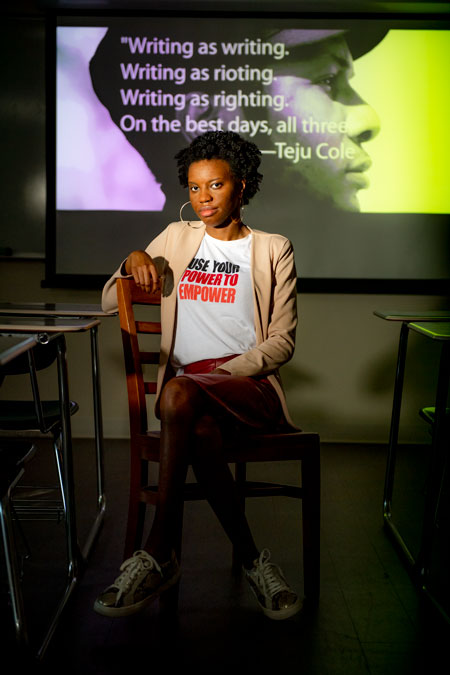 "I've never taught outside of a social movement." I've said this to colleagues, friends, and students on numerous occasions, and this fact informs my research and pedagogy. I study the archive of angry Black girls in Black women's coming-of-age novels from the "angry decade" (the 1960s) to the "age of rage" (present-day). Through Black girl protagonists, Black women writers present counternarratives of rage that illuminate it as a valid response to injustice. They also demonstrate the ways rage informs resistance and initiates change.
As students come of age in what scholars call the "age of rage," I center pedagogical strategies that interrogate the relationship between the social climate and emotions. I show students how rage against injustice becomes an assertion of humanity, citizenship, and voice. Based on these ideas, we develop writing principles that inform paper topics and citational practices. These ideas also become pillars for teaching students to examine rhetorical situations, think critically about inserting themselves into academic conversations, and discern whose voices to represent in their work.
When I proposed the honors course "Rage: Movements, Media, and the Politics of Being Mad," I didn't expect the myriad events of summer that sent surges of rage through every hemisphere. I didn't imagine that the largest movement in U.S. history—Black Lives Matter—would extend its reach during a pandemic. Millions of people were quarantined with their rage and desired freedom in so many ways. In Fall 2020, students and faculty came face-to-face and screen-to-screen with their isolation and injustice-fueled anger, grappling with what to do with it in the classroom. As the intersections of pain, protest, and pedagogy sparked nationwide anti-racist initiatives and student demands for institutional changes, I afforded students space to channel their anger and write about issues that altered their learning environment.
Instead of attaching rage to violence, I teach students to consider rage as a consciousness-raising emotion.
Every semester, I start my courses with a tweet by author and art historian Teju Cole. Cole's notion of "Writing as writing. Writing as rioting. Writing as righting. On the best days, all three," presents its productive possibilities. When I ask students what Cole means, I get responses like "writing allows us to speak up for change, explain our perspective, and heal our communities. It provokes new thought, empathy, and action." With the collective responses in mind, students think deeply about their writing and research as resistance. I also implore that they envision rage in these ways. Instead of attaching rage to violence, I teach students to consider rage as a consciousness-raising emotion. We link their rage to the "rioting" and "righting" in their work, where they challenge the status quo and present correctives through their arguments. As they bridge the personal and political, they commit to social justice. Students host a range of conversations in their writing from campus issues to climate change. Despite differing frustrations and sources of rage, students use their knowledge of rage and the writing practices extracted from Cole's tweet to develop arguments that explore the historical, social, political underpinnings of the problems they address in their writing.
Since students bring their joy, burdens, and rage into the educational space in (in)visible ways, I center Deborah J. Cohan's concept of pedagogical rage. Cohan explains that as students see the ways rage catalyzes social and personal change, rage initiates a process of educating for critical consciousness. Cohan demonstrates that teaching about rage and resistance does not equate to centering physical violence—instead, it shows students to harness their rage for transforming their communities. Students come to see rage as more than an emotion; it is an "analytical tool" and stimulus to respond to societal problems. These concepts, coupled with students' writing, empower them to seek ways to be heard in a world that is often strategically deaf to their voices.
Though I didn't imagine Summer 2020 unleashing so much rage, I do imagine—and teach students to imagine—the liberation that righteous rage can bring. Each day, as the sounds of literal and figurative freedom songs permeate the class, I remind students of the power of their anger, taking up the imperative of teaching writing as non-violent resistance. We write through and to our rage, holding space for it as we work toward healing. As national and global discourses are underscored by rage, educators can consider the utility of anger and the possibilities of liberal arts education for liberation.