2019 Faculty and Staff Awards
Outstanding Research Award:
Katharine M. Jack, Department of Anthropology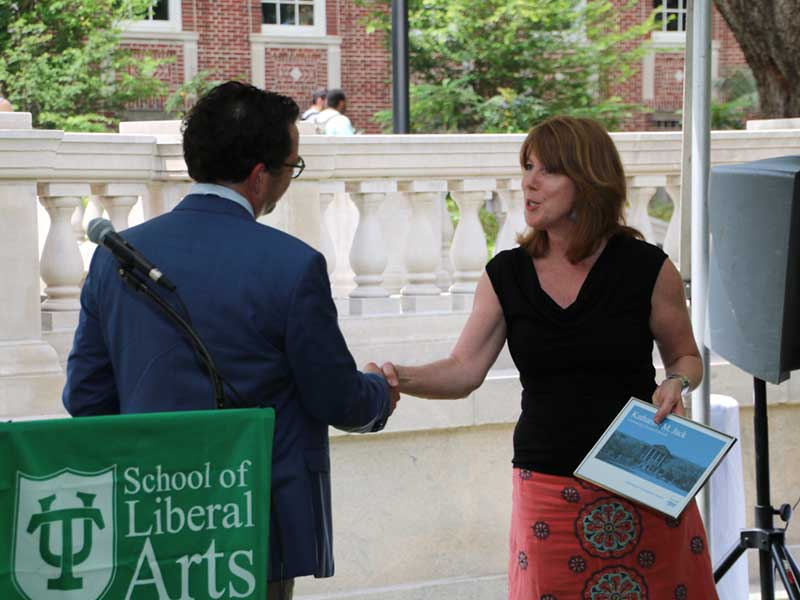 The 2019 Outstanding Research Award was given to Katharine M. Jack. As a primatologist who works with Neotropical nonhuman primates – in particular, white-faced capuchins – Kathy has been associated with primatological projects in Kenya, Ecuador, Brazil, and Costa Rica. Professor Jack has amassed an amazing publication record. Her co-edited volume was published in December 2018, and she is co-author of an astonishing 35 articles in peer-reviewed journals, and another 7 chapters in peer-reviewed edited volumes among other entries in a variety of venues. Her articles have appeared in top-tier anthropological and biological journals such as Behaviour, American Journal of Physical Anthropology, Conservation Biology, Animal Behaviour, General and Comparative Endocrinology, American Journal of Primatology, and International Journal of Primatology.
Her cutting-edge long-term research on alpha male capuchin monkeys, especially her recent hormonal work, is providing new and exciting insights into nonhuman primate (and even human) reproductive behavior. Hers is a busy and productive lab group, and importantly, her former students are employed as primatologists and/or conservation biologists. Kathy's work is widely recognized as top-notch, and as a result has earned significant extramural monetary support – while she still has a long career ahead of her, she has nonetheless already received over $250,000 in research money from agencies such as the National Geographic Society, the National Science Foundation, the Louisiana Board of Regents (for which her project was ranked #1 in the state), and the L.S.B. Leakey Foundation.
The April Brayfield Outstanding Faculty Teaching Award:
Michelle Kohler, Department of English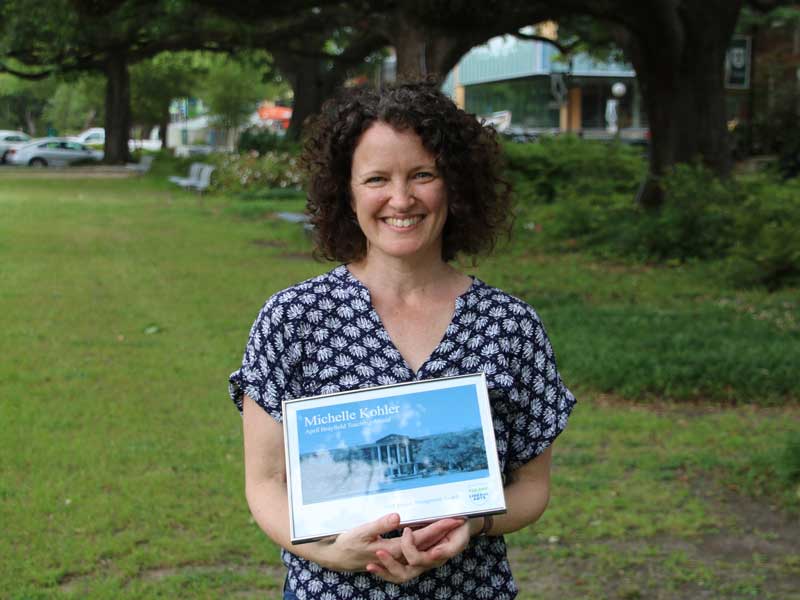 The winner of the April Brayfield Outstanding Teaching Award goes to Michelle Kohler from the English Department. Michelle has always been a star teacher, creating innovative interdisciplinary courses, setting a high standard of excellence, and attracting our most intellectual students to her courses. For the past three years, Michelle has been the Associate Chair of the English Department and the Director of Undergraduate Studies. In that role, she has transformed her department's engagement with their majors and minors, creating community, building programs, and expanding offerings
Michelle has developed and organized the first two annual Undergraduate Colloquia for English Majors named "Politics and the Literary Scholar" a two-day series of events with majors, other students, and faculty together with a guest scholar to think about how and why literary studies and literary research matter in the current political climate. Following the guidelines of the President's Task Force, she promoted undergraduate research in the department by organizing an inaugural "Showcase of Student Research" in May 2018. Students who had completed Honors theses, independent studies, major digital projects, and other faculty-mentored research gave short presentations on their projects. This has become an English Department tradition, and they will have this event every spring thanks to Michelle's diligence. Additionally, Michelle is beginning to establish the Career Development and Alumni Mentoring Program and the first English Department Student Advisory Committee.
Michelle is a real teacher who cares about the minds and hearts of the students in her classes. As one student remarked, "Professor Kohler is hands down the kindest professor I've ever had, which makes the class very enjoyable. It is clear that she loves the works we read in class, and that excitement spread throughout her lectures." As chair of the English Department Rebecca Mark illustrated in her nomination of Michelle, "Professor Kohler is one of the best teachers I have ever met in my 38 years of teaching here and elsewhere. She brings honor and commitment, imagination and passion to her work as both a scholar and a professor."
Outstanding Service Award:
Justin Wolfe, Department of English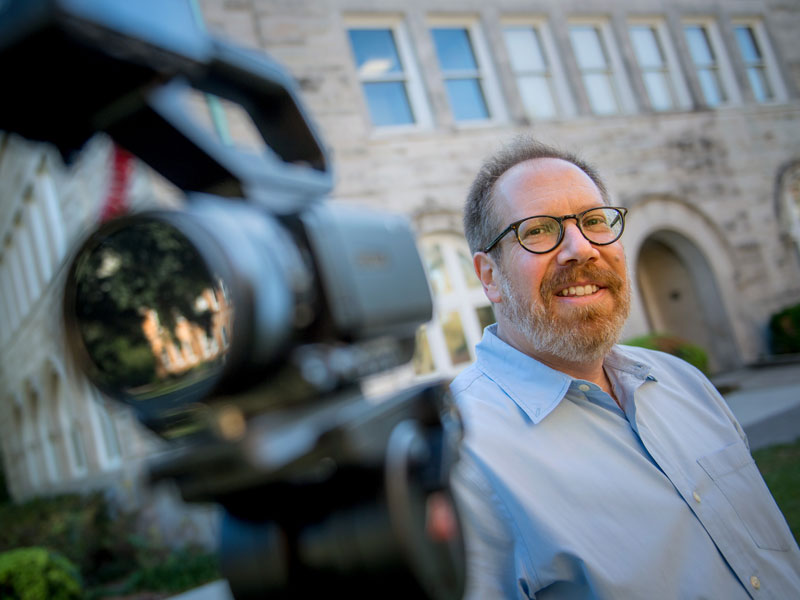 The 2019 Outstanding Service Award goes to Justin Wolfe of the Department of History. A truly outstanding university citizen, Justin has been a core member of the University Senate for the past seven years, serving on and chairing several subcommittees. He has also served as vice chair of the larger body for the past three years. Throughout his time in the University Senate, Wolfe has been a key driver and drafter of initiatives, most of them aiming to reinforce equity and improve transparency. Justin represents his school's faculty, but his main commitment throughout has been improving the overall educational experience of Tulane students. Justin has served on the IRB Faculty Advisory Board, the President's Faculty Advisory Committee, and Tulane's Pre-College Summer Advisory Group, the School of Liberal Arts in Graduate Studies Committee, the Undergraduate Curriculum Committee, and the Interdisciplinary Program Review Committee. Justin is also a core member of the Film Studies Executive Committee, and has over a decade on the Newcomb Fellows Grant Review Committee, chairing the Stone Center for Latin American Studies Executive Committee, and more.
Justin's service to the History Department are also extensive; highlights include chairing Graduate Studies, Scheduling, SACS Assessment, and working on the Website and developing media. In sum, Justin is the very epitome of university service.
Outstanding Staff Award:
Ava L'Herisse, Department of Communication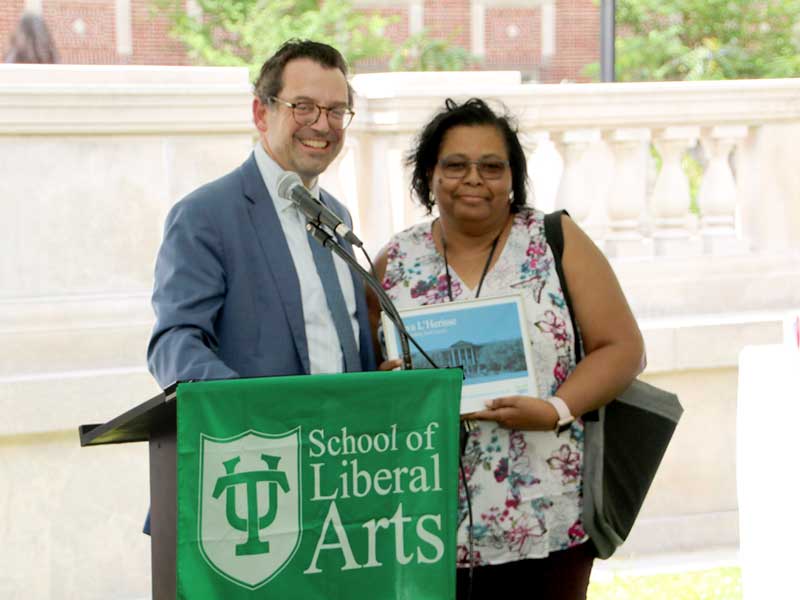 The Liberal Arts Outstanding Staff Award goes to Ava L'Herisse. On October 2018, Ms. L'Herisse completed 10 years of service to Tulane University. She started her career in the University working as a Financial Services Specialist at the Accounts Payable Department. From 2008 to 2017, Ms. L'Herisse was in charge of processing over 5,000 vouchers annually for university employees' reimbursements and travel expenses. She became a major support for Tulane's faculty and staff, assisting them by phone and in person with the use of the Concur computer software system and many other services.
On January 2017 Ms. L'Herisse became the Executive Secretary of the Department of Communication. It was a transformative hire for our department. She not only performs her duties in a timely and disciplined manner, but she is also able to take the initiative in problem solving and institutional building. The department chair and other faculty members have always admired how Ms. L'Herisse is not only able to anticipate problems, but also to come with suggested solutions to address them. She has turned our office physically and socially into a welcoming and pleasurable work environment with her kind demeanor and unparallel dedication. Faculty members and student workers have been welcomed in the mornings by donuts, muffins and messages of incentive. She provides a solid base of support for faculty members' administrative, research and teaching activities. She has also become a mentor for a significant number of students enrolled in one of the largest majors in the School of Liberal Arts.