Research award: Doug Harris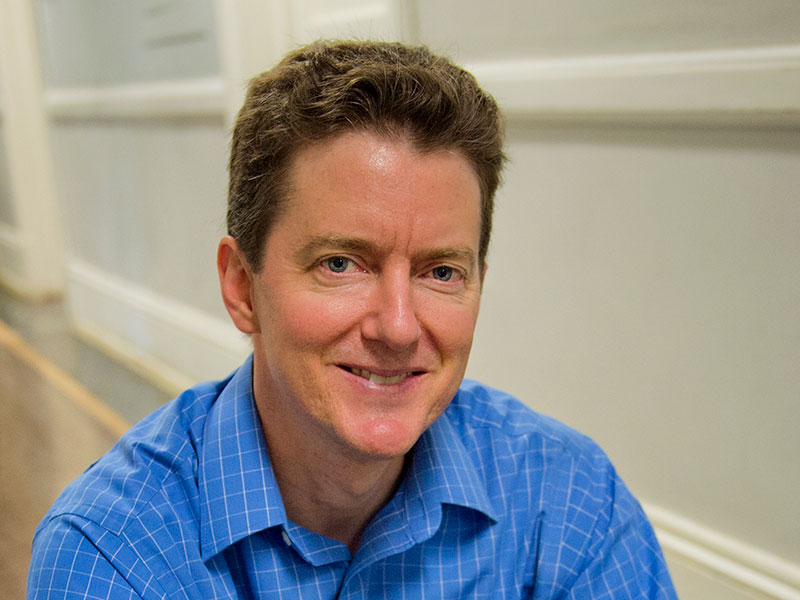 Our recipient of the research award is Doug Harris of the Economics Department. Doug's research on education focuses on two broad questions: how can one measure and improve the productivity of teachers and how can one increase the rate of college entry and graduation. To date, he has published two books and one textbook on value-added measures of teacher school performance, as well as 27 peer-reviewed articles and more than 30 book chapters and policy reports. His work has not only been read by scholars, but followed in the press and in popular journals such as Science.
Since coming to Tulane, Doug has been appointed the Schleider Foundation Chair in Public Education at Tulane and founding director of the Education Research Alliance for New Orleans, a research organization dedicated to understanding school reforms in the city following Hurricane Katrina. His work has had a direct impact on post-Katrina school reforms, and he has won grants totaling more than $8,000,000. Most recently, he was named as one of 11 prominent national scholars selected as a 2018 fellow by the American Educational Research Association (AERA), the nation's largest interdisciplinary research association devoted to the scientific study of education and learning.
Teaching award: Chris Rodning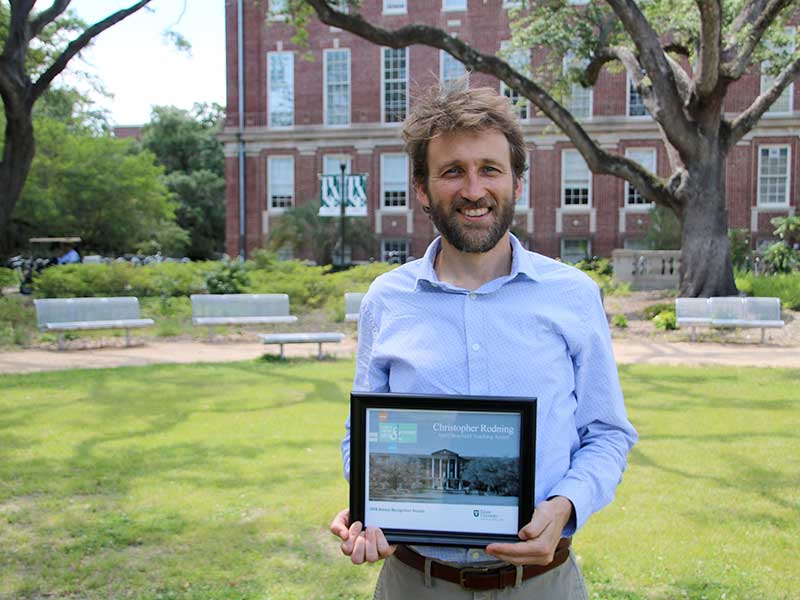 Chris Rodning of the Department of Anthropology is this year's teaching award winner. As an anthropological archaeologist who specializes in the contact period archeology of the southeastern United States, Chris is the true teacher-scholar who brings his research into the classroom and the students into his research. He has developed thirteen different courses, seven of which mix graduate and undergraduate students – always a daunting task that he handles masterfully. He has taught the Honors Thesis Boot Camp three times, and led grant-writing workshops with associate dean Gotham. His teaching evaluations are outstanding with anything below a 4.9 a true outlier. He has supervised three PhD students and the one who has graduated obtained a tenure track job. He has served on numerous honors theses. But what is really remarkable, as reflected in the many SLA pictures of his digs, is his engagement of his students in his research. As reflected by the joy on their faces as they sit upon their archaeological mounds is their true joy in learning and being part of his research endeavor.
Service award: Elisabeth McMahon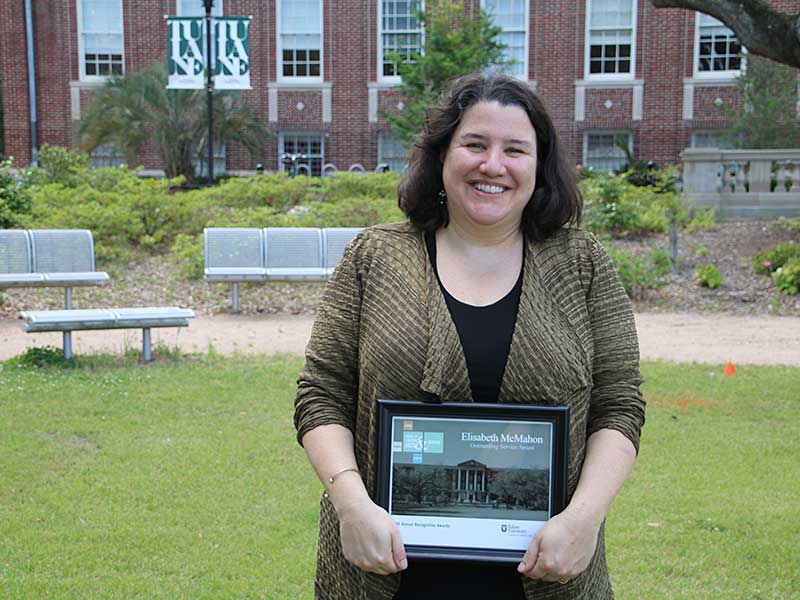 The 2018 SLA service award goes to Elisabeth McMahon of the Department of History. Liz is truly a triple threat. An outstanding scholar, she has published one book, with a second under contract and thirteen articles. In 2017, she won the Weiss Presidential Teaching Award. But for this honor, as her chair who nominated her wrote, "her service contributions are nothing short of exceptional." She most recently served as the department's Director of Graduate Studies. But clearly, Liz's devotion to service does not end at the department's door. She chairs the SLA and NTC undergraduate curriculum committees, and serves on the COR/Lavin-Bernick Grants Committee, the Teaching Awards Selection Committee, the Campus Climate Task Force, and the Senate Library Committee. She has also been the EOIE senate representative and works with CELT's Graduate Certificate Steering Committee and is active in GESS. For her profession, she chairs the Women's Caucus of the African Studies Association. And this list, as her chair notes, "is even more remarkable as it covers only one year with past years equally as impressive."
Staff award: Clare Moncrief
This year's staff award winner is Clare Moncrief of the department of Theatre & Dance. Clare has been at Tulane almost two decades and, throughout that time, has been the energy behind the New Orleans Shakespeare Festival. In running the Shakespeare Festival, Clare wears many hats: she arranges contracts with the actors, designers and technicians, coordinates ticket sales, oversees the talk-back session after student shows, serves as the liaison to the Board, assists in setting up monthly meetings, directs shows, and assists with fund raising and grant proposals. Over the years, she has successfully written nine NEA grants that fund the annual remount for the schools, attracting students from New Orleans, Baton Rouge, Lafayette and as far away as Shreveport and Pensacola. Under her guidance, this funding allows students who have never seen live theatre—much less Shakespeare—to become immersed in the words and actions of the Bard. It is a great pleasure to recognize Clare for her imagination, energy, and dedication.

Two Young Mellon fellows
The first award winner is Allison Emmerson of the Department of Classical Studies. Allison is a Roman archaeologist who focuses on the process of city formation, especially exploring how the city is affected by cultural and social attitudes toward death and pollution. She has created a groundbreaking way of understanding fundamental aspects of Roman history and urbanism.

Having just received her PhD in 2013, Allison has already published seven articles and book chapters and has three in progress monographs, including her book manuscript, "Death, Submission, and the Making of Roman Cities," which she plans to complete and submit this year. Allison's status as a scholar and her plans for the future have been duly recognized by prestigious grants, including the American Academy in Rome "Rome Prize" and an ACLS fellowship.




Our second award winner is Karissa Haugeberg of the History Department. Although still an untenured professor, Karissa, according to her chair, "is a phenomenal scholar, teacher, and colleague. She is the perfect definition of a standout!" Perhaps nothing illustrates this characterization more than the publication of Karissa first book in 2017, Women Against Abortion: Inside the Largest Moral Reform Movement of the Twentieth Century. The book has won outstanding reviews both from the academic and lay press and has led her to be invited to speak to numerous audiences, both professional and popular. She has won numerous awards to support her work, including an ATLAS and a COR grant.

Not to rest on her laurels, Karissa has already begun work on new projects including a second book manuscript, "Nursing Revolution: Civil Rights, Feminism and the American Nursing Profession, 1965-1990," and is co-editing the ninth edition of Women's America: Refocusing the Past, for Oxford University Press.
2018 Faculty & Staff Awards Picnic