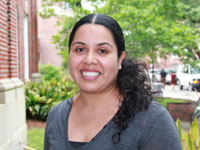 For many of us on this side of the Straits of Florida, Cuba is often wrapped in images of the 1959 revolution and its aftermath. For North Americans especially, the sights and sounds of Cuba are often those learned from Cuban-American communities in the United States, where exile remains a theme that underscores how politics organize personal relationships. The rupture of exile is also a topic that Cuban artists recently addressed in performance art installations in Havana during the Havana Biennale. The Biennale is a world-renowned gathering of contemporary artists whose work promotes an understanding of contemporary social issues. For months at a time, the festival turns the city of Havana into an exhibition space in its own right; a venue through which issues like "destierro" (a term that approximates "exile" but which highlights the physical loss of country) might be explored by Cuban and other artists. The images and performance pieces staged throughout the city during the Havana Biennale speak against the erroneous belief that the island exists as a "closed" country unaffected by the politics of globalization. Those who deal with exile, for example, do so in public ways that allow Cubans on the island with family or friends abroad (almost everyone on the island knows someone who has left the island) to engage these issues directly.
The issues and human concerns that give shape to a city are the focal points of my work. But while my research is on urban space, I'm a colonialist by training—this means that during my research visits to Cuba I can often be found at the national archives under mountains of nineteenth-century city plans, colonial land grants, and official correspondence between administrators in Cuba and those in Spain. When the Biennale is in town, however, my research experience becomes a radically different thing as a result of my daily walks to and from research collections. The Biennale pieces are often placed in heavily used public and pedestrian spaces, and I've seen people alternately look at, touch, lean on, and otherwise use the installations (I've also seen people photograph themselves on the installations, but rarely, if ever, does anyone but tourists photograph the exhibits). For me, this serves as a daily and affective reminder that urban areas are simultaneously used and produced by the people who inhabit them, a theme that has become central to my work and that brings my research out of the archives and into the contemporary city. The journal article I co-authored with a friend and colleague at DePaul University, Lisa Calvente, speaks directly to these issues and brings together my archival understanding of Havana with the contemporary concerns of the people that live in the city. It is this type of research—that which bridges people across time and space—is the kind of work that often emerges from working in the city that is also the focal point of my academic interests. For their generous support of faculty research that allowed me to carry out some of this new research, I'd like to thank the Glick family.
Glick Fellowships
In 2011, Cathy and Craig Glick, members of our Dean's Advisory Board, donated $100,000 the the School of Liberal Arts. Each year, SLA's Executive Committee names four outstanding SLA faculty members to be Glick Fellows. These individuals receive funds to support their scholarly or creative pursuits. Young Glick Fellows are chosen from assistant professors who are developing their dossiers for tenure and promotion. Senior Glick Fellow are either associate or full professors who are advancing their careers and gaining an international reputation.
"I am so thankful for the work Tulane faculty do… it is completely our pleasure to be able to create this fellowship. The faculty are an inspiration and are so appreciative — I love reading their blogs and seeing the Glick Fellows… I feel like we have made a difference."

— Cathy Glick
Share with us what inspires you to give.
Learn more about the different ways to give.