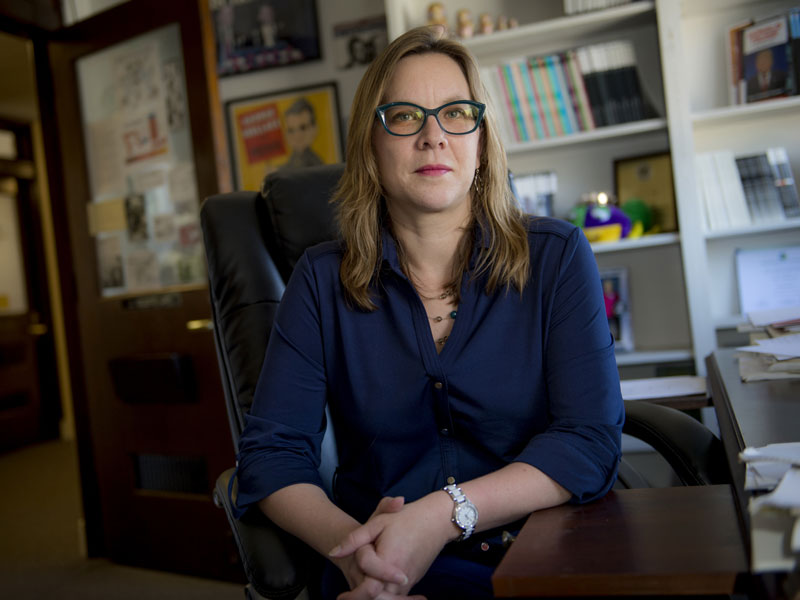 This column often chronicles faculty doing research physically "in the field," but my research in American political behavior tends to rely heavily on survey data and much of this work is done in the field of my office, at home, or in a coffee shop. I used my post-tenure sabbatical last Fall and a Senior Glick Fellowship to work on five articles related to voting behavior and public opinion. One paper, coauthored with my colleague Brian Brox, looks at the perils of conducting public opinion research in disaster settings. A second examines the surprisingly high levels of tolerance among native-born youth and adults in small towns in "red states" with large influxes of immigrants. Another considers that traditional gender gaps in political knowledge are narrower in rural areas because these communities are marked more by consensus than conflict. A third demonstrates that women's concerns about crime and public education are not only more salient, but are a significant influence on their vote choice in urban mayoral elections. And finally, another paper shows that local media are partly responsible for a lack of information as well as high levels of misinformation about public schools among New Orleans residents.
Though these works are diverse in their scope, there are two common threads. The first is the study of behavior: understanding individuals' beliefs and attitudes and how these affect their political behavior at the ballot box. The second through-line is a concern with serious public policy issues: immigration, public education, gender gaps, and crime. These matters pushed me into political science as an undergraduate student many years ago and continue to sustain my interest in American politics in the face of the gridlock and ineffectiveness in Washington.
As a professor of in political science, I am often impressed with Tulane students' concern about the country and the world around them. They care deeply about immigration, the environment, foreign policy, criminal justice, taxes and spending, and even policies like health care and Social Security that may seem remote to such young people. Further, Tulane graduates go on to make significant contributions in the policy world by working in (and even starting up) nonprofit organizations, direct service programs, advocacy organizations, and careers in government and politics. To help students interested in these careers have a formal program of study, I created the Summer Minor Program in U.S. Public Policy. This interdisciplinary program will launch this summer (2014).
Students of any major can take five courses to complete the minor, all of which can be taken over the summer. They will take an introductory course in public policy, a Microeconomics course that focuses on public policy, and an innovative course, borrowed from Dartmouth College, called the Policy Research Shop. In this course, students will work in city government and take a class policy research. They will write policy briefs and present them formally to the appropriate office in the city. In addition, students will be required to take two electives that include courses in the social sciences (Crime, Drugs and Public Policy and National Security Policy in Film) and the humanities (Political Philosophy and Public Policy and the Arts).
More information can be found at the SLA Summer Programs website. Please help me in spreading the word about this program to students!