Prestigious Dumbarton Oaks Fellowships Awarded to Students
3/15/2017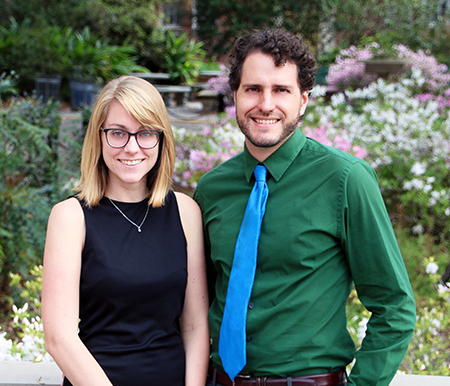 An institute based in Washington, D.C. and affiliated with Harvard University, Dumbarton Oaks Research Library and Collection and its community of scholars are at the forefront of scholarship on the art, archaeology, iconography, and cultural history of Pre-Columbian civilizations of the Americas. It is tremendously exciting to have several School of Liberal Arts faculty and graduate students as past, current, and future Dumbarton Oaks fellows and participants in Dumbarton Oaks conferences and publications.
Maxime Lamoureux-St. Hilaire and Mary Kate Kelly, the most recent SLA graduate students who have been awarded fellowships from Dumbarton Oaks, will pursue new directions in Maya archaeology and epigraphy in Guatemala as junior fellows during the 2017-2018 academic year. Max is studying the archaeology of Classic Maya palaces dating to the first millennium A.D., and Mary Kate is considering the possibility that variability in Classic Maya hieroglyphs is related to dialectical differences in languages spoken by different Classic Maya groups. "I hear Dumbarton Oaks is a fantastic place; its scholarly atmosphere is legendary. I feel really privileged to have the opportunity to go finish my dissertation there" says Lamoureux-St. Hilaire. Both Kelly and Lamoureux-St. Hilaire would like to acknowledge their academic advisors, Assistant Professor Marc Zender (Kelly) and Associate Professor Marcello Canuto (Lamoureux-St. Hilaire), for their support and guidance through this process.
"Being selected for this fellowship is a huge honor, and the opportunity to network with other scholars in residence at Dumbarton Oaks next year will be a priceless experience."

Mary Kate Kelly
Additional Dumbarton Oaks fellows from Tulane's Anthropology Department include Erlend Johnson who will write about cultural dynamics at the southeastern edge of the Maya world in Honduras during a summer dissertation fellowship in 2017, and Ximena Cháves Balderas who is writing about human sacrifice at the ancient Aztec city of Tenochtitlan as a junior fellow during the 2016-2017 academic year.
Other recent faculty and graduate students who received Dumbarton Oaks fellowships include Art History Professor Elizabeth Boone, Anthropology Professor John Verano, Anthropology Assistant Professor Jason Nesbitt, Stacy Dunn (Ph.D. 2015), and Jennifer Saracino (PhD candidate in Art History).