New Research in Gender and Political Psychology Conference
10/15/2017

J. Celeste Lay, 
Associate Professor of Political Science
On October 21-24, associate professors of political science, Mirya Holman and J. Celeste Lay, hosted nearly 70 scholars from 51 universities in the United States and Canada to Tulane for the New Research in Gender and Political Psychology (GPP) conference. This was the third GPP meeting and the first at Tulane. The meeting included a preconference, led by Holman and Lay, where the scholars collaborated with local K-12 public school teachers in a workshop on exposing and eradicating gender stereotypes in elementary and secondary education. This workshop, sponsored by the New Orleans Center for the Gulf South, allowed participants to discuss gender stereotypes and how to address them with students of all ages. Teachers from Ben Franklin High School and Lusher Charter School expressed interest in having materials on gender stereotyping in their curriculum. After returning home, one attendee, Bettina Spencer, Associate Professor of Psychology at St. Mary's College, has already arranged a similar workshop with a school in her community.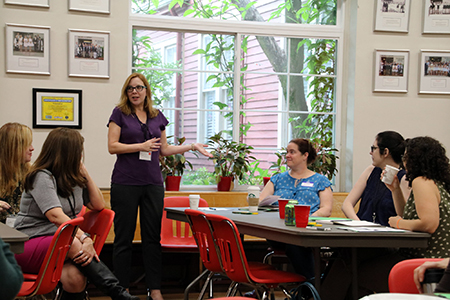 The main conference was organized so that participants spent half their time in research groups to give feedback to one another and the other half in mentoring sessions, led primarily by full professors. Thirty papers were read on gendered political socialization, the effects of intersectionality on political behavior, and on female candidates and office holders. The mentoring sessions included tips on time management; professional development for early career scholars; getting tenure and going up for full professor; work/life balance and issues around managing a family; selecting university and professional service that matters; teaching issues of race and gender; and diversifying the academy.
The conference was sponsored by the Newcomb College Institute, the Scholars Strategy Network, and the offices of the Tulane's president and provost. In an inspiring keynote address, Sally Kenney, director of the Newcomb College Institute, discussed her intellectual biography, telling participants to create their own communities composed of supportive people within their institutions and to research what interests you rather than what is "hot" or what other people suggest. In a session on public scholarship, the Scholars Strategy Network (SSN), where Lay is the co-director of the New Orleans chapter, explained its goal to bridge divides between the academy and policy makers. Several scholars talked about how they have been able to bring their research into policy debates. Along with Tulane's Office of Public Relations, SSN also ran on-camera media trainings for more than a dozen participants.
The conference provided a space where women scholars in political science and psychology could mentor one another and obtain extensive feedback on their work that is often difficult at large academic conferences. One new participant, Elizabeth Sharrow, Assistant Professor of Political Science at the University of Massachusetts, Amherst, stated, "I was really blown away to be a part of such an active, caring, and engaging community. This was just the kind of professional pick-me-up I needed in these last two years before my tenure decision. I made some excellent connections and left feeling extremely well supported."