Liberal Arts Fast Track to a Career in Law
3/15/2017
By Mary Sparacello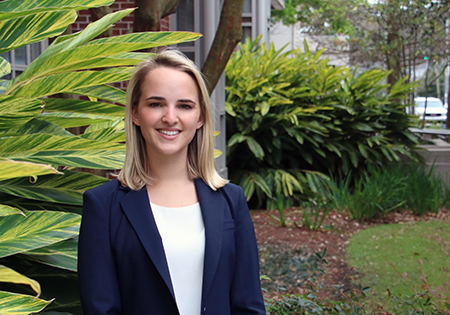 Tulane University School of Law's joint degree program is giving Ashton Yarnall the rare opportunity to obtain both her School of Liberal Arts undergraduate degree and her JD in only six years.
"I always knew I wanted to be a lawyer, and the 3/3 program gave me an opportunity to fast track my career," said Yarnall. She is in her first year of law school after majoring in political science with a concentration in international relations and a minor in international development.
To be part of the competitive program, Tulane students apply to Tulane Law School during their junior year. In what would otherwise be her senior year, Yarnall is now enrolled as a full-time law student. This spring, she will earn her bachelor's degree from the School of Liberal Arts and walk with her undergraduate classmates at Commencement.
Open to all Tulane undergraduate majors, students interested in the program should talk with pre-law advisor Sarah Withers during their first or second year at Tulane. Together they can make a plan for completing all of their major and core requirements by the end of junior year. Then, they should meet with Withers again in the fall of their junior year to begin the application.
"For students who know they want to go to law school at Tulane and in New Orleans, this is a very attractive path to do that," Withers said. "They are on an accelerated timeline for their career." In addition to time savings, students can save a year's tuition and still be eligible for scholarship assistance for the first year of law school, she commented.
Yarnall said the School of Liberal Arts prepared her well for law school by training her in critical thinking and argumentation. She credits this background with allowing her to successfully compete with more experienced students.
"I love Tulane, and I love New Orleans," remarked Yarnall, who hails from a Virginia suburb of Washington, D.C. "I couldn't be happier with my decision."
For more information on the Law 3/3 program, see the School of Liberal Arts information page or the advising website https://advising.tulane.edu/planning/pre-law