2/15/2017

Nathan Halverson
Adjunct Assistant Professor, Department of English and Newcomb Department of Art
I work in digital media to study the personal and cultural associations that shape our perceptions of media and technology, and the assumptions about referentiality, artificiality, and authenticity we impose on them. Much of my recent work relates to political and physical environments, the digital representation of places, and their convergence in contemporary life.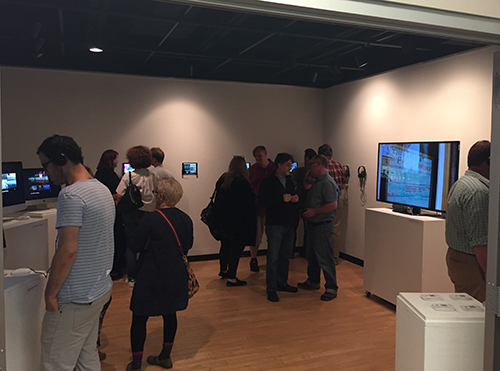 Students in Digital Art I and II use a variety of software to create digital projects while also researching and discussing issues and concepts in contemporary art. This of course includes video and sound recorders and programs from the Adobe Photoshop software suite. In my Digital Art II course, students use visual programming software for multimedia called Max 7 that allows them to not only make original work but to build their own software instruments and devices for making work. Max's modular design and graphical user interface allows for students to learn some of the basic elements of coding and, in doing so, learn about datasets, matrices and data visualization. This allow us to engage with digital material at its most basic level and for a shift in perspective to that of a maker or creator as opposed to as users of pre-existing software.
Students in the 3000-level English Special Topics course in Digital Humanities are introduced to concepts in digital media history and production. They research and produce multimedia works beginning with combining sound and images with text. The course includes a section where students play and discuss innovative video games as a means of studying electronic storytelling and introductory game design. Students also learn about topics such as data visualization and sound mapping via specialized apps and web sites.
In 2016 some of these students participated in the Confluences Expanded Media Symposium at Southern Illinois University where their work was exhibited alongside student work from other schools including The School of the Art Institute of Chicago, The College of New Jersey, and SIU-Carbondale. The semester's work included taking part in a multi-campus conversation to develop a thematic focus for the symposium and contributing research and content about New Orleans in the form of writing, images, sound recordings, and digital maps. The work was exhibited as part of a multi-media digital art exhibit on the Southern Illinois University campus. Some of this work can be seen on the Confluences Expanded Media website which students also helped to create
Tulane students in Nathan Halverson's ENLS 3010 course, Digital Humanities, participated in the Confluences Expanded Media Symposium. Their work focused on researching New Orleans and developing multi-media exhibits in the form of writing, images, sound recordings, and digital maps. Below are some examples of photography used in the project.