2/15/2017

Daniel Alley
Visiting Assistant Professor - Sculpture, Newcomb Art Department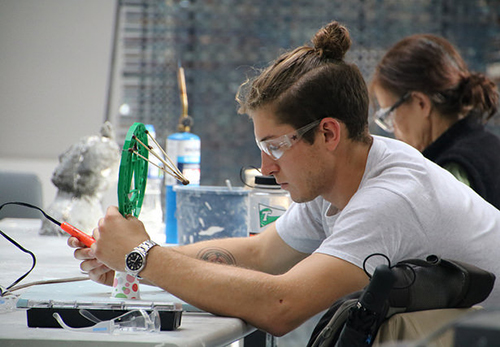 Every day there are new videos on social media showcasing computer-controlled devices performing amazing feats. Lasers cutting with absolute precision, robotic arms laying down multi-layered rows of any given material, from plastic to concrete to steel, and Computer Numeric Controlled (CNC) machines blasting, grinding, and cutting with in-human accuracy. From Kickstarter campaigns aimed towards funding a new prototype, to technology giants releasing their latest offering, there are ways to get whatever you need made by a robot. In 2013, the Newcomb Art Department's facilities were enhanced with the addition of a new CNC router and two 3D printers, gifts from New Orleans resident Louis Jung, in honor of his mother, Harriett Tolar Jung, a 1940 Newcomb College graduate, who majored in painting. The 3000-level art studio course, Digital Fabrication, allows artists and students to utilize this equipment in order to fulfill their own artistic pursuits.
This course is taught through the Sculpture area and provides students with the opportunity to investigate how computers may be used to create 3 dimensional objects and inform their visual content. The laser cutter can cut and etch designs into wood, cloth, paper, and cardboard. The 3D printer replicates models out of plastic that can be turned into metal, plaster, or concrete. The CNC router cuts patterns out of wood, aluminum, or foam that can be used to build structures. Digital Fabrication not only focuses on how we can utilize this equipment but also emphasizes why material understanding is important in creating conceptual artwork.
Made up of graduate and undergraduate students with a range of backgrounds in art making, the class introduces students to the myriad of software available for 3D modeling and the department's new computer controlled equipment. Alongside the digital examination, students also develop a more analog skill set of casting metal, carving wood, and mold making. It is important to note that while computers continue to make our lives easier, they are tools that can be utilized and manipulated like any other.