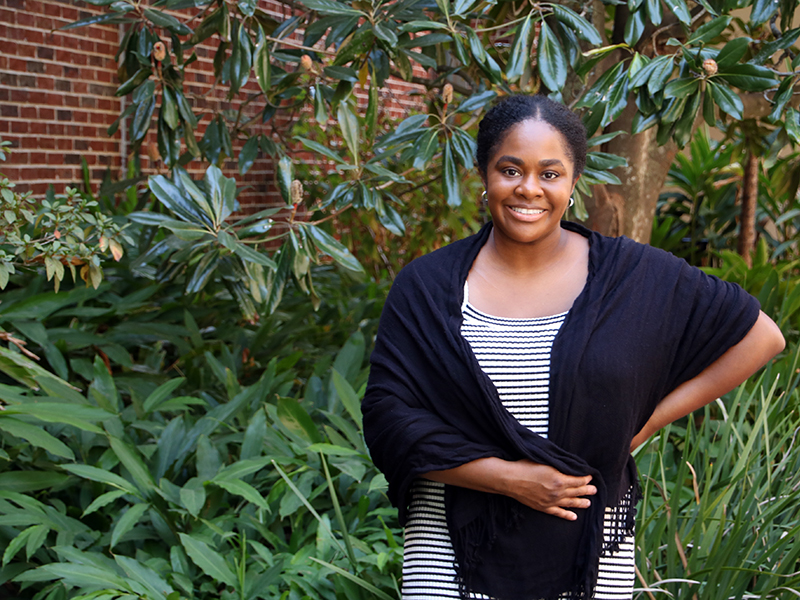 New Orleans native Sarah Reynolds grew up with an interest in Voodoo and how the religion was portrayed in Louisiana and beyond. A PhD candidate in anthropology in the School of Liberal Arts, Reynolds has parlayed this interest into the subject of her dissertation, which explores the intersection of religion and race in Benin, West Africa, with a specific focus on the Vodun religion. Reynolds aims to shed light on how Vodun practitioners, known as Vodunsi, and the Beninese state collaborate to redefine, reshape, rename, and recontextualize the Vodun religion.
Reynolds was recently awarded an American Dissertation Fellowship from the American Association of University Women (AAUW) and $25,000 in funding to support her research. The fellowship, initiated in 1888, stands as the oldest non-institutional source of graduate funding for women in the United States. It is awarded based on rigorous evaluation criteria, including scholarly excellence, the quality and originality of the project design, and the candidate's active commitment to advancing the status of women and girls through service in their communities, professions, or fields of research.
Reynolds expressed her excitement upon receiving the fellowship, stating, "I was thrilled to get the call from AAUW. This award allows me to wrap up my research and focus solely on writing full-time this academic year with the goal of graduating in spring 2024."
As she approaches the final year of her doctoral research, Reynolds has ambitious plans for her future career. She aspires to enter academia and teach courses in the anthropology of religion, anthropology of race, and medical anthropology. This fellowship serves as a pivotal stepping stone in realizing her goals.
Professor of Anthropology Adeline Masquelier, Reynolds' advisor, applauded her dedication and hard work. Masquelier noted, "Sarah is probably the hardest working student I have ever mentored in my thirty years at Tulane. I don't think she's missed a single class; this is how committed she is to her work. I'm incredibly proud that she was selected for this fellowship — it is well deserved."
Despite facing challenges, including delays due to the pandemic, Reynolds remained focused. She conducted archival research and taught while waiting for the opportunity to travel to Benin for her fieldwork. Masquelier commended her resilience, saying, "I have never heard her complain once about things that didn't go her way. She is a real trooper."
On the impact she hopes her research will have, Reynolds shared, "While other scholars have looked at the global nature of Vodun or the experiences of white foreigners in Benin, my research is new in that I examine intra-racial dynamics between Beninese and Afro-diasporic individuals like myself. I want to expand the literature on African and Afro-diasporic religions and make information on them more accessible to those outside academia."
Reynolds' research promises to meaningfully contribute to our understanding of the intricate relationship between religion and race, particularly in the context of Vodun. With the support of the American Dissertation Fellowship, her work will undoubtedly make a lasting impact in the field of anthropology and beyond.