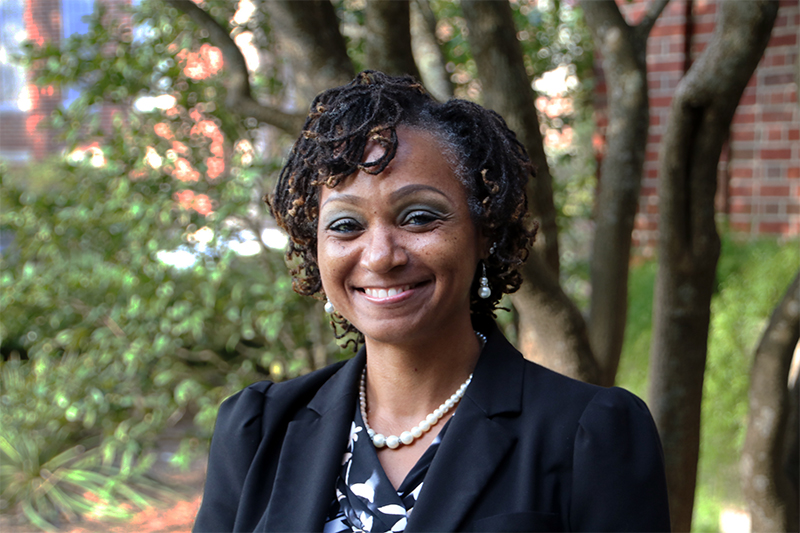 In 2020, Dr. Andrea Boyles joined Tulane's School of Liberal Arts as Associate Professor of Sociology and Africana Studies. The same year she was awarded the "Media for Just Society Award" from Evident Change for her Ferguson Uprising ethnography. 
In addition to her Tulane appointments, Boyles is VP/President-Elect of the Association for Black Sociologists (ABS), whose mission is to build a tradition of scholarship and service, informed by the interests of historically oppressed groups in general and Black/African American people in particular. She is also a Sociologists for Women in Society NGO delegate to the United Nations Economic and Social Council on the Commission of the Status of Women (CSW). This March, she will present for the CWS in New York, within the themes of technological change, online misogynoir, advancements in the digital age for achieving gender equality, and the empowerment of all women and girls. Last January, she engaged sociologist and School of Liberal Arts faculty Lisa Wade and New Orleans Center for the Gulf South staff Denise Frazier and Rebecca Snedeker to diversely pull together a local agenda for the Sociologists for Women in Society (SWS) 2023 Annual Winter Conference in New Orleans, which centered around women and gender minorities of color from the Global South and Global North. She was recently quoted by NOLA.com in an article about the rising rates of murder by gun violence for young Black men in New Orleans. Visit this page for more on Boyles' scholarly and professional experience. 
Dr. Boyles' role within the school was elevated during the summer of 2022 to an inaugural position in the Dean's Office—as Associate Dean of Equity, Diversity & Belonging reporting to Dean Brian Edwards. While her role is directly tied into the Tulane University Office of Equity, Diversion and Inclusion, it was an intentional choice to adjust that last word and take it one step further. Within the lens of Black History Month, Boyles explains why and how this decision came to be, and what it means for her vision for the future.
"It's one thing to invite folks to have a seat at the table. It's another to create an environment and larger culture where they actively feel welcomed and valued while sitting at it."
Can you talk about how you came to this role?
When first considering the position, one of the things I was adamant about was not coming into this space for the sake of more of the same, meaning, checking boxes—or performances. Performance is something I address in my work, as is the lack of substantive change. I like to roll up my sleeves and work towards advancing people who have typically or systematically been abandoned or disenfranchised across all spaces historically. I am community-engaged in my scholarship, and whether that's happening in the streets or on campus, that's at the core of my motivation. I'll exhaust every avenue—research, class curriculum, and public-facing work across mediums—that furthers this critical humanitarian agenda.
What is your overarching goal as Associate Dean?
To advance minoritized and marginalized people, through evidence-based efforts, and normalize it.
Advancement is about opportunity and by extension, it's about creating chances to win for everybody. My ultimate drive is to leverage "community" and provide new opportunities that will ultimately better the School of Liberal Arts, Tulane University, and broader society. My work will always be as humanitarian-focused. That said, taking this role was not going to be any different. My goal is to leverage that same evidence-based agenda in ways that move the ball forward for equity and equality. 
People across systems and structures have learned to navigate for inclusion, but then while at the table, also maintaining agendas or conditions that are not warm, welcoming, or respectful. In doing so, they still leave countless hurdles for marginalized people to overcome in order to truly experience any sense of parity or equity in everyday exchanges.
As I think about my overarching goal as Associate Dean, I am routinely reminded of bell hooks, who stated, "The challenge these days is to be somewhere, to belong to some particular place, invest oneself in it, draw strength and courage from it, to dwell not simply in a career or bank account but in a community..." (1990).
Understanding that the words behind the acronym have evolved in recent years, why did you lean into "belonging" over "inclusion" in this instance?
On the heels of years of doing social justice work, and in conversations with Dean Edwards we evolved to "Belonging" instead of "Inclusion"—because for me, there's frequently a negative connotation attached to EDI work that I wanted to negate. This is because sometimes people still do not feel institutional change for the better in their every day. It becomes cringeworthy as another chance to "perform" or have conversations about change, but not actually implement or experience change.
We have to push the boundaries, as a counter to performative work and complacency. And pushing the boundaries, in part, meant even pushing beyond the more traditional title. My thought was that this increases visibility for "belonging," which many have not considered as essential for provoking positive change. We've arrived at a place politically where we've learned how to zero in on inclusion, and that's the go-to: to be sure of the inclusivity of diverse people. But belonging, for me, was about a paradigm shift; it was about overtly getting it on radar and intentionally expanding the boundaries of inclusion.
The intentionality is in inviting folks to not just be a part of this process while here on campus. Rather, it is to have folks be more aware, actively thinking about, and engaging in ways that normalize treating marginalized people as valued, integral contributors, across all places. This should not be a work practice only, but a lifestyle.
Our national culture particularly is seemingly antithetical to this, and therefore, we have to intentionally work at this daily, to do right by people irrespectively. It's not an agenda that should be limited to this school or university; although the process for positive change can certainly begin and extend from here. That's what the title reflects.
While it's only been about half a year, how is it going so far? 
I think it's going fairly well. I am trying to familiarize myself with the University and all departments and programs within the Liberal Arts community. This is an opportunity to truly create an atmosphere conducive for retaining diverse members of our school.
It's an ongoing effort, challenging people to reframe their thinking and everyday behaviors. I fully understand that doing this work and changing positively, cannot be just within a workday window.
How do your plans ladder into the university's Strategy for Tomorrow initiative?
Most succinctly, it's a strategy for tomorrow that doesn't have to begin tomorrow. Action-wise, it can start today. While we'll roll out a series of plans over the next few years where we'll implement certain things, it's also about operationalizing some of those efforts now—shifting, rethinking, resocializing, and reorienting, increasingly, for where we want and should be tomorrow. We work towards that, here and everywhere, continually.
One of the other things I'd like to reiterate to folks is that while this is an inaugural position, and I have some aspirational thoughts and ideas about how I'd like to approach this work within our school, I cannot singlehandedly unravel over four hundred years of oppression. I try to be very clear about that. I'm one person, and yes, very aspirational, but I cannot do this work alone. There has to be a "collective" commitment to do this work.
What else would you like to share, especially this month, with those looking to participate?
I challenge us to think about how we show up (or not) for minoritized and marginalized students, staff, and faculty. In other words, I call on us to reevaluate actual individual and collective support that we put forth (or do not) in creating and maintaining safe, equitable spaces and chances year-round. This work surpasses 28 days in February. In sum, I invite and encourage everyone in our School of Liberal Arts community to get involved in the Equity, Diversity, and Belonging activities being organized across the university throughout the year, as well as in the surrounding communities. A few campus organizations and programs to pay attention to are listed below.

Affinity Groups (whether for students or faculty/staff):
Academic Disciplines (and their programs/extensions):
Seek specific courses in History, MENA, Africana Studies, English, Communication, Urban Studies, Sociology, etc.