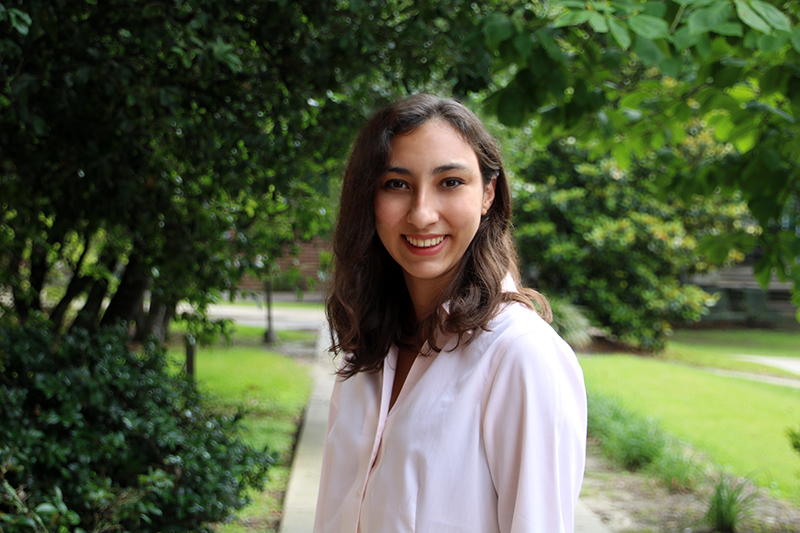 This summer, graduating senior Sophia Gutierrez (SLA '21) will take a bold step into her publishing career by participating in the highly competitive Columbia Publishing Course, which is housed within Columbia's Journalism School in New York. For five weeks, Gutierrez will learn about the publishing industry from leading editors, writers, publishers and more, resulting in an elite professional network for career advancement opportunities.
"I entered college knowing I wanted to go into publishing, so I'm incredibly excited about this next step," explained Gutierrez. While at Tulane, Gutierrez majored in English and classical studies and was also enrolled in the School of Liberal Arts Management Minor (SLAMM)*. During the Covid-19 lockdown in summer of 2020, she began working as a freelance editor, which, together with her undergraduate studies, confirmed her desire to work in the field of publishing.
"Many of my Tulane professors offered transformative courses and made a great effort to get to know their students, which has been inspiring," explained Gutierrez. And while many of her professors stand out in her memory, she is especially grateful for her English courses that emphasized the role of the narrator and the editor in storytelling. As Gutierrez shared, "the liberal arts are instrumental in analyzing issues from multiple perspectives. There is never just one way to approach something, and the humanities especially emphasize thinking in this way."
Gutierrez also participated in the School of Liberal Arts Dean's Student Advisory Board, which is composed of approximately 16 undergraduate students, since its inception in 2019. The goal of the board is for students to have an open dialogue with Dean Brian Edwards about their experiences in the school and at the university, and also share how they are being affected by contemporary events and their surroundings. "It's nice to know that my voice has been heard," explained Gutierrez, "and I'm glad I was able to be a liaison for my classmates and friends in this role, as well."
Originally from Florida, Gutierrez connected with Tulane the moment she took a campus tour. Gutierrez is completing her undergraduate degree in three short years, and in the fall of 2021, she will return to Tulane to complete her master's degree in English through the department's 4+1 program.

* The School of Liberal Arts Management Minor (SLAMM) is now the School of Liberal Arts Strategy, Leadership and Analytics Minor (SLAM). Visit https://liberalarts.tulane.edu/programs/slam for more information.