Faculty in the Field: Amy Pfrimmer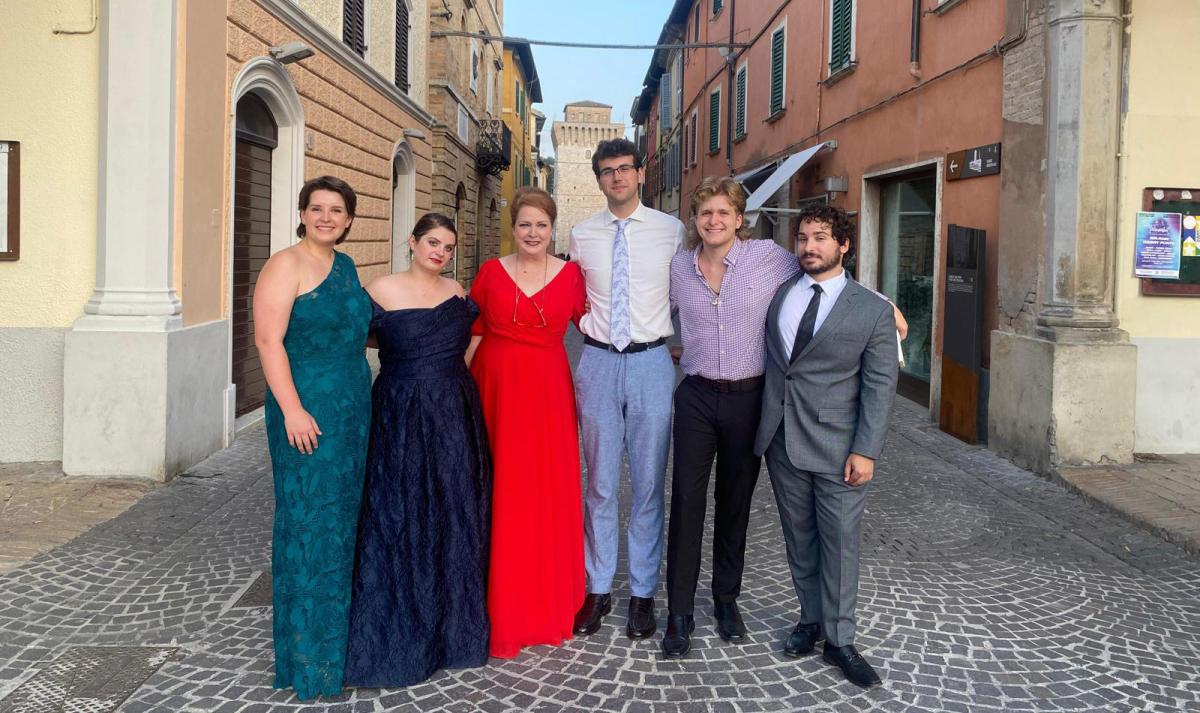 Balconi d'incanto in Gran Concerto Lirico, Urbino Italy; From left to right: AK Scott, Sarah Campbell, Professor Amy Pfrimmer, Erik Martin, Mason Gabrish, Ben Longo.
Tuesday, September 13, 2023
This excerpt was written by Amy Pfrimmer, Associate Professor of Music and Lillian Gerson Watsky Professor in Voice. Her repertoire encompasses a wide range of music, with particular focus on Romantic and 20th Century opera, oratorio, concert literature, and song.
Could any singer pass up the chance to make music in Italy? Nope!
In July, I eagerly traveled to the FIO Italia Summer Festival in Urbania, Italy as part of its Artist Faculty — teaching and collaborating on stage with young emerging performers as well as established professional colleagues from around the world.
I was accompanied by five Tulane School of Liberal Arts students, who have each sung with Tulane Opera. Each sang in the festival's various performances — making their Italian operatic role debut singing in Italian for Italian audiences. Ben Longo (majoring in Musical Theatre and Public Health) and Erik Martin (majoring in Political Economy and Anthropology) were featured as Gaspar and Bortolo in Gaetano Donizetti's comic opera Rita; Mason Gabrish (majoring in Political Science and Digital Media Production) appeared in Rossini's masterpiece La Cenerentola as the philosopher Alidoro; My MFA Music graduate Sarah Campbell starred as Mozart's Donna Elvira in Don Giovanni, and Anne Katherine Scott (majoring in Music Performance and Psychology) stepped in as La Cercatrice in Giacomo Puccini's Suor Angelica.
As an Artist Faculty and performer, this festival provided me the opportunity to sing the role of Nena in Giovanni Battista Pergolesi's rarely performed eighteenth-century opera Lo frate'nnammorato. Among the challenges of the piece was performing the opera in Neapolitan dialect, but it was this unique aspect that made these performances particularly fulfilling—and paid tribute to Pergolesi's history as one of the greatest of the Neapolitan School of Baroque composers. Our performances led to conversations regarding a future long-term collaboration between the FIO Italia Summer Festival and one of the opera's sponsoring organizations, Italy's prominent and award-winning Fondazione Pergolesi Spontini.
The experience was described by festival founders Adriana Kayama and Kathryn Hartgrove as "opera boot camp, not opera spa." Veramente! FIO Italia presented 5 operas over the course of 5 weeks. When not rehearsing or performing their roles and ensembles in the operas, my students participated in 11 master classes, 4 concerts, and 20 opera scenes—plus each student had 8 lessons, 8 musical coachings, and intensive Italian classes 5 days a week. The hands-on experience gave them new insight into the value of their own instruments. It also helped redefine their understanding and appreciation of opera, and lyric theatre more broadly.
"It was incredibly useful and wonderful to practice the language with the people who spoke it fluently, to learn outside of the classroom I find is always the most useful…Musically, I learned so much about myself as a performer and singer, and I am so thankful to all of the professors and coaches who worked with me."

Sarah Campbell, Tulane MFA Music Class of 2023
"It would not be overstating to say that the FIO Italia program was a jumping off point for my future academic and performance career. Having the opportunity to perform both lead (Rita) and ensemble (La Cenerentola) roles within an intensive environment in the country of Bel Canto opera provided me with learning experience I would not have gotten anywhere else, as well as the ability to network with both my peers, current professionals, and heads of various opera programs around the country. I am proud to have had the privilege to represent Tulane in this wonderful program."

Ben Longo, Tulane Class of 2024
"FIO Italia was an amazing program. It was the first time I had gone to Italy or even Europe, and it was so expansive in every sense. At the program itself, held in a small city named Urbania, far away from many major cities in Italy, it was very interesting to experience Italy at its most peaceful. The Italian language was thrown at us in morning classes, studying opera text, and interacting with anyone local on an everyday basis. The people of Urbania drew an interest in our opera program and I enjoyed being able to interact with those who had questions…I was able to develop an understanding of my own voice as well as the rich history behind the operas in which I was singing."

Erik Martin, Tulane Class of 2025
"For me, there is no greater form of individual expression than reaching into the depths of my voice to make a sound that can hold its own alongside a full orchestra."

Anne Katherine Scott, Tulane Class of 2024
"The rate of learning at FIO Italia was insane. We were constantly moving at breakneck speed, but all of us were ecstatic to be doing it. Some days we went straight from Italian class, to lesson, to masterclass, to coaching, to rehearsal and I wouldn't have it any other way. The professional faculty assembled were brilliant and accomplished in their own careers, and fantastic teachers to boot."

Anne Katherine Scott, Tulane Class of 2024