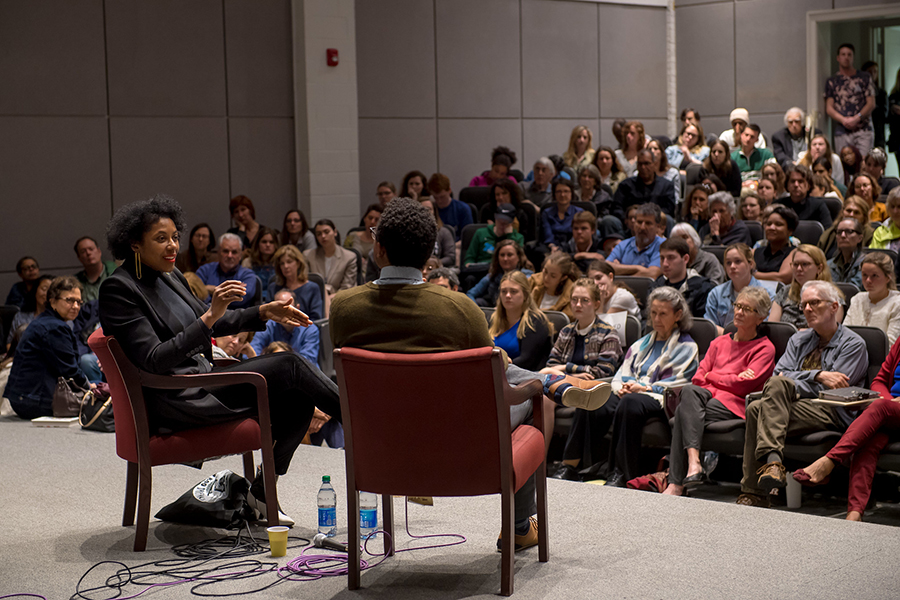 This month, National Book Award winner Sarah M. Broom and staff writer for The Atlantic Vann Newkirk visited Tulane for a conversation as part of the Environmental Studies program's "American Water and Actual Air" series. Broom, a native New Orleanian, released her first book The Yellow House just last year, which has continued to receive critical acclaim. Lyrical and honest, The Yellow House is a tribute to the New Orleans East and is a historical account of life "on the margins."
A salute to the title of the lecture series, Broom and Newkirk focused much of their conversation on water. Among many subjects pertinent to life in New Orleans, including inequality, race, and place, the authors kept returning to the unavoidable—water sustains life, and also threatens it. The yellow house Broom grew up in met its demise during and after Hurricane Katrina hit New Orleans on that fateful August day in 2005.
"People are more than the sum of their disasters," said Broom, commenting on a tendency for Hurricane Katrina to define what it means to be a New Orleanian. Water is a main character in The Yellow House, "a personified force," Broom explained during the conversation, "that can potentially get us all." When asked why she chose to refer to the flood that followed Hurricane Katrina as "the water," Broom said she wanted to distinguish between the Hurricane and its aftermath: the category of the storm was one thing, "the negligence that led to 80% of the city being under water" was another.
Places are central to our identities. In Louisiana, climate change threatens to wipe our homes off the map. And across the world, people's senses of identity are in question as communities seek relocation due to environmental shifts such as rising sea levels, from Kivalina, Alaska, to the Marshall Islands. As Broom mentioned in her conversation with Newkirk, climate change is a catastrophe because we know how beautiful and precious a place can be. As Broom explains, "to have a place for yourself that you can claim is a human act, and that's what it means to be part of a family." Places and objects, she continued, retain memories that "shape us in our inner fibers."
We fight long and hard to keep our feet on the ground to which we belong, but climate change is a battle we may not win. What we can do is write, read, and talk about the problem, include more voices of color, and weave the stories and struggles of climate victims into our narratives of place. The Yellow House does just that, shining light on the importance of 'home' and what it feels like to lose it.
The "American Water and Actual Air" series is organized by the School of Liberal Arts Environmental Studies program and the New Orleans Center for the Gulf South. The speaker series focuses on interpreting the environment across disciplines, and is hosted by Tulane professors Andy Horowitz and Thomas Beller.