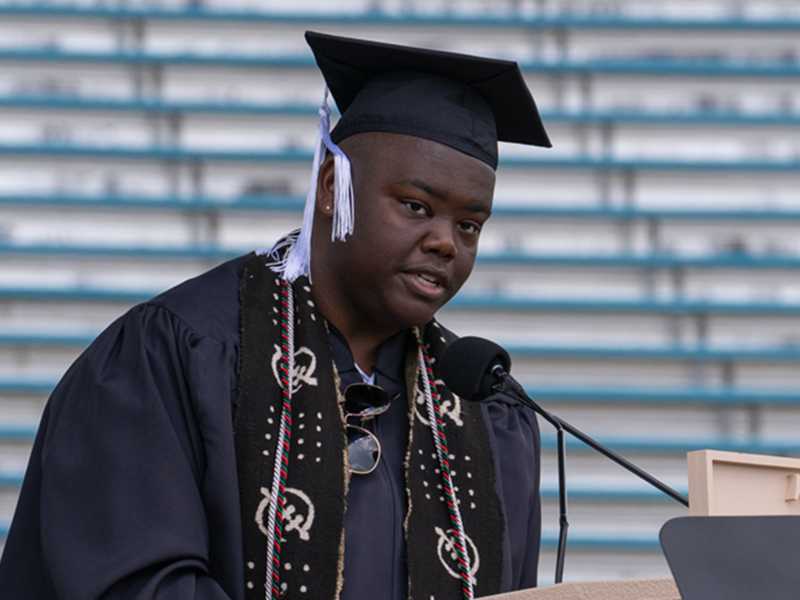 For the first time, the School of Liberal Arts graduation ceremony featured a student poet in lieu of a speech, to highlight the intersection of creativity and passion found in the undergraduate students of the Class of 2022.  
Jalon K. Young, featured by Tulane Today as part of their Commencement special stories, graduated with a double Bachelor of Arts in English and Africana Studies during the School of Liberal Arts Diploma Ceremony, after delivering a stirring self-authored poem.
Raised in Oxford, Mississippi, Jalon's mother gifted him the love of reading from a young age.  She was not strict on what he read, so long as he was taking the time to read. Jalon began his time at Tulane studying public health, but two professors in the Department of English changed his course. It was Bernice McFadden who inspired him to explore his talents with creative writing and the themes of grief and love, and Karisma Price who helped him discover his love of—and talent in—poetry.
In addition to his degree pursuits, Jalon had multiple works published in The Tulane Hullaballoo, as well as a short story, "Riffing," featured in the Winter 2022 issue of The Tulane School of Liberal Arts Magazine.
The poem he read at the ceremony is one he wrote about a mother-son love during a time of turbulent change—a theme fitting for Commencement, which evokes its own feelings of change, rush, and the thrill (and anxiety) of taking new journeys. Dean Brian Edwards introduced Jalon, noting the extra special members of the audience anticipating his reading.
"I want to particularly celebrate the fact that there are four generations of Jalon's family here today, including his mother, grandmother, and great grandmother, alongside several great aunts and other relatives." —Brian T. Edwards
With graduation behind him, Jalon will return to Oxford to enter a two-year master's program in Southern Studies at the University of Mississippi—but is confident he will continue to pursue creative writing and uncover more within the concepts of love behind strife and violence.

Watch Young's Commencement Reading: