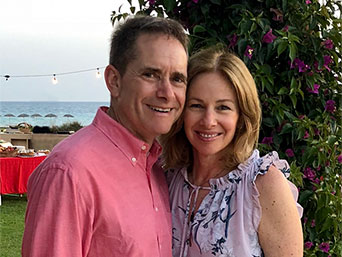 On the occasion of their son's graduation from Tulane in spring 2018, Howard and Suellen Singer decided to express their deep appreciation of the university in a meaningful and lasting way.
"Since graduating in 1985, Tulane has always been important to us. After Hurricane Katrina, we recognized the risks Tulane faced, and we believed that it was critical to do what we could in any little way to help the school survive and, in turn, our activity and commitment increased," the Singers shared.
With this sentiment in mind, the Singers established the Singer Family School of Liberal Arts Management Minor (SLAMM) Endowed Fund. The SLAMM minor, offered by the School of Liberal Arts, introduces management practices through courses in accounting, leadership, ethics, law, public relations, and marketing to equip students with a strong foundation of contemporary business practices.
From "Philanthropy and Social Change," to "Digital Production for Nonprofits," "International Political Economy," and "Business & Legal Spanish," the Singers' endowed fund for SLAMM helps support these courses, new course development, and operational expenses, allowing for more courses to be taught in the minor, and therefore, more students to enroll.
"We're grateful for this tremendous support of the SLAMM program, which has the highest enrollment for a minor on campus. The Singer's gift will allow students to continue to nurture their studies in the liberal arts while also gaining a profound understanding of management practices, furthering the school's commitment to an expansive education," said Shellond Chester, SLA's Assistant Dean for Finance and Program Administrator of SLAMM.
"We appreciate our liberal arts educations. We also believe basic management skills are important for all graduates. We each fondly remember Professor Beau Parent's 'Financial Accounting' course that still serves as the basics of our financial literacy," the Singers explained. "As we learned more about the SLAMM program, we thought it was a great way to express appreciation for all of our educational experiences at Tulane."