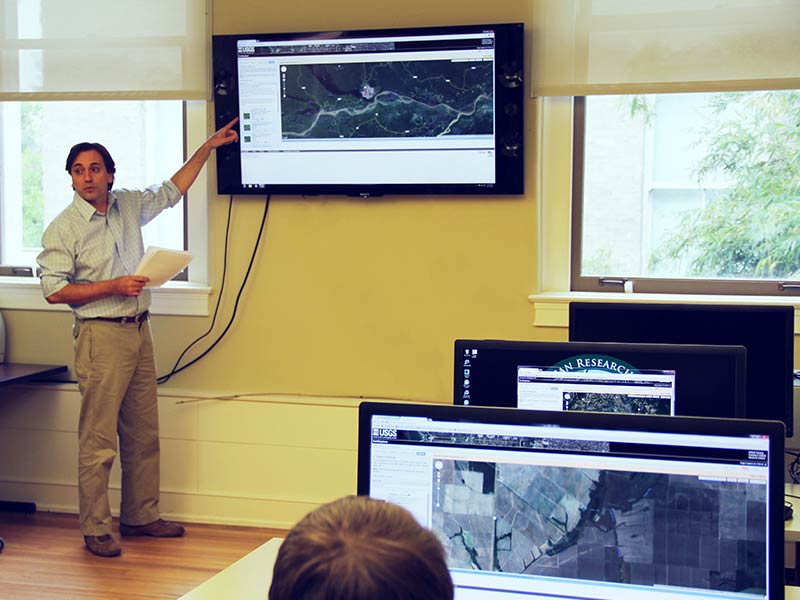 The Hitz Foundation has awarded the School of Liberal Arts' Middle American Research Institute (M.A.R.I.) a grant nearing one million dollars to ensure M.A.R.I.'s important role in the analysis of spatial archaeological data. This award will improve technological offerings in M.A.R.I., an institute that stewards archaeological collections and archives; presents exhibitions, talks, and symposia; and supports anthropological research projects throughout Mexico and Central America.
Primarily funding the purchase of new equipment for M.A.R.I.'s Geographic Information Systems (GIS) Lab, the Hitz Foundation grant will also support the salary of a full-time GIS Lab manager, Francisco Estrada-Belli, a professor in the Department of Anthropology. GIS software manages and analyzes spatial data, creating important opportunities for comparative analysis. In the field of archeology, for example, GIS software can assist researchers in identifying human-made features on specific landscapes and then analyze their distribution vis-à-vis multiple factors such as topography, vegetation, and soil type.
"Currently, archaeology in the Maya area is undergoing a data revolution spear-headed by the advent of hyper-precise remote sensing data of different kinds," explained Marcello Canuto, director of M.A.R.I. and a professor in the Department of Anthropology. "While drone-based, aerial, and satellite data are becoming ever more precise, they are also expensive and computer-intensive. Proper computing power, storage space, programming, and expertise are needed to take full advantage of this data revolution."
Striving to become a center of excellence and foster such innovation, M.A.R.I. will also use the support from the Hitz Foundation award for graduate student research assistantships to train students on the procedures of processing, collecting, and analyzing GIS data in Tulane's state-of-the-art lab.
Founded in 1924, M.A.R.I. promotes a greater understanding of the vibrant and diverse cultures of Middle America. Over the past decade, the Institute has become a hub for academic research and GIS mapping, as well as other technical databases. "M.A.R.I. is analyzing hyper-precise, high-resolution remotely sensed datasets in the Maya area, such as LiDAR. This generous award from the Hitz Foundation, who has long supported our endeavors, will ensure our ability to analyze, maintain, and curate these and other data for years to come," Canuto explained. "Moreover, as this technology improves, the grant will allow us to enhance our capabilities for analysis such that we render these data as productive as possible. We intend to become a 'go-to' place for GIS analysis in archaeology for the next decade."