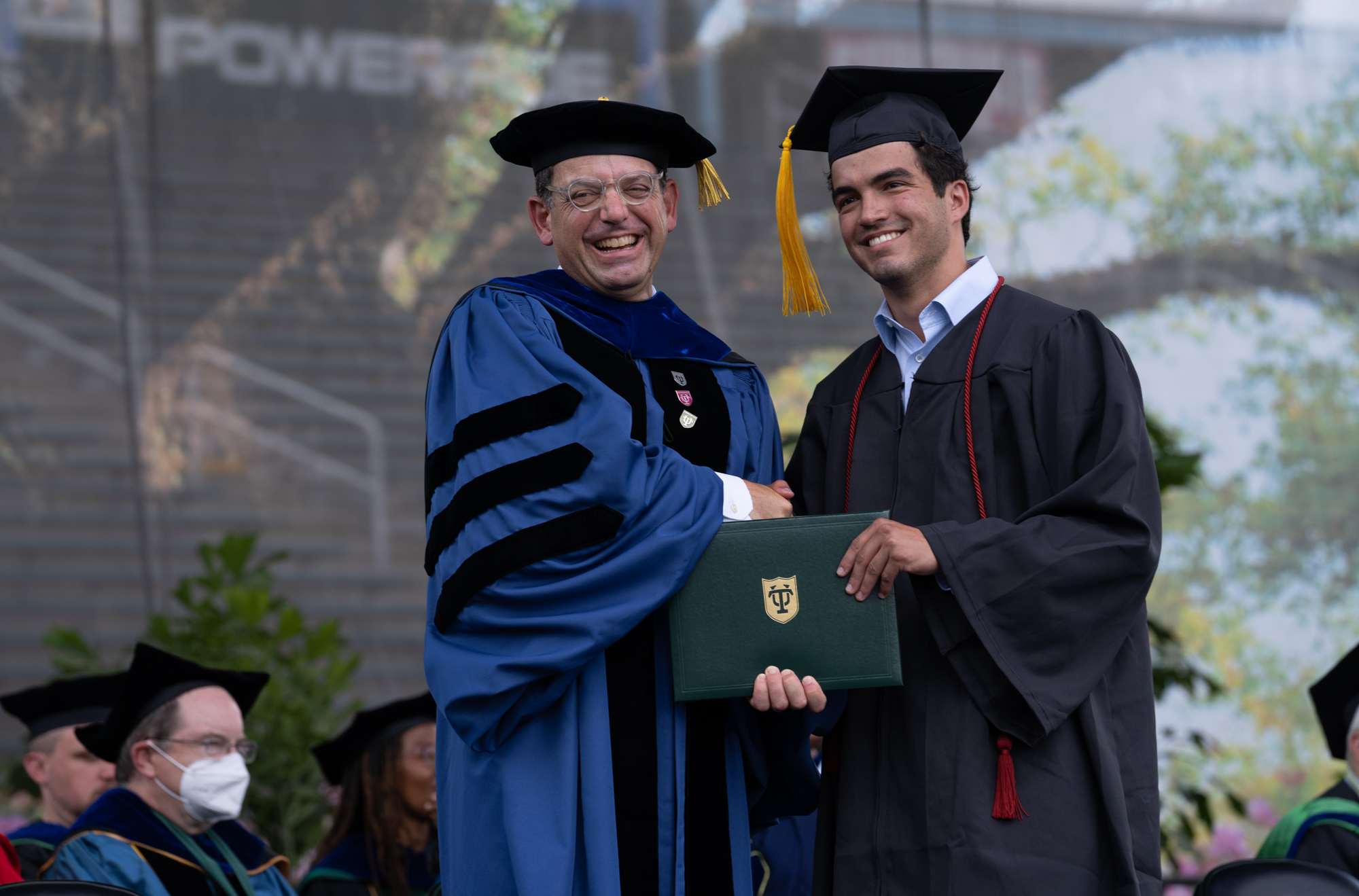 Marching into Yulman Stadium surrounded by our faculty, our students and their families to the spirited rhythm of a New Orleans brass band for this year's graduation ceremony, it felt like we were sending off the Class of 2022 with the kind of energy and fanfare with which we had welcomed them back in 2018.
This year's Commencement weekend saw a return to the traditions and joyous ceremonies we've missed over the past couple of years. Students filed onto the field proudly carrying banners marked with their field of study, waving to proud relatives and friends in the stands and stopping for selfies with classmates. The faculty procession bravely ignored the heat in their traditional academic robes, joyously joining in the celebration. For the first time in three years, we held a fully realized graduation ceremony—and it felt so good.
We had new aspects to our program this year, inaugurating new traditions. For the first time, we featured a student poet, Jalon K. Young, who read an original work that resonated deeply. Another graduating senior, Michael Sze, mesmerized the crowd with a stirring violin performance of his own composition. And then, continuing a tradition we created in 2021, we awarded this year's Distinguished Alumni Award to film producer Robert Fyvolent, who delivered an inspiring speech that told of his journey from a Tulane political science major to the film that would win him an Oscar this year: Summer of Soul (…Or, When the Revolution Could Not Be Televised), championing the values of a liberal arts education.
I feel a special bond with the Class of 2022, having arrived at Tulane in July 2018, just a few weeks before most of the class would start their first year. In my speech at graduation, I recalled how in the spring of 2020, when the pandemic first interrupted our lives, we asked frequently when we might back to "normal." As the months went on, however, we began to reckon with the realization that there were many parts of "normal" that we might leave behind. We opened ourselves more fully to the voices teaching or reminding us that there were aspects of life as we knew it here on campus (and in the greater world) that we might finally try to dissemble in our efforts of building a better tomorrow.
A liberal arts education is, after all, about opening oneself to new ways of thinking, grappling with complexity, and liberating oneself from preconceived ideas. Four years later, I'm certain that the Class of 2022 and I myself are different from how we were when we arrived at Tulane. Let us build on those discoveries.
As we processed together out of the stadium in a New Orleans-style second line to triumphantly close the School of Liberal Arts 2022 Commencement Ceremony, that new normal felt both familiar and brand new.