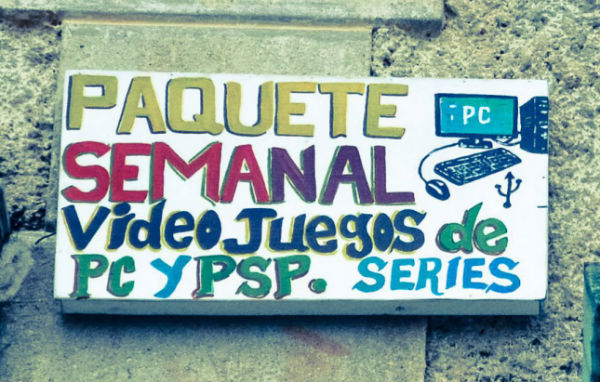 This spring, Laura-Zoë Humphreys, a professor in the School of Liberal Arts Department of Communication, will continue her research on media in Cuba with the support of a competitive award from the Wenner-Gren Foundation. Humphreys' work bridges her background in anthropology and media studies, and while living abroad this year, she will focus her research on new methods of digital media piracy in Cuba.
"The revolution in Cuba refers to a time beginning in 1959 and everything after, when the state nationalized all media production, distribution, and exhibition, and it has mostly remained in control of these today," explained Humphreys. Cuba remains one of the least connected countries in the world with approximately 30% of the population having access to internet due to its prohibitively high rates, in addition to a government that enforces censorship. However, a group of individuals is changing the way residents access media from around the world.
"By 2010, a new thing comes along," said Humphreys, "the paquete semanal or the weekly package." The paquete is one terabyte of pirated digital media collected by independent Cuban entrepreneurs and circulated through informal distribution networks across the island on a weekly basis using flash drives and hard drives, allowing individuals across the country to gain access to television programs, news, cultural publications, and music from around the globe. The paquete itself operates in a 'tolerated but not legal' realm in Cuba, having grown from historical precedents of families creating informal libraries of books, magazines, and newspapers that weren't allowed to be distributed in the country.
For Humphreys, one thing is certain: given its exponential growth in the last few years, the paquete is transforming media ecology in Cuba and around the world. As she describes, "my new book project follows the paquete and examines this movement as the most serious threat to the state's control over distribution that has happened since 1959." Humphreys' book will also use the paquete as a premise to look at how Cubans are turning to digital media piracy and new genres of entertainment to rethink social and political values at a time of intense change.
"The Wenner-Gren award has allowed me to receive support and feedback from my peers in anthropology on my media scholarship, which has been a wonderful process. I see this research as really spanning both communication and anthropology, and contributing to the study of communication from both ethnographic and Cuban perspectives."