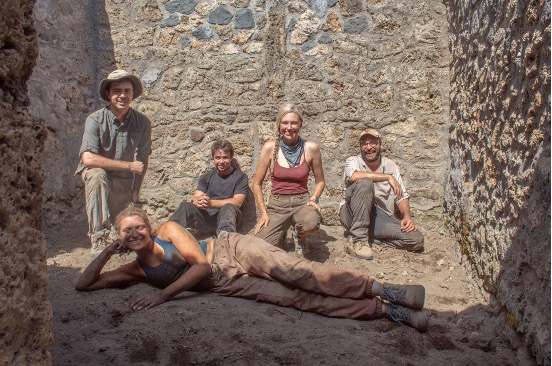 This submission is written by Skylar Morgan, a junior at Tulane University studying Anthropology and Classical Studies with a minor in Gender and Sexuality Studies. Skylar serves as a collections intern for Tulane's Middle American Research Institute (M.A.R.I) and is a member of various clubs across campus.
This summer I was one of two Tulane students who participated in the Pompeii I.14 Project, a five-week excavation in Pompeii, Italy. The project, led by Classical Studies Professor Allison Emmerson, examines urban life within the ancient city of Pompeii. In 79 CE, Mt. Vesuvius covered Pompeii in ash. Although two-thirds of the city has been cleared of that material, less than 5% of the city is excavated below the 79 CE level, with most excavations focusing on public or elite spaces. The goal of Pompeii I.14 is to uncover more "underwhelming" areas to better understand the stories of people who lived in less affluent areas.
Our work included almost every aspect of the excavation process. In the mornings, we would actively dig in our trenches while identifying and labeling different finds — like animal bones, ceramics, and charcoal. We learned how to look for soil changes and identify different soil textures and colors to pinpoint the time period. One of my favorite aspects of the project was the emphasis on excavators learning every aspect of fieldwork. Instead of excavating the whole day, we spent our afternoons working with the digital data team and training in finds processing and ceramics.
Dr. Emmerson organized the project so weekends were free time to explore the Bay of Naples, rest from the long work weeks, or conduct research. Most of my weekends consisted of immersing myself in Italian culture, and exploring beaches, restaurants, and archaeological sites. Outside of exploring the modern city of Pompeii, I also had the opportunity to conduct research in the ancient city — looking at mosaics and their use of protection over buildings. The opportunity to excavate at Pompeii was an amazing experience and I will forever be grateful to have participated in the project.