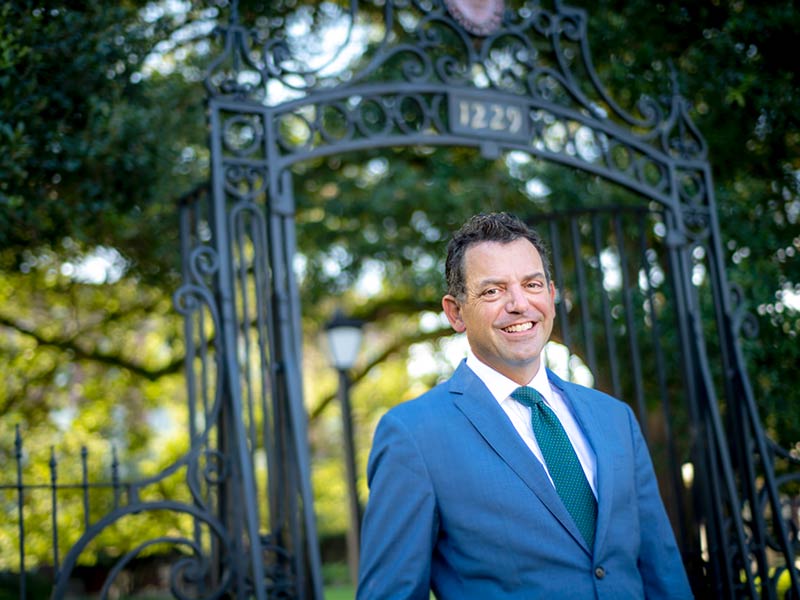 Brian T. Edwards
Dean & Professor of English
School of Liberal Arts
Biography
Brian T. Edwards is Dean of the School of Liberal Arts at Tulane, where he oversees 35 departments and programs in the social sciences, humanities, and fine and performing arts—including 60 undergraduate majors and two dozen M.A., M.F.A., and Ph.D. programs—plus the Shakespeare Festival, Summer Lyric Theatre, Carroll Gallery, Tulane University Marching Band, New Orleans Center for the Gulf South, and the Middle American Research Institute. Prior to moving to New Orleans for the Tulane position in 2018, he was on the faculty of Northwestern University, where he was the Crown Professor in Middle East Studies, Professor of English and Comparative Literary Studies, and the founding director of the Program in Middle East and North African Studies (MENA), which grew under his direction from a small faculty working group to an internationally recognized program.
As a scholar, Edwards examines the intersections between culture and politics, how ideas and attitudes about foreign spaces are formed in relation to cultural representations, and the ways in which contemporary American culture circulates globally, with particular focus on the Middle East and North Africa. He has done extensive field research in Morocco, Egypt, and Iran, and is the author of two books: Morocco Bound: Disorienting America's Maghreb, from Casablanca to the Marrakech Express (Duke, 2005), a cultural history of how Americans came to think about the Arab world during the period when the U.S. was rising to global superpower status, and how Moroccans responded; and After the American Century: The Ends of U.S. Culture in the Middle East (Columbia, 2016), which examines the paradox of the popularity of American culture, especially digital culture, in the Middle East during the 21st century, while attitudes toward the U.S. were plummeting in the region. He is coeditor, with Dilip Gaonkar, of the volume Globalizing American Studies (U Chicago, 2010), which emerged from a multiyear project he directed at Northwestern, and editor of On the Ground: New Directions in Middle East and North African Studies (NU-Q, 2013).
Edwards has published essays, articles, and Op-Eds in a wide range of publications, both scholarly and mainstream, including Public Culture, American Literary History, PMLA, Salon, Arizona Quarterly, Chronicle of Higher Education, The Believer, McSweeney's, Chicago Tribune, NOVEL, Journal of North African Studies, Foreign Policy, and many others. Early in the pandemic, he published a widely-circulated column in The Hill about how the still-unfolding Covid-19 crisis will be the defining moment for Generation Z, which he calls "the fractured generation." His 2020 column in The Chronicle of Higher Education on how virtual interviewing can lead to more equitable hiring emerged from work he began doing on academic hiring, informed by behavioral economics. Edwards has lectured extensively throughout the US, Europe, the Middle East, North Africa, and Central and South Asia, and his research has been supported by major grants from the Carnegie Corporation of New York, the Andrew Mellon Foundation, and the Fulbright Program. In 2013 he was named an "Emerging Leader" by the Chicago Council on Global Affairs.
Edwards is an advocate for renewed approaches to language learning at both the university and K-12 levels. A speaker of four languages himself, he led language initiatives at Northwestern and in partnership with Chicago Public Schools. From 2016 to 2017, he served on the American Academy of Arts and Sciences' Commission on Language Learning, which was charged by a bipartisan group of members of Congress to examine language education in the U.S. and make recommendations for ways to meet the nation's future education needs.
His new research pursues two avenues: a vision for the vitality of the liberal arts for a post-pandemic digital age; and a multisited project on global port cities, with the collaboration of a multinational group of scholars, curators, and artist-activists based on four continents. He is also writing a book about Tangier in the 1990s—part-memoir, part-critical biography of Paul Bowles, Mohammed Mrabet, and Mohamed Choukri.
Edwards was educated at Yale University, where he received his B.A. in English, magna cum laude, and his M.A., M.Phil., and Ph.D., all in American Studies.

Learn more about Dean Edwards's research, writing, and current projects at https://briantedwards.com/.
To contact or schedule Dean Edwards, please email Joseph Mistrot at jmistrot@tulane.edu.