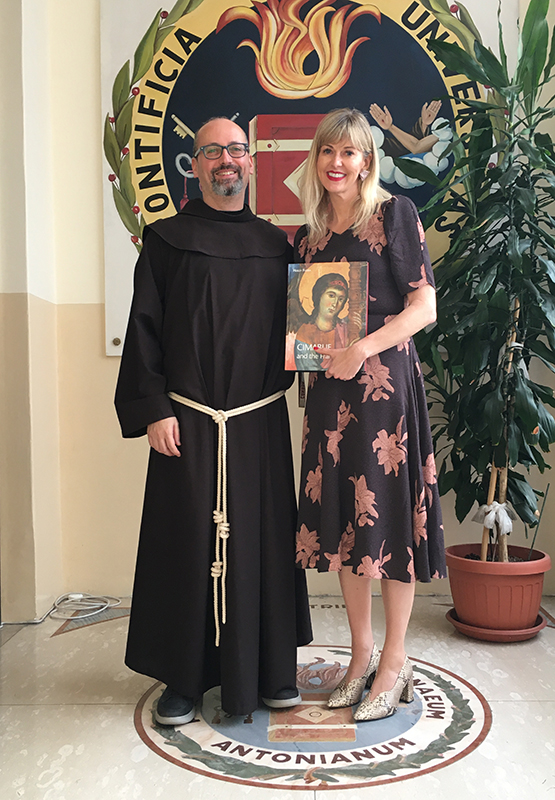 "Art has always, and I believe will continue to, impact the way we see and experience the world around us," explained Holly Flora, a professor of art history and Associate Dean for Faculty Affairs for the School of Liberal Arts.
In January, Flora traveled to Rome, Italy to accept the Premio San Francesco from the Pontifical University of Saint Anthony (Antonianum) in Rome for her new book Cimabue and the Franciscans (Brepols/Harvey Miller, 2018). "It's a huge honor to be selected for this very prestigious, international prize," said Flora. The Pope's university awards the Premio San Francesco prize every two years for the best book in Franciscan studies, with works ranging from books on family and spirituality to historical and academic works. Flora's book charts the life and work of Cenni di Pepo, known as Cimabue, an artist from Florence that lived in the late 1200s. Cimabue is widely considered to be the forefather of the Renaissance and a precursor to individuals such as Leonardo da Vinci and Michelangelo. And while his large paintings and mosaics are discussed in art historical contexts, very little was known about Cimabue, until now.
"I thought it was really time for a fresh look at this artist," said Flora, referring to the beginning of her research on Cimabue that occurred when she was a curatorial fellow at the Frick Collection from 2003-2005. After studying a small painting at the Frick by Cimabue that was likely cut from one of his larger works, Flora became more interested in how artists and religious orders of the time drove the patronage of the early Renaissance.
"What I think I was really able to do with this book is look at Franciscan theology and Franciscan ideas about art, beauty, and experiences of God, and create a greater understanding of how Cimabue's works were really responding to those ideas and also how the artist and religious patrons worked together." To complete the research, Flora made multiple trips to Italy and participated in fellowships at the American Academy in Rome and the Harvard Center for Renaissance Studies at Villa I Tatti in Florence.
While Flora's main focus has been on Cimabue over the last decade, this work builds on her interest in asking bigger questions about the Franciscan order and how art in the late medieval period is a moment of change, turning to a more naturalistic approach and also speaking to a more personal experience of religion. "We still live in a moment where we are bound, in some ways, ideologically to constructs of history," said Flora. "For example, we think of the ancient world, the medieval world, the Renaissance, and the modern world as separate, defined moments. What I really tried to underscore in Cimabue and the Franciscans is that Cimabue falls between "medieval" and "Renaissance," so I suggest considering his moment in its own way so we can understand the changes in art and society at this time more broadly."