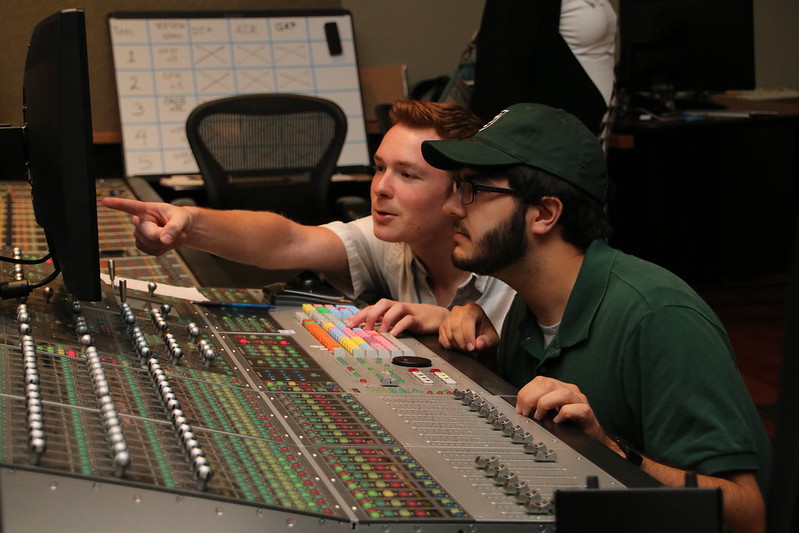 For the past several years, faculty and students in the Digital Media Production program have worked across the School of Liberal Arts departments of theatre, music, communication, English, and history, among others, to pursue creative, cross-disciplinary, and timely works. This year, the program will welcome a name that supports this process and the shifts occurring throughout multiple professional industries: Digital Media Practices.
"Tulane University has a strong record of focusing on narrative filmmaking, and that is definitely something we will continue—students are incredibly interested in this discipline and we have great faculty and alumni connections in the industry," explained Richard Snow, the new director of the Digital Media Practices program and a professor in the Newcomb Department of Music. "Right now, we have the opportunity to give our students a chance to do even more expansive things with digital media." Snow's own work in the emerging field of sound studies offers an intriguing example: he works with interactive computer sound and video mapping instruments to create multimodal artworks of sound and light.
With the rise in popularity of creative coding, video games, podcasts, animation, and digital media in studio art practices, the program is eager to offer a broader range of courses and focuses for students pursuing a coordinate major in Digital Media Practices. As Snow explained, "we are really responding to student interest more than anything else. I anticipate being surprised by the projects students propose to pursue, from multi-episode podcasts to interactive media exhibitions, and experimental video games, in addition to imaginative and finely crafted short films and documentaries."
Starting in fall 2020, Digital Media Practices will include five main areas of study and practice: narrative filmmaking, documentary and expository filmmaking, sound practice, interactive media, and creative coding. "These are exciting spaces in which to work, and they allow for practical teaching as well as a lot of imagination from the students in the ways they apply their skill sets," said Snow. "For example, working in the field of sound practice, students could end up focusing on the sound that goes into filmmaking, and also the explosive field of podcasting and radio dramas. It is all related to practice, imagination, and creativity."
Brian Edwards, dean of the School of Liberal Arts, is excited about the program's growth. "As we enter the third decade of the century, the ways in which digital media have transformed narrative storytelling, journalism, professional communication, entertainment, and sound are nothing less than revolutionary," Edwards said.
Noting the introduction of Facebook in 2004, the iPhone in 2007, and Instagram in 2010, he commented: "Students entering Tulane in the fall have grown up in the digital age, and bring interests and inclinations, as well as imagination, that we are eager to fuel through new courses, an expanded faculty, and a capacious sense of the power and potential of a variety of practices." Look for news in the weeks and months to come as Tulane shows leadership in this compelling new set of fields.