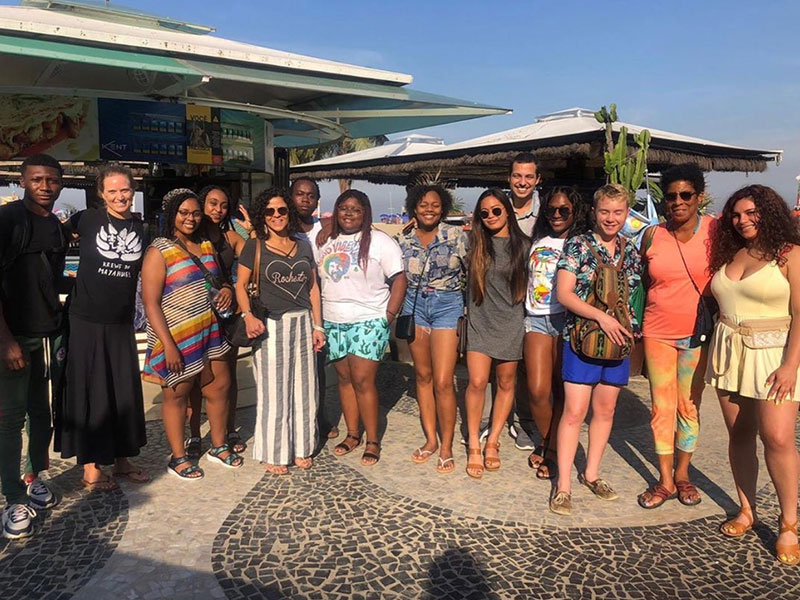 Brazil still feels like a dream even though I've returned home. This July I spent one week in Rio de Janeiro and another week in Salvador de Bahia through Tulane's Race and Performance in Brazil program. The three-part program included a pre-departure "Global Cultural Awareness" course, a course in Brazil called "Cross-Cultural Engagement Abroad," and a "Post Study Abroad Re-Entry" course upon return. Director of Study Abroad Annie Gibson and Assistant Vice President for Student Affairs Carolyn Barber Pierre guided our group through the complexities and multidisciplinary study of performance and race cultures in two of Brazil's most iconic cities.
Throughout this program, the city streets were our classroom and the Brazilians were our teachers. Most of the topics covered in the program were about how race intertwines with performance and the lasting effects of the Transatlantic slave trade in Brazil. We danced with passistas, stayed in homestays for a weekend, relaxed on the beach, visited museums, and did so much more. These hands-on experiences allowed us to not only learn about Brazilian performance and identity, but we were able to perform our own identities through Brazilian dance and song. 
The highlight of the trip for me was going to Capoeira School in Salvador. As a sociology major and an Africana Studies minor, being able to see people build community through dance was beautiful. Capoeira as a dance represents years of resistance of Afro-Brazilians from the oppressive society in which they exist. Capoeira's creation story varies. The one I learned believes enslaved Africans that were brought to Brazil used dance to disguise training to fight back their white opposers. Because of its African origin, I felt connected to my ancestral roots as an African American through the beat of the drums, the movement of my body, and the exchange of energy between me and my partner.
From the guest speakers, to the several excursions, my time in Brazil was incredibly memorable. I learned so much about myself and everyone in my cohort this summer. The best moments were in our hostel's living rooms, sharing stories from our past and how they connected to our present in Brazil. The key to studying abroad is not just an open-mind, but a mind without capacity or limits. Whether in the classroom, roaming the streets, or relaxing in our hostel, those group settings made this a once-in-a-lifetime trip.
Raven Ancar is a sophomore at Tulane University. She is a member of several social justice groups on campus including Community Engagement Advocates, Public Service Fellows, and she serves on the Executive Board for the Black Student Union. Ancar is also a reproductive rights intern. Her favorite activists are Malcolm X, Angela Davis, James Baldwin, and Audre Lorde.