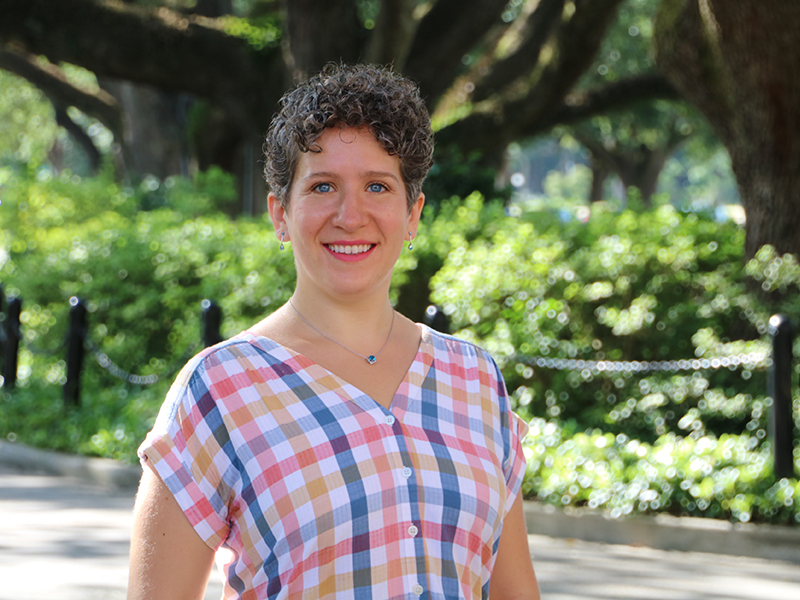 Education
PhD, Classics, 2013. Princeton University
MA, Classics, 2010. Princeton University
BA, Linguistics and Classical Languages, 2007. Georgetown University
Graduate Certificate in Nonprofit Management and Strategic Philanthropy, in progress. Tulane University
Biography
Professor Monaco Caterine (a.k.a. Prof. MC) loves to help students make connections between the past, the present, the self, and the human community. She believes that a humanities education is a highly effective mode of leadership training, and infuses opportunities to practice leadership into all of her classes, including Greek, Latin, Mythology, The Greeks, Ancient Medicine, and the Classical Leadership Lab. Prof. MC earned her PhD at Princeton University, writing a dissertation on the significance of the Hellenistic past in Plutarch's Lives; her recent research has focused on the representations of tyrants and women's leadership in Greek and Roman literature.
In addition to her work at Tulane, Prof. MC is also the co-founder and co-executive director of Kallion Leadership, Inc., a nonprofit organization dedicated to dedicated to understanding, applying, and promoting the study of the humanities for the leadership development of all. Her work with Kallion has been supported by her position as the Greenberg Family Professor in Social Entrepreneurship and Cole Fellow at the Phyllis M. Taylor Center for Social Innovation and Social Entrepreneurship. Recently, Prof. MC has re-entered the classroom as a student in Tulane's Graduate Certificate in Nonprofit Management and Strategic Philanthropy, to build the new skills she needs as an executive director.
In Prof. MC's rare free moments, you can find her goofing around with her toddler Caleb or eating in one of New Orleans' amazing restaurants with her husband, Chris.
Contributions
"Tyrannical Men and Virtuous Women in Plutarch's Mulierum Virtutes." Illinois Classical Studies, vol. 44, no. 1 (2019).
"Non sibi, sed suis: Service-Learning in Advanced Latin Courses." Classical Outlook, vol. 93.3 (2018).
"Alexander-Imitators in the Age of Trajan: Plutarch's ." Classical Journal, vol. 112.4 (2017).
Phronesis: Practical Wisdom for Leaders
Dr. Mallory Monaco Caterine - From Working On Plutarch to Working With Plutarch
AUGUST 20, 2022
SCOTT J. ALLEN
SEASON 1
EPISODE 137

Courses
CLAS-1030 The Greeks
CLAS-1040 Mythology
CLAS-2400 Ancient Medicine
CLAS-4110 Classical Leadership Lab*
GREK-1010 Elementary Greek
GREK-1020 Intermediate Greek
GREK-2030 Attic Prose
LATN-3030 Readings in Latin Poetry*
LATN-3070 Readings in Latin Prose*
TIDE-1038 Beyond Orgo: Becoming a Good Doctor
*service-learning courses