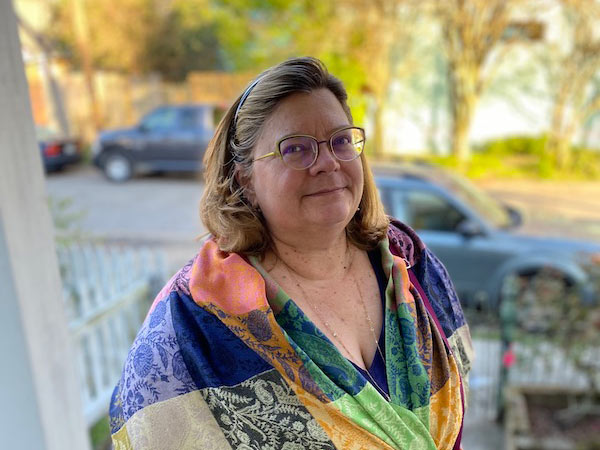 Education
Ph.D. in Classics, concentration in Classical Archaeology, University of Cincinnati, 1998
M.A. in Classics, University of Cincinnati, 1990
B.A. in Latin, University of Mary Washington (formerly Mary Washington College), 1985
Biography
---
Teaching Posts
1998-1999
Assistant Professor, Intercollegiate Center for Classical Studies, Rome
1999-2000
Acting Assistant Professor, Randolph-Macon Woman's College, Lynchburg, VA
(now Randolph College)
2000-2003
Visiting Assistant Professor, Tulane University, New Orleans, LA
2003-2008
Assistant Professor, Tulane University, New Orleans, LA
2008-Present
Associate Professor, Tulane University, New Orleans, LA
2011-2012
Faculty Scholar, Center for Public Service, Tulane University
2011-2013
Director, Classical Summer School, American Academy in Rome (Italy)
Administrative Posts
---
Recent Grants & Awards
| | |
| --- | --- |
| 1991-1992 | Fulbright Grant: Rome, Italy |
| 1994-1996 | Rome Prize Fellowship (Frank Brown-Samuel H. Kress Foundation), American Academy in Rome (Italy) |
| 2003 | Friedrich Stoll Grant, Tulane University |
| 2004 | COR Grant, Tulane University |
| 2005 | Franklin Research Grant, American Philosophical Society, Philadelphia, PA |
| 2006-2007 | Tulane University Research Enhancement Grant |
| 2015 | Freidrich Stoll Grant, Tulane University |
| 2015 | Lurcy Grant, School of Liberal Arts, Tulane University |
| 2016 | Samuel H. Kress Grant for Research and Publication in Classical Art and Architecture, Archaeological Institute of America |
| 2016 | Lurcy Grant, School of Liberal Arts, Tulane University |
| 2017 | Lavin Bernick Grant, Tulane University |
| 2017 | Lurcy Grant, School of Liberal Arts, Tulane University |
---
Publications
Book:
Creating Severan Rome: The Architecture and Self-Image of L. Septimius Severus. Collection Latomus, v. 345. Bruxelles, 2014. (https://doi.org/10.1017/S0009840X15001626)
Articles:
"Julia Domna's Coinage and Severan Dynastic Propaganda," Latomus 54 (1995) 119-140.
"The Septizodium in Rome: A Political Image in Monumental Style." In Casey, J., Warnement, M., Whelton, J. & Wingenter, A. (eds.), Layfayette, IN, Bordighera Press (2000): 201-15.
"Urban Planning and Sculptural Display in Severan Rome: Reconstructing the Septizodium and its Role in Dynastic Politics," American Journal of Archaeology 108 (2004): 517-544.
"Battle Imagery and Politics on the Severan Arch in the Forum." In S. Dillon and K. Welch (eds.), Representations of War in Ancient Rome. Cambridge: Cambridge University Press (2006): 272-299. (on Amazon)
"Redating the Septizodium and Severan Propaganda." In Mattusch, C., Donohue, A. & Brauer, A. (eds.), Common Ground: Archaeology, Art, Science, and Humanities (Proceedings of the XVIth International Congress of Classical Archaeology, Boston, August 23-26, 2003). Oxford, Oxbow Books (2006): 196-9. (at David Brown Book Co.)
"Pompeii on the Mississippi: the view from New Orleans." In Traumatology 14.4 (2008): 67-74 (special issue on Hurricane Katrina).
Articles for Wiley-Blackwell's Encyclopedia of Ancient History (Editors: R. Bagnall, K. Brodersen, C. Champion, A. Erskine, & S. Hübner): Rome, Severan and third century; Septimius Severus Pertinax Augustus, Lucius ; Didius Severus Julianus Augustus, Marcus; Opellius Antoninus Diadumenianus Augustus, Marcus; Clodius Albinus, Decimus; Fulvius Plautianus, Gaius; and Julia Domna
---
In the News...
Article in The New Wave on TIDE course, Loot, Plunder & Pillage
---
Interests
Archaeology of Italy and the Roman Empire; Roman material culture and civilization; politics and propaganda in art and architecture; urban topography and monuments of Rome; monumentality in ancient art and architecture

Courses
CLAS 3120 Etruscans and Early Rome
CLAS 3180 Roman Art and Archaeology
CLAS 3190 Pompeii: Life in the Roman Town
CLAS 4200/6200 Monuments of Ancient Rome
CLAS 4220/6200 Roman Sculpture in Context; Ancient Paintings & Mosaics