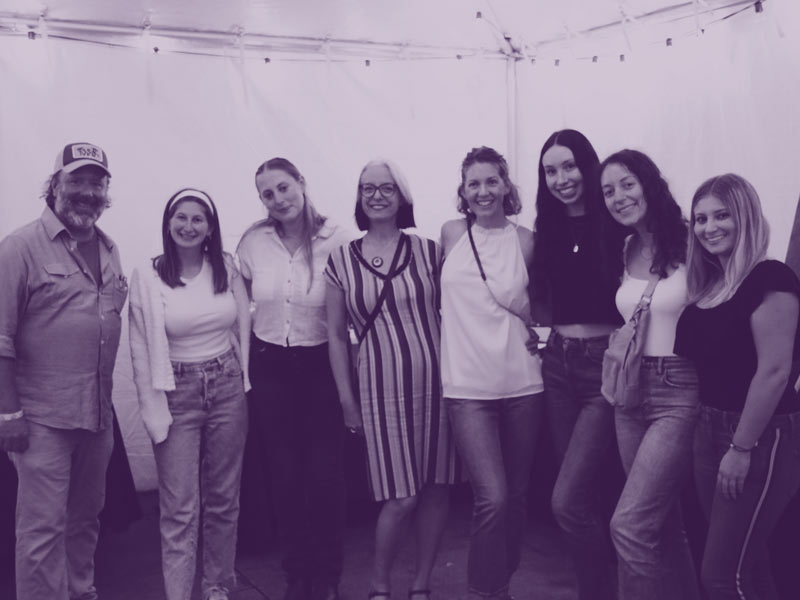 City-Wide Partners Ground Summer Courses in Creative & Environmental Industries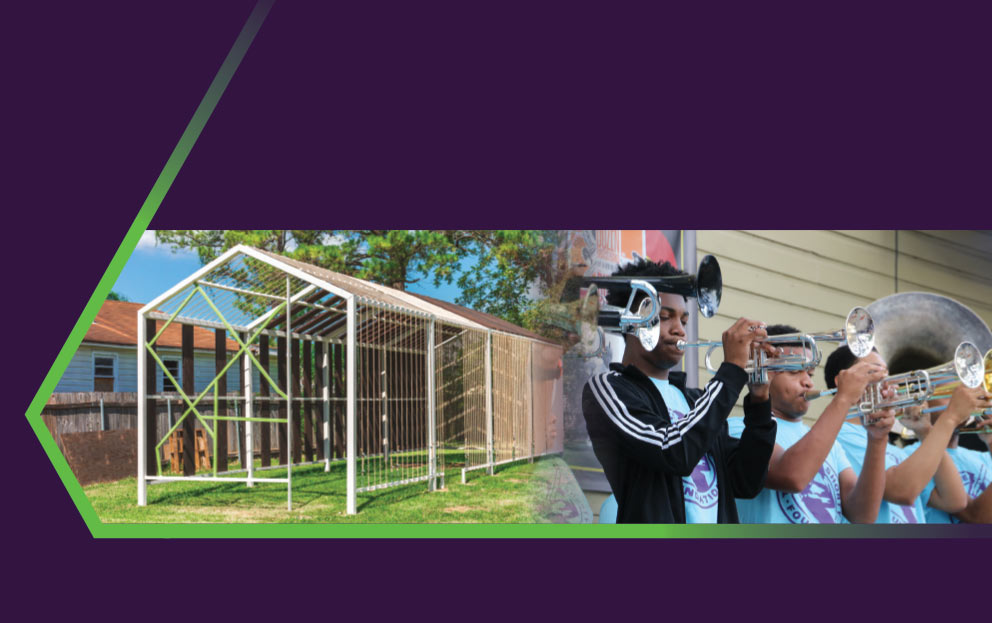 Originally published in the Summer 2022 School of Liberal Arts Magazine
Monday, August 15th, 2022
As Summer 2022 approached, we asked Professor of Communication and Associate Dean for Academic Initiatives and Curriculum, Vicki Mayer, to moderate a conversation between Laura McKinney and William "Bill" Taylor about the ways in which their courses—in Environmental Studies and Creative Industries, respectively—are similarly built as experiential learning opportunities and community partnerships that reach beyond the boundaries of Tulane's Uptown Campus.
Vicki Mayer (VM): Summer has been a time for us to really think about depth in a way that we can't [during the school year], both in terms of being a more intensive period for teaching, and the freedom students have of getting to go deep with something when they are not taking five, six, or seven classes at a time. Can you talk about this, in terms of developing your summer course partnerships and collaborations?
Bill Taylor (BT): Things worked out so well for us this summer as far as timing goes. We're entering our 10th year with the Trombone Shorty Foundation and putting together a video with a highly respected professional videographer, and the whole process happens to take place during the time when my course, "Branding and Storytelling for Creative Industries," is in session. So we'll be scripting, filming, and editing the film with Troy [Andrews, aka Trombone Shorty], while also talking about the storylines and mission that go along with it. The way the project aligns is going to be so impactful for the students, because not only will there be a tangible product at the end, but they'll also all have had a participating role in that piece.
Laura McKinney (LM): The work we did last summer in my Environmental Studies courses was with FARMacia, a medicinal healing and learning garden in the Seventh Ward. It's a branch within NewCorp—an overarching Seventh Ward organization—and is really at the intersection of arts, culture, the environment, and community development, with a focus on health disparities as well. Last year was such an aberration with everything moving online at the last minute, but now that we have our ducks in a row and are not facing the same pandemic constraints, I have really high hopes for this summer.
Department of Sociology Professor Chris Oliver is also going to be teaching the capstone course for us, "Environmental & Social Justice in New Orleans," and its service-learning component. He works with Louisiana Environmental Action Network (LEAN) and recently received a grant to do some environmental justice work with them, and so his class will get to work with him on that project. It's a really great opportunity, as Vicki was saying, for students to get their hands on these projects and think about these topics in a more in-depth manner.
VM: Laura, you just perfectly set up my next question! While not all learning experiences are necessarily the sunny-happy-positive-euphoric type, but can still be growth opportunities. Could you each give an example of an experience that students have had through collaboration—a story that's very positive or, conversely, not so, let's say, "joyful," but really a growth opportunity? We love stories.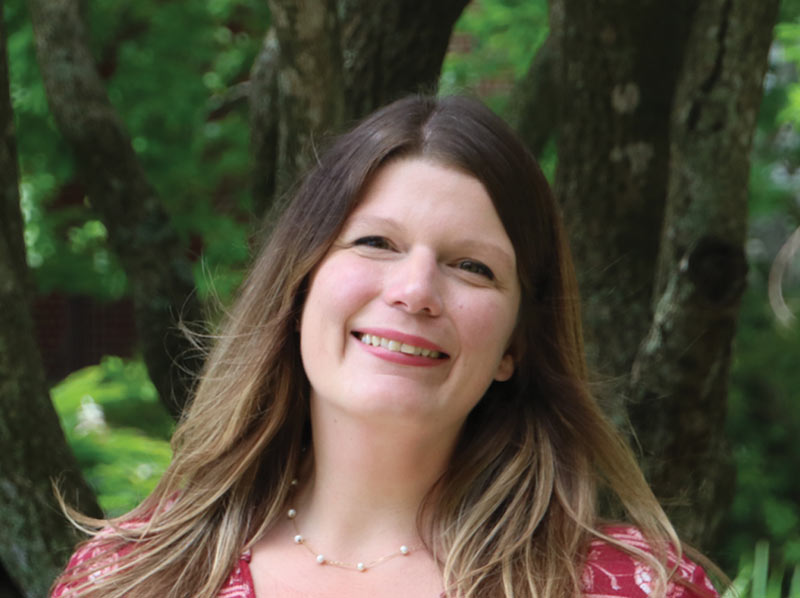 McKinney is an Associate Professor of Sociology and Program Director for Environmental Studies (EVST), whose courses combine field work and collaborative service-learning in greater New Orleans and the Gulf Coast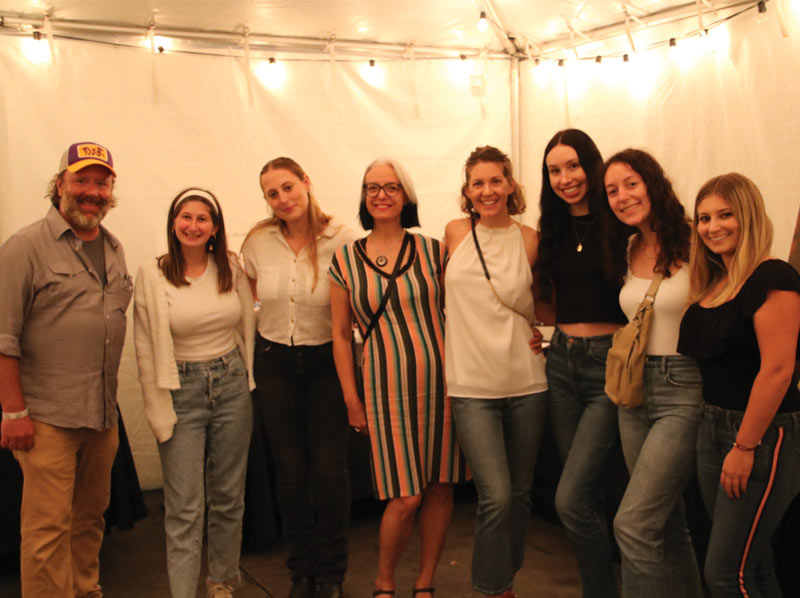 Taylor, far left, and Vicki Mayer (in stripes) pose with student volunteers at Shortyfest 2022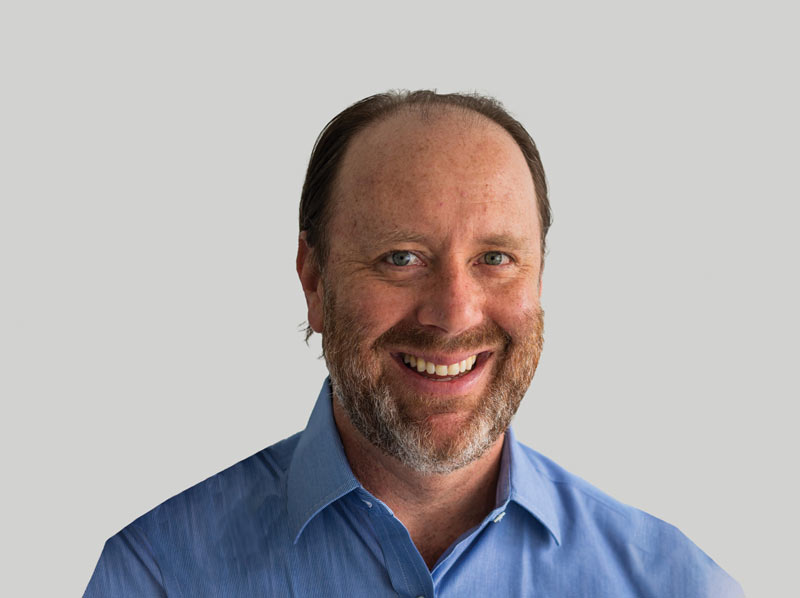 Taylor teaches Creative Industries, and is the Executive Director and co-founder of the Trombone Shorty Foundation, a New Orleans non-profit mentoring and inspiring the city's youth through musical education and performance
LM: After we had to reorient the whole class last summer, instead of having students on the ground and working in the garden, we switched to fundraising. That was what made sense, with students zooming in from Florida, Maryland, wherever they might be. It was a cool opportunity for them to understand the nuts and bolts of fundraising and nonprofits. I've said this a million times, but the folks who have these nonprofits become directors and founders because they have these beautiful visions of how to create community and how to serve their communities, but often can't do that work because they're saddled with fundraising, which is really a full-time job. Being able to supplement our work so that these organizations could focus on putting their vision in place was a pivot I didn't anticipate, but ultimately was probably the most helpful contribution we could have made.
This pivot made use of the fact that many Tulane students, and particularly the ones who enroll in additional summer courses, come from affluence. They also tend to have supportive networks who want to help—help address health disparities, help tell a civil rights story, help show how culture interacts with these important dynamics—especially in the city of New Orleans. In the month during that class, we ultimately raised almost $5,000 for the organization we were working with, so I was really excited.
I think it took a bit for the students to reorient themselves, but it was definitely a teaching moment. And it opened my mind to thinking about how we can again make use of the student body and what they can offer to improve the community in New Orleans.
BT: The high school students we work with in the Trombone Shorty Foundation, for the most part, come from pretty challenging backgrounds. The interaction between them and Tulane students, being able to bridge those two worlds, is something I love to see. Music and culture are a great way to do this; sort of a common language that people can latch on to and speak in.
We're 10 years in now and starting to see some real success stories of students who have come through our foundation and are now out in the world doing things. One was a super shy student out of Warren Easton High School who, through some of the interactions with our students, got excited about going to Tulane. He ended up graduating from the university last year and has now gone out and started his own graphic design company. We're actually meeting next month, bringing him to San Francisco where we work with the Aspen Institute, one of our funders and partners, who have invited him to be a part of an entrepreneurial fair out in the Bay area as part of their big annual gathering.
When those threads start to play through over time, and you see a seed that was planted because of that communication and collaboration, it's pretty inspiring.
VM: Laura, we want to congratulate you on the National Endowment for the Humanities Grant as well!
BT: What's the award?
LM: Through the National Endowment for the Humanities, we received money to plan an environmental humanities minor. At this initial phase, we're enthusiastic about forging connections across campus and building coalitions with community stakeholders to plan meaningful learning opportunities for students that address environmental history, sustainability, and justice both locally and globally. I definitely want to reach out to you, Bill, to see if there are coalitions we can build. We're super excited and would love to hear any thoughts you have on the intersection of culture and the environment, and creative industries and environmental studies.
BT: You know, a question that has been in the back of my mind in the last few years as we start to nurture these young students is: How do we also start to bring them into an understanding of environmental challenges and issues? So I would love to have that conversation with you.
LM: Fabulous. I'll put you on our list!
VM: Both the arts and creative entrepreneurship and environmental studies have such specific and important context in New Orleans. Stepping back a bit, can you talk more generally about the importance of communication and collaboration—and what it means within your programs?
LM: I've been teaching service-learning classes since 2013, and hear so many students say, "This class is the first time I've left the Tulane bubble." That is so critical to me—to know that they are getting out there—and it provides a point of entry where they become a part of this community beyond Tulane, beyond uptown. They go to the Seventh Ward, the Lower Ninth—they get to go to places and see things like environmental racism and environmental injustice happening, and then see what people are doing to overcome those hurdles. You can read about it all day, but when you see it, when you participate in it, it has such a larger impact.
When I've asked students about their favorite experiences in their Environmental Studies program and classes, it's always the events that take them outside of Tulane—to places like Cancer Alley, where they can meet people who are at the front lines of the environmental justice struggles and put faces to names—that time and time again, students emphasize as the most meaningful, powerful experiences. It's these experiences that really drive home all the theories and concepts they read about in the classroom.
BT: What I love about the music, entertainment, and cultural space as an entry point for a Tulane student to explore the broader New Orleans community is that it's fun on the surface. Who doesn't like being part of something that's music related? Once you get into it, though, students are learning that there's such depth to the music culture in New Orleans: it brings out issues of history and race, cultural preservation, and the role of education. That's part of the reason why we have such a powerful music culture in the city. It goes back hundreds of years, and it needs to be preserved.
Furthermore, the students are not only being introduced to why New Orleans is so special as a musical place, but they're also interacting with people actually working as professionals in the industry, people making things happen. So they're getting a real business experience—as well as cultural and historical. Pretty deep waters when you really start to dive into them.
VM: To us, one of the points of Summer Programs that's so valuable, especially over the last couple years, is that students who have not even had the opportunity yet to get out into the city, gain an advanced awareness of how big the city is, how dynamic it is, what's going on and what you can do. And it's part of that direct path to staying here: not just having the on-campus undergraduate experience—but learning New Orleans.
BT: If nothing else is achieved through this experience, I hope that students are developing a lifelong love affair with the city, whether or not they stay. That can only be achieved to a certain degree if you don't get out of Tulane's bubble.
VM: And it's full circle. There's the other side of it as well, of the people of New Orleans seeing Tulane as an active collaborator and seeing our students out in the community. So many people come to Tulane, knowing our commitment to service-learning, because they want to be a part of helping these communities that are so representative of the city's culture and identity. It's also what makes them want to stay after graduating. So much of what is great about New Orleans is in the neighborhoods where these programs work.
BT: That's where the culture comes from, right? One hundred percent, it comes from those neighborhoods.
LM: All of what these aspects are really getting at is that we have the ability—we have the real privilege—to immerse students in diversity, so that they can see people who are different from them, like Bill was saying, people who grew up here, went to public schools, survived disasters, etc. To introduce students to the beautiful, amazing, vibrant, diversity that New Orleans has to offer is such an invaluable experience. That's what pulls at your heartstrings and that's what they fall in love with. It's why they want to come back, and why they feel like they have a stake in it, to keep this thing going.
BT: You've hit the nail on the head with that one. One of the things I know happened to me as I dove into that cultural world is that I found out it's very welcoming—it really is, and more so than it is in other places. It becomes this enriching experience, where students are not just learning, but they're developing relationships in those communities. And that's where the magic can really start to happen.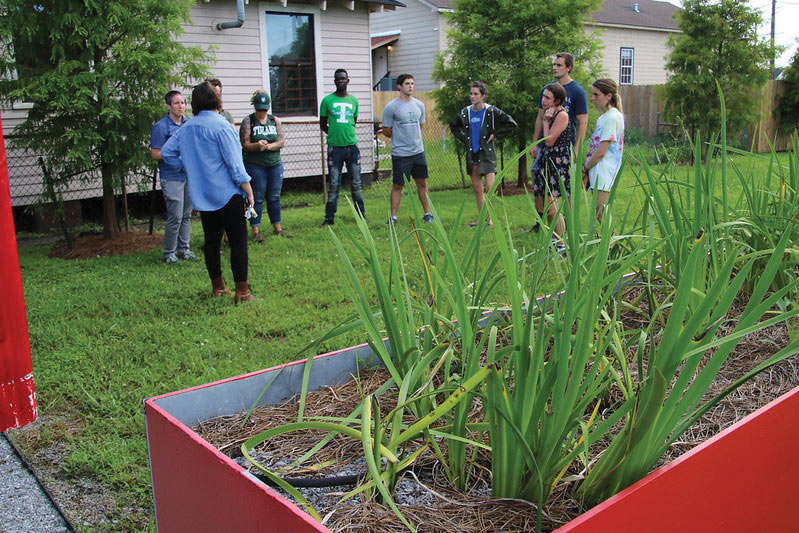 Students in an EVST summer course visit a community garden in downtown New Orleans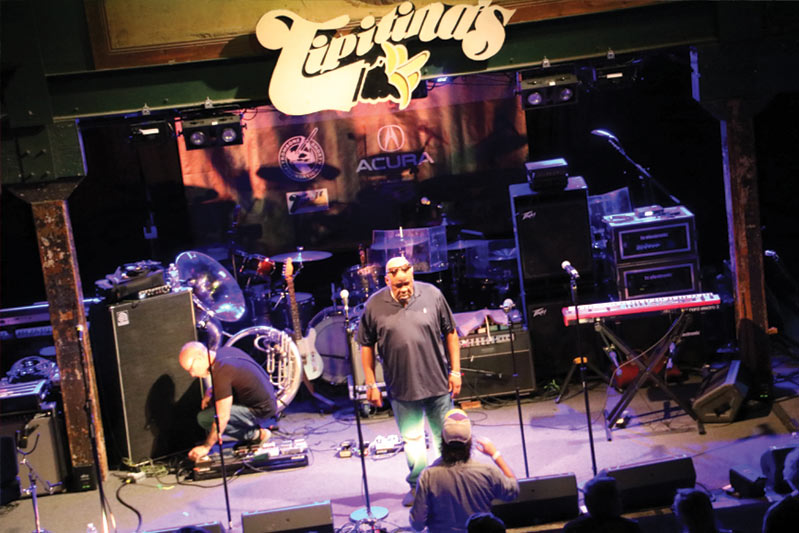 Bill Taylor, at bottom, directs stage setup at Tipitina's during Shortyfest 2022