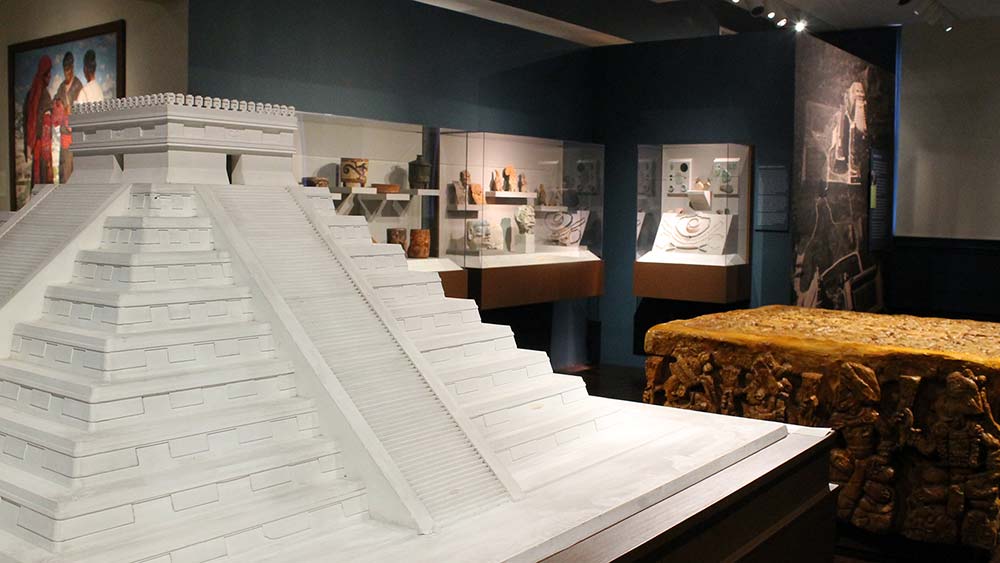 Main Gallery
Faces of the Maya: Profiles in Continuity and Resilience
The gallery is open from Monday to Friday from 10 am to 4 pm.
Please contact us for special appointments
Short-term Installations
Making M.A.R.I.: A Brief History of the Middle American Research Institute
Making M.A.R.I. explores the rich history of the Middle American Research Institute since the 1920s. As a constituent of Tulane University's campus, M.A.R.I. plays an integral role in maintaining Tulane's long-standing connection with Latin America and has conducted nearly a century of research in Mesoamerica. In this exhibit, we examine M.A.R.I.'s legacy of research and outline the Institute's trajectory for the next hundred years.
Artistry and Techniques: A Survey of Modern Mexican Vessels
Mini-exhibits on the third floor of Dinwiddie Hall allow Interns to design and showcase the diverse holdings of the M.A.R.I. Collections. Our current installation focuses on contemporary pottery, exposing diversity and ingenuity in techniques. 
Bird's Eye View of Maya Country: The 1930 PAA-Penn Museum Expedition
This intern-designed photography exhibit follows the path of the Pan American/University of Pennsylvania expedition as they flew over Maya sites in Mexico, Belize, and Guatemala. The exhibit uses images sourced from the M.A.R.I. Archives taken by the Fairchild Aerial Surveys company.