Director of Graduate Studies: Prof. Allison Emmerson | email
Mission Statements and Learning Objectives
Funded M.A. in Classics
The department is not requiring GRE scores for the 2022-2023 application cycle.
Tulane's M.A. program in Classical Studies prepares students for further academic work in Ph.D. programs, for teaching in secondary schools, and for other types of careers. We emphasize building our students' skills in Latin and Greek, while encouraging them to explore the ancient world through archaeology and ancient history. Our small, selective, and highly personalized program makes Tulane an excellent choice for those who are ready to engage deeply with the ancient Mediterranean in all its complexity.
We offer our best qualified applicants a full tuition fellowship and annual stipend. Students receiving a stipend will serve each semester as teaching assistants, helping a professor with course materials and grading. The funding package also includes guaranteed funding for research travel, as well as membership to the professional organization of the student's choice.
The program typically requires two years for completion. In the first year, most students take three courses within the department per semester. In the second year, students might either take two courses per semester and work on the M.A. thesis or take three courses while substantially revising two earlier seminar papers into M.A. qualifying papers.
Funded graduate students received $3000 to travel abroad between the first and second years, either to academic programs like those led by the American School of Classical Studies at Athens or the American Academy in Rome, or to archaeological field projects. Depending on their individual research interests, students might opt to accompany Prof. Oddo to Knossos, Prof. Emmerson to Pompeii, or Prof. Boehm to Ashkelon; alternately, our faculty can connect students with field projects in other places, focusing on various time periods. In some cases, students might prefer to engage in an intensive summer language program, in either an ancient or modern language. Additional travel funding, including for the summer prior to the first year or following the second, is available by application. We also offer funding for professional activities such as participating in conferences as presenters or attendees.
For more, please visit our Study Abroad and Field Projects page.
The requirements to complete the M.A. degree are:
A minimum of 30 semester hours of graduate-level credit (typically 10 courses) completed with a minimum grade of B. Typically, students complete 12 – 16 courses during the two-year program.
Two qualifying papers or an M.A. thesis, either of which must be defended before a committee of three faculty members.
Satisfactory completion of a reading exam in a modern language (German, French, or Italian). We expect students without preparation in a modern language (excluding English) to enroll in undergraduate language courses as part of their M.A. coursework.

Sample Plan of Study for the MA Program
Year
Fall Semester
Spring Semester
Year One
One Latin Course
One Greek Course
One Classics Course
(One Modern Language Course)
One Latin Course
One Greek Course
One Classics Course
(One Modern Language Course)
Year Two
One Latin Course
One Greek Course
One Classics Course or Thesis Research
(One Modern Language Course)
One Latin Course
One Greek Course
One Classics Course or Thesis Research
(One Modern Language Course)


HOW TO APPLY to the M.A. Program in Classics
Undergraduate majors in Classics, History, Art History, Archaeology, and related fields are invited to apply. We particularly welcome applications from students with backgrounds historically underrepresented in Classical Studies. If you have questions about expectations and/or your preparation, please contact the Director of Graduate studies.
Students seeking to enroll in the M.A. program of the Department of Classical Studies should apply for admission to the School of Liberal Arts at the following link:
https://liberalarts.tulane.edu/academics/graduate-studies/prospective-students
Note:
Applicants must complete the graduate studies application form and submit the application fee via the link above.
Please also submit the following:

a statement of purpose (c. 500 words)
three letters of recommendation
a writing sample of no more than 20 pages.
Full consideration will be given to applications completed by February 1st.

Graduate Students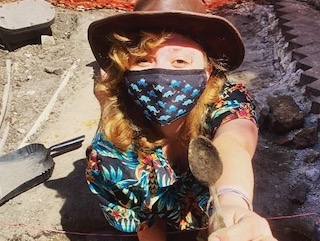 Kaarin's main focus is in Bronze Age archaeology in the Greek Cyclades and Crete.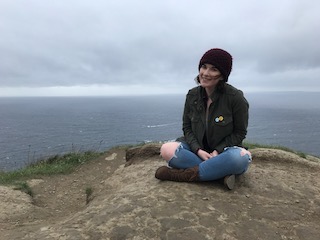 Sylvie's research interests include gender and sexuality in antiquity, mystery religions, and ancient Mediterranean seafaring.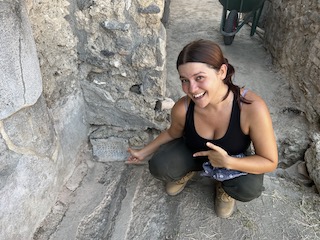 Sarah's research interests are ancient colonization and acculturation with a focus on Greco-Roman relationships with Celtic tribes and Egypt.

Alumni Showcase: Where are they now?
Congratulations to Mary-Evelyn Farrior, 2016 for receiving the Emeline Hill Richardson/Jesse Howard, Jr. Rome Prize at the American Academy in Rome.
Congratulations to our alumni who presented at this year's 2023 AIA/SCS Joint Annual Meeting in New Orleans, LA.

Evan Brubaker, University of Virginia ~ Direptio and Renovatio: Novidio Fracco's Consolatio ad Romam and Poeticizing the Sack of Rome

Matthew Chaldekas, Eberhard Karls Universität Tübingen ~ kalos kalos in Context: Callimachus' Unreal Aesthetics

Mary-Evelyn Farrior, Columbia University ~ Writing Home in Rome: The Epigraphy of Diaspora Communities in Southern Trastevere
---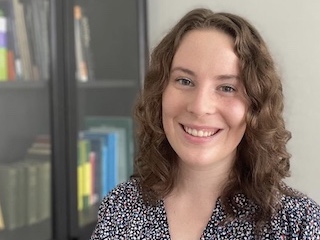 "The MA program at Tulane allowed me to work closely with a supportive faculty to pursue my existing research interests and discover new ones. In my career as a high school Latin teacher, I use what I learned at Tulane to bring lessons about Roman culture to life for my students."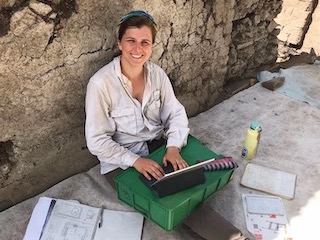 "My time at Tulane was formative in so many ways. I always felt so encouraged and supported by the faculty as they helped me through my first lecture, first conference paper, etc. The program is special in many ways – rigorous coursework, living in New Orleans, and so much more – but it really is the faculty that make this program extraordinary. They are all wonderful, enthusiastic, approachable, and I wish I could just wander into their office or chat with them over a coffee (or slice of king cake, during the season) right now!"