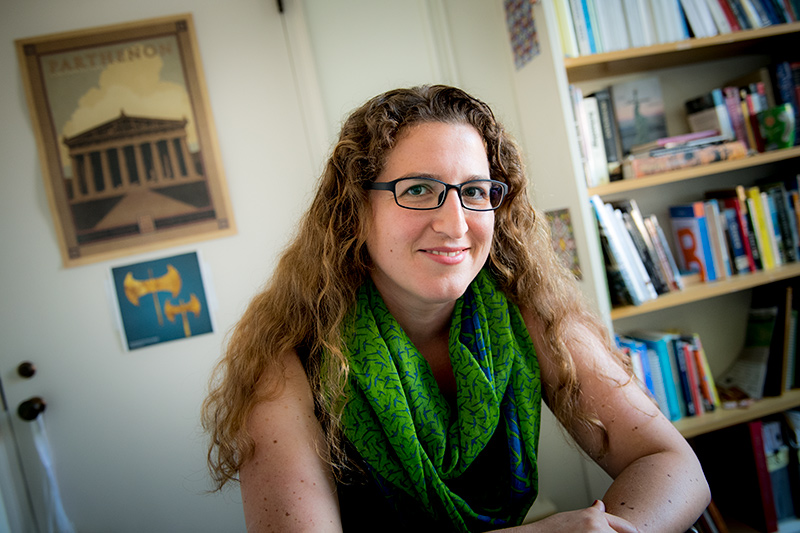 Education
Ph.D., Classics, 2016. University of Cincinnati
MA, 2010. University of Cincinnati
MA, 2007. Katholieke Universiteit Leuven, Belgium
Interests
Professor Oddo is an Associate Professor of Greek Archaeology. Her interests are centered on the archaeology of Crete in the Bronze Age. She is a specialist of the Late Bronze Age (Neopalatial period, ca. 1700-1470 BCE), particularly its decorated pottery. In her research, she sees pottery style not as some anonymous way to embellish fired clay, but a carefully chosen design that meant something for its society. In this view, pottery becomes a means to investigate social practices and social dynamics.
Her publications on the pottery from Southeast Crete focused on how pots' decorations served to convey a community's own identity. More recently, at the site of Knossos, Prof. Oddo is involved in the study of a variety of buildings excavated by Sir Arthur Evans and Duncan Mackenzie in the early 1900s. In her analysis of the pottery from these buildings, she examines individual ceramic styles in their archaeological contexts to extract clues to reveal how styles functioned in different behavioral contexts.
If you are interested in joining Prof. Oddo in Knossos next summer, email eoddo@tulane.edu.
In Summer 2024, Prof. Oddo will lead students on a new adventure: a trip through the Greek Islands, organized through the American School of Classical Studies at Athens Greece. For more information, https://www.ascsa.edu.gr/programs/summerseminars.
.
Contributions
2022. Knossos: The House of the Frescoes. The British School at Athens, Supplementary Volume 51.
with K. Chalikias, eds. 2022. South by Southeast: The History and Archaeology of Southeast Crete, from Myrtos to Kato Zakros. Archaeopress.
2022. "Navigating a World of Mountains, Coasts and Islands: Diachronic Evidence for a Connected Southeast Crete," in South by Southeast: The History and Archaeology of Southeast Crete, from Myrtos to Kato Zakros (E. Oddo and K. Chalikias): 139-48
2022. "Going Backward to Move Forward: Archive Archaeology and the House of the Frescoes at Knossos." Invited paper to be published for Brepols in the peer-reviewed volume Archival Historiographies: The Impact of 20th Century Legacy Data on Archaeological Investigations, edited by R. Raja (Aarhus University) and O. Bobou (Aarhus University): 9-21
with K. Chalikias, eds. 2019. Exploring a Terra Incognita: Recent Research on Bronze Age Habitation in the Southern Ierapetra Isthmus. INSTAP Press, Philadelphia
2019. "Pottery Styles and Social Dynamics at Neopalatial Myrtos-Pyrgos: Identifying Southeast Crete as a Ceramic Region." American Journal of Archaeology 123.1: 19-44
Courses
CLAS-2320: Greek Religion
CLAS-2340: Troy: Beyond the Myth
CLAS-3170: Greek Art and Archaeology
CLAS-3160: The Aegean Bronze Age