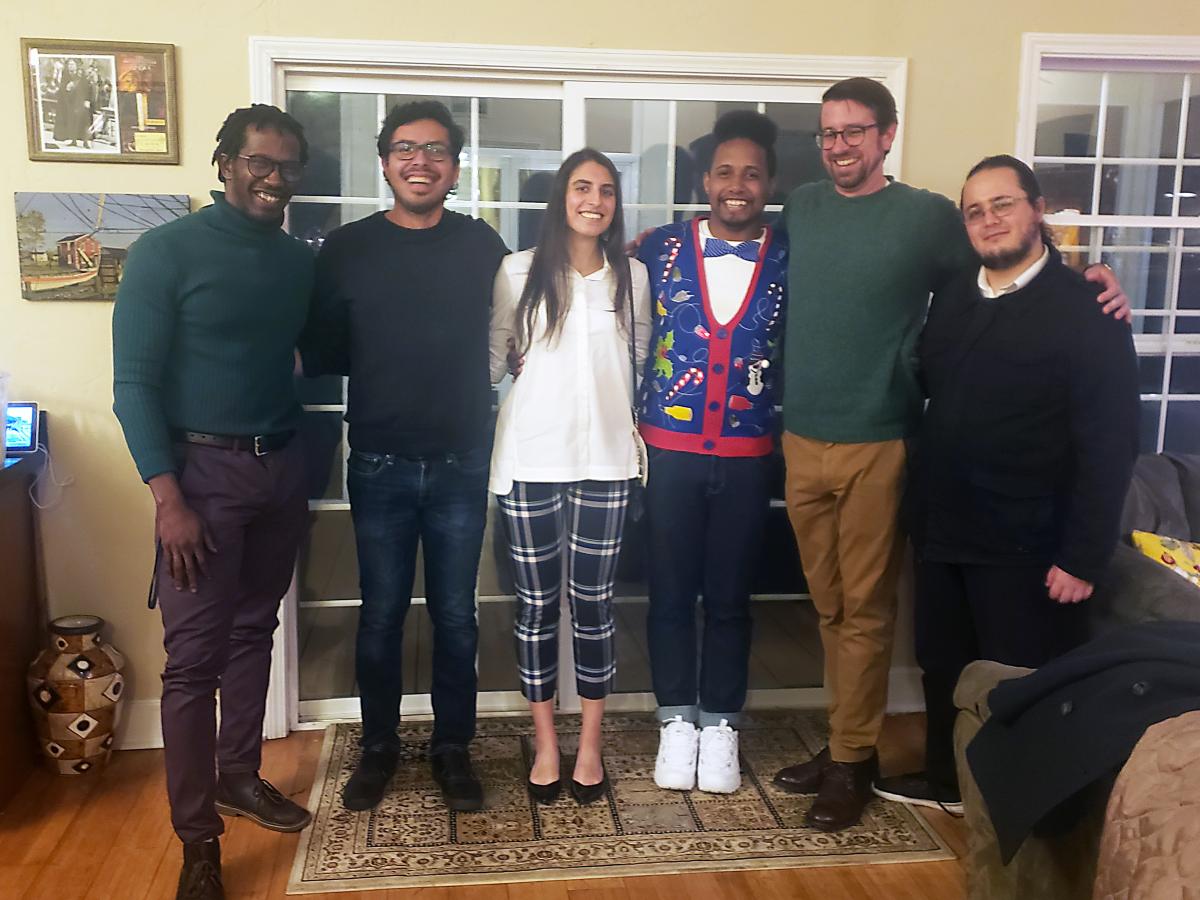 Graduate students at the 2019 History Department Holiday Party.
Left to right: D. Caleb Smith, Raúl Alencar, Sarah Singh, Ruben Luciano, Derek Wood, and Andrés Vargas Valdés.
Congratulations to Diego Rodríguez de Sepúlveda. Diego has been selected to present at the 2019 Newberry Center for Renaissance Studies Graduate Student Conference. He was chosen from a strong field of submissions for one of only 48 spots.  Job well done!
Charlotte W. Newcombe Doctoral Dissertation Fellow, 2018 
Alix Riviere:  Bittersweet Childhoods: Enslaved Youth in Nineteenth-Century Louisiana and Martinique
Congratulations to Jessica Brosvic, PhD candidate in history. Her paper "Works of Darkness: Poison at the Old Bailey," was the winner of the John Snell Prize for 2016, awarded annually to the graduate student who submits the best seminar paper in European history.
The 2015-2016 Fellowship and Award winners
Congratulations to our 2016 award winners!
John Bardes: Peter T. Cominos Memorial Award for the best graduate paper of publishable quality.
Mira Kohl: Brazil Initiation Scholarship from the Brazilian Studies Association (BRASA) for pre-dissertation summer field research.
Alix Riviere: Social Science Research Council International Dissertation Research Fellowship and The Murphy Institute Center for Ethics and Public Affairs Graduate Prize Fellowship
Emily Wright: William R. Hogan Fellowship Award, awarded to a graduate teaching instructor in the History Department who has demonstrated particular excellence in teaching.
Joel Webb: Paul and Elizabeth Selley Dissertation Year Fellowship
Matthew Kocsan, Alix Riviere, and Joel Webb: SLA Summer Merit Fellowships
Jonathan Moore and Alex McManus: Doctor of Philosophy, History
Nicholas Foster, John Bardes, Ivan Cavallino, Nia Morgan, and Bryan Laird: Master of Arts, History