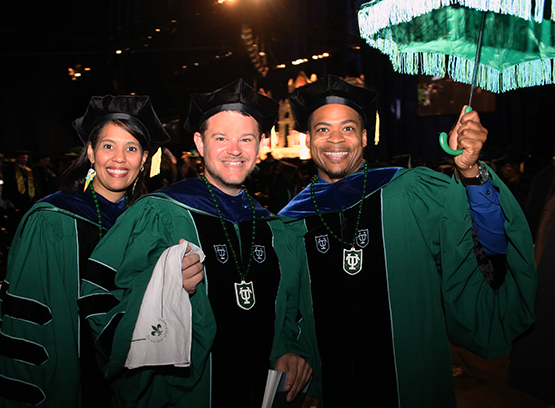 School of Liberal Arts 2017 graduates celebrate at Tulane's Commencement Ceremony on Saturday, May 20 in The Mercedes-Benz Superdome.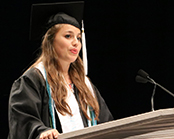 Lilith Winkler-Schor, the School of Liberal Arts Diploma Ceremony student speaker, Truman Scholar, and Gordon Summer Fellow, personifies the interdisciplinary virtuosity of a liberal arts education.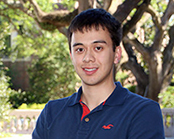 Ian Rohr, graduating with majors in Russian and International Relations, as well as a minor in Economics, embodies the intellectually curious and adventuresome nature of the liberal arts student.
From departmental and university awards, to national scholarships, Tulane's School of Liberal Arts graduating seniors shine bright with their impressive achievements.
Each year graduating seniors vie for the opportunity to sing the National Anthem for graduates and their families at the Tulane University Unified Commencement Ceremony. This year a quartet of seniors performed the anthem in four-part harmony at the unified ceremony and America the Beautiful at the SLA Diploma Ceremony. The quartet included:
Dylan Hafer (BFA, Musical Theatre)
Luke Halpern (BFA, Musical Theatre)
Patrick Clark (BFA, Musical Performance; BSM, Management)
Austin Adomitis (BFA, Musical Theatre)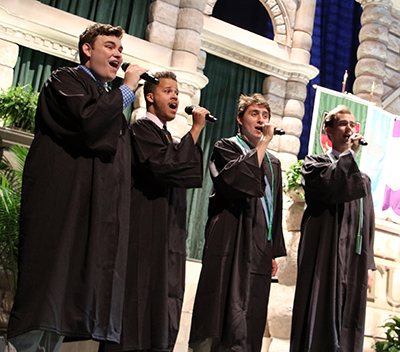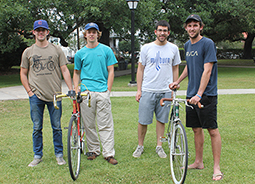 A group of Tulane University students is using long-distance cycling to facilitate their desire to help the homeless. Having cleverly named their organization reCycle Tiny Homes, these passionate students are leading sponsored bicycle trips across the country. The proceeds will be used to build tiny homes for New Orleans homeless people.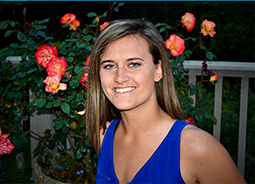 Hannah Hoover, a rising senior pursuing a double major in Anthropology and Classical Studies, has been selected as a 2017 Beinecke Scholar. The Beinecke Scholarship encourages highly motivated students who have demonstrated superior intellectual engagement and academic ability to be courageous in their pursuit of graduate study in the arts, humanities, and social sciences.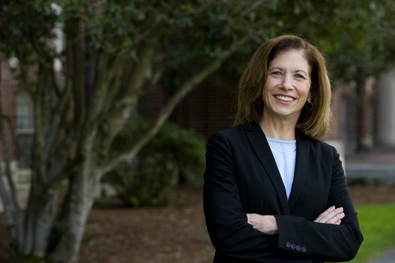 Eighteen-century Scottish poet and playwright James Thomson once wrote, "Among the changing months, May stands confest, the sweetest, and in fairest colors dressed." Although written nearly three hundred years ago, such words aptly describe the month of May at Tulane.
---
Congrats to SLAMM Grads
Congratulations to this year's School of Liberal Arts Management Minor (SLAMM) graduates. From Japan to New York City, the fifty-one SLAMM graduates are moving on to amazing careers and advanced degrees: health care management, law school, and consulting to name a few. Now with over 260 students in the program, SLAMM is the most popular minor at Tulane.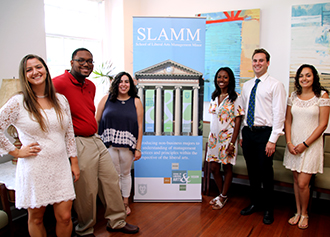 ---
SLA Picnic & Awards
The School of Liberal Arts end of the year celebration recognizes faculty and staff.
---
The 50th Anniversary Gala will be held Saturday, June 3 at Tulane University.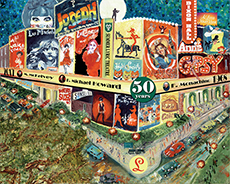 ---
"You need to defend empathy? And you are getting support to do it? In Sweden??" This was at a bar uptown last summer, before I left for a research leave in Gothenburg, Sweden. I was shooting pool with a guy I knew, and I was explaining why I'd be out of the country for a few months.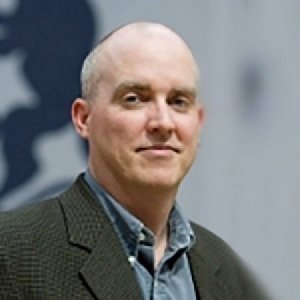 ---
The Department of Theatre and Dance is deeply saddened to report the death of former Associate Professor and Costume Designer Jeanne Button.