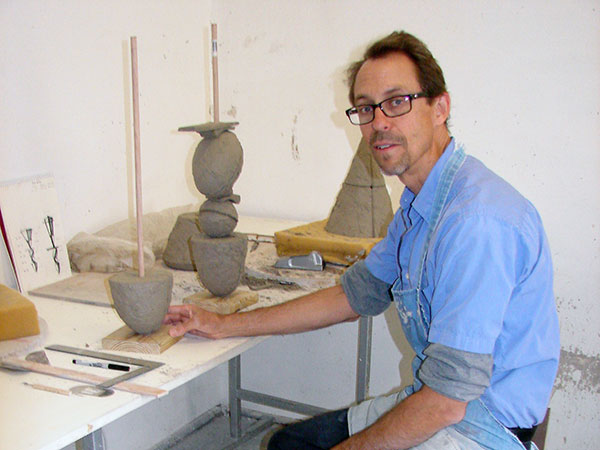 Education
MFA, San Jose State University
Biography
Jeremy Jernegan is a Professor in the Newcomb Art Department of Tulane University, where he has been ceramics area head since 1990 and is currently Associate Dean of Finance and Planning of the School of Liberal Arts. He received his MA and MFA degrees from San Jose State University in 1985 and 1987 respectively.
He joined the Board of Directors of the National Council on Education for the Ceramic Arts (NCECA) in 1992 as Conference Chair for New Orleans, hosting the Gumbo Ceramique conference in 1994. He then served on the Board as Program Director from 1998-2005 and was responsible for the conference programs in Columbus, Denver, Charlotte, Kansas City, San Diego, Indianapolis, and Baltimore. He was recognized as Fellow of the Council in 2010.
Jeremy's current large-scale sculptural work consists of graphic wall pieces constructed from ceramic panels and stainless steel that investigate the relationship between two- and three-dimensional imagery. In making the viewers' changing vantage points and movements in space central to their experience of the work, these sculptures highlight the fugitive and dynamic nature of both perception and imagery. Water serves as a basis for the images and is meant to reference the notions of change and risk and desire.
Jeremy's recent solo exhibitions include "Prescience" (2008) and "Surge" (2006) at Gallery Bienvenu in New Orleans, "Ceramic Sculpture" (2007) at the Anna Lamar Switzer Center for Visual Arts in Pensacola and "Lines of Position" (2005) at Sandy Carson Gallery in Denver.
Jeremy's book Dry Glazes was published in 2009 by A&C Black/University of Pennsylvania Press. Recent publications featuring his work include "Jeremy Jernegan: Prescience" by Thomasine Bartlett, Ceramics Art and Perception 77 (2009), China Paint and Overglaze by Paul Lewing (2007), "Jeremy Jernegan: Surface and Form" by Glen R. Brown, Ceramic Monthly 53 (2005), and Ceramics in the Environment: An International Review by Janet Mansfield (2005).
Contributions
Jernegan, Jeremy. Dry Glazes. Philadelphia: University of Pennsylvania Press, 2009.